Welcome to the first recap of the fifth season of Glee, a show about laughing, dancing around in your underwear and cooking pasta! Just kidding, that's not what Glee's about, that's what Burt Hummel thought marriage would be about when he was 22 but then he grew up and discovered marriage is actually about fighting in your underwear. Coincidentally, "fighting in your underwear" is also what Glee is about. Furthermore, Glee is about scissoring, rose petals, hair crimpers, horse meat, piggy banks, tongue piercings, seesaws, bacterial vaginosis, failed kickstarter campaigns, women who have sex with bridges, poutine, Ringo Starr and a group of rag-tag musical aspirants forced to toil away at a racist diner in order to feed their pet horses.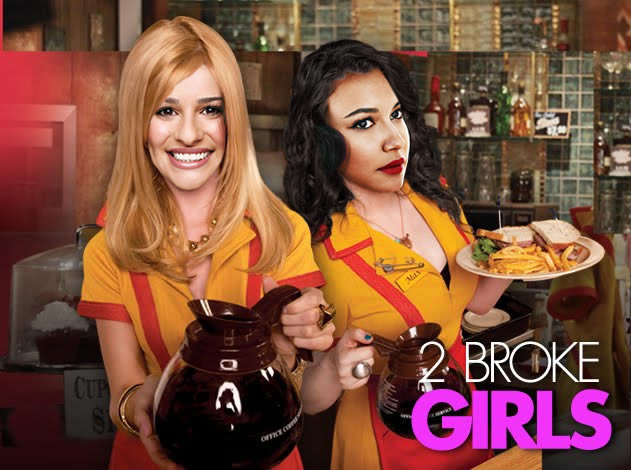 Overall, I found this episode to be relatively delightful, especially because there were so many musical numbers that there wasn't much time for talking, and talking is where this show tends to get itself into trouble. Also, I love The Beatles and am more familiar with their Collected Works than any other band in the universe (runner up: The Indigo Girls) (i know). Sidenote: I think I'm doing my best work in the captions these days. ARE YOU READY TO DIG IN TO THIS? LEZZZZZ GO!
---
We open in the big bright city of New York, New York, specifically on Angus' Bistro, a restaurant popular amongst Broadway actors hankering for post-show cocktails and/or lettuce wedges and/or melon balls.
Unfortunately, Rachel Berry's not on 44th & 8th to get trashed with the cast of Kinky Boots, she's merely passing by on her way to St. James Theater for her Funny Girl callback, which lasts about thirty seconds.
Famous Broadway Director and Paolo Who Won A Tony tell her they've heard enough, but mostly I'm distracted by the fact that Famous Broadway Director is being played by Peter Facinelli, aka MIKE DEXTER.
If, for some surely tragic reason, you're unfamiliar with the classic teen flick Can't Hardly Wait, perhaps you are of the generation more likely to associate Peter Facinelli with this travesty of a franchise:
Anyhow! As Rachel sulks in the wings, she overhears Mike Dexter and Paolo Who Won a Tony saying she looks right and acts real good but might be too young to pull it off.
Then, apropros of both nothing and absolutely everything at the same time, Rachel Berry breaks into The Beatles' Yesterday while we cry softly into our dinner napkins thinking of how hard this must have been for Lea to do because Cory. I used to love this song so much I recorded it from one tape deck to another, over and over again, until I filled an entire 60-minute cassette with "Yesterday." Then I would sit on my futon and listen to my tape and cry for no reason. Oh, youth.
Rachel walks by Sardi's, where she formerly dined with Finn Hudson, singing "why he had to go I don't know / he wouldn't say," and she looks at a picture on her iphone of the whole gang…
…and she walks through Central Park where they did that big number with the balloons back in Season Two and your heart breaks a thousand times for Lea and keeps on breaking until…
https://www.youtube.com/watch?v=XCJIFFkeIbI
…the song ends and we're thrust aggressively into a black-and-white montage of Ryder Bieber-Strong's pores. But I'm getting ahead of myself here! Did you know that "Yesterday" is one of the most-covered songs in musical history and that it's also the first recording by the Beatles that only featured one member of the band (Paul McCartney) and that the rest of the band didn't feel like it really fit in with the rest of their work? Well, now you do.
---
We then slap on some socks, toss on some Tevas, strap unleavened bread to our backs and plunge our iPod into our eardrums for a grueling hike all the way from New York, New York, to Lima Ohio, home to the Lima Wastewater Treatment Plant, for another thrilling meeting of The McKinley High Super-Winners Glee Club.
This bi-week's theme is The Beatles, one of my favorite bands of all time (and one of the best bands of all time). Will announces that if the Gleeks can master The Beatles, they'll win Nationals and cement a Glee Club Dynasty Championship Dynamite Achievement Award Of All Time. Ryder's into it:
Then Tina nods and smiles a lot while the other children discuss their various connections (or lack thereof) to The Beatles, and then Artie wheels Fake Quinn through the hallways while waxing nostalgic about how she helped him get in to The Brooklyn Film Academy, which sounds like a for-profit scam fake college situation, but whatever, and therefore he wants to take her out to Breadsticks. But she hates Breadsticks!
Finally, Artie scores a date with is suggestion that they hit up the local Carnival instead, which segues neatly into yet another musical number, "Drive My Car!"
This riotous fun-filled motion-sickness-inducing freewheeling musical situation cartwheels us through a number of terrifying but allegedly fun amusements with the perpetually orgasmic Gleek gang.
After the song, some bitchy Cheerios tell Fake Quinn they've uploaded some pics of her and Artie canoodling to instagram, which inspires Fake Quinn to tell Artie they should def go out but totally in secret, "like secretly gay conservatives do."
Artie: "So you like me but you don't wanna be seen with me?
Fake Quinn: "I need status at this school to survive."
No you don't, you just need food, water and shelter. Kids these days are so entitled.
---
We then board a PT Cruiser and crank up the Jewel and speed all the way back to New York, New York, where Santana's gotten Rachel a job at The Spotlight Cafe, aka Fake Ellen's Stardust Diner, by showing Gunther her left side-boob, a scene unfortunately not  included in this week's episode for the whole family to enjoy. But damn do those little Sexy Majorette costumes look hella cute!
"I wanna be grown up and living and making it on my own," says Rachel in her best grown-up voice. "We're basically working actresses," notes Santana.
---
We then fire up the FTL drives and jump on back to Lima, Ohio, where Kurt and Blaine are enjoying a relaxing picnic in McKinley's luxurious outdoor dining area, replete with confusing neckwear and shiny silverware.
Blaine, likely impressed by the muscle Chris Colfer's acquired in the offseason, begs his butt-buddy to re-boyfriend him, promising that he'll never ever ever never cheat again. Then they can be together forever like Will and Jada and send their adorable talented children to Scientology school to learn about being aliens for a million trillion years! Why hasn't anyone made a Scientology sitcom.
Good news: Klaine is back ON. Thus Kurt, rocking Full Petal Jacket chic, leads the nubile youths, Colonel Blaine Mustard and the McKinley High School Marching Band into a celebratory production of "Got To Get You Into My Life."
It's twinky and bright and big and sprightly and goofy, topped off with a celebratory kiss WITH FULL TONGUE led by a suddenly super-sexy Kurt Hummel.
http://youtu.be/A6IVgWkvQxE
---
Pages: 1 2 3See entire article on one page