Welcome to Almost Famous, a weekly segment where we ask up-and-coming queer musicians some not so hard-hitting questions about music and life and maybe even convince them to share photos of their pets. Get to know intimate details about your new favorite artist or band before they hit the Big Time and become too famous for us to interview for real.
Header by Rory Midhani


---
Amy Bronson
Alberta Canada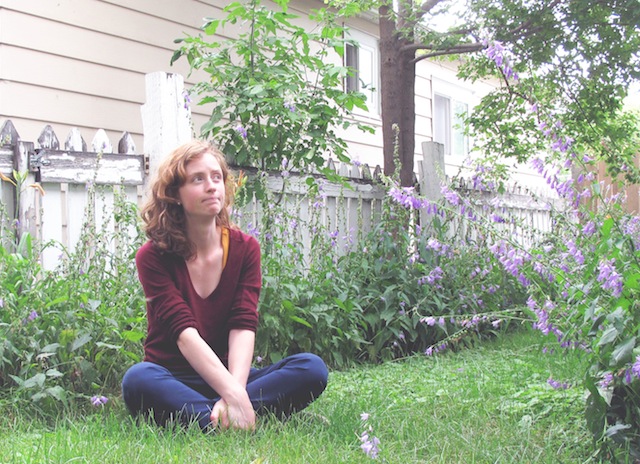 Alberta born singer-songwriter Amy Bronson released her sophomore album Grizzly Bear Heart in August this year. Her poetic brand of acoustic indie-folk draws inspiration from her worldwide life experiences. She's been a Lethbridge local, a university student in Ontario, a government intern in Africa, and now, she's planted herself in New York. Who knows what adventure is next for this talented performer; let's just hope she keeps making music to speak as her travel diary.
How would you describe your music?
Folk music, I suppose. I'm not much of a singer, so there is an emphasis on the writer part of "singer-songwriter." I am wordy and my guitar riffs are somewhat impractical. It is some sort of Ani DiFranco/Sarah Harmer influenced mess of folk music.
Which track would you most like everyone to hear? 
Well, "Grizzly Bear Heart" because there's a music video that goes with it and it has some bland lesbianism in it.
Also, I'd like everyone to be able to hear the whole thing if they'd like— it's on bandcamp. As a perk for Autostraddle readers, I would like to offer a free download of the entire album to anyone reading this article who would like it! Email contact@amybronson.com and you will receive a bandcamp download code and instructions on how to get your free copy.
What can listeners expect from Grizzly Bear Heart?
Five years worth of tiny snapshots of my life: two summers in the wilderness, two long-term trips to developing countries, one awful break up, sad stories about some lovers, one sad story about a wonderful lover (which actually has a happy ending, but didn't make it on the album in time), political bitterness during my early university days, several instances of moving back and forth across Canada, realizing how tactful one should be at all times, way too much self-reflection, used clothing, business suits, experiments with organization/patience/bravery.
Do you listen to queer music?
I grew up searching everywhere for lesbianish creativity because I guess I just needed it. I found the Butchies, Ani DiFranco, the Ditty Bops, Le Tigre, Tegan and Sara, etc. There's something about it, isn't there, when you realize you're listening to lesbian/queer music? We've just got subtle things in the songs we sing to each other that I suppose we can feel. And folk singing is such an interesting part of lesbian history and culture, it's nice to have some tiny place in it.
What does it mean to you to be an "out" musician?
Being "out" in my music is somewhat new for me. I'm from a conservative place and I never really understood that it wasn't my responsibility to make sure homophobic people were comfortable around me, I guess, until recently. Last year I worked in an African country where homosexuality is criminalized and I realized that it's very important to have the legal ability to live my life in the way that works for me. I don't want to take that for granted, ever. People have done so much work for these improvements.
Whatever my "career" becomes, I never want to accidentally build myself an approximation of a straight person's life. I will never be a straight person, even if I look kinda femmey, so there's no point digging that hole for myself intentionally or accidentally. So it's important to me to just put it out there.
What was the first and last record you bought?
My first CD ever was Prozzak's Hot Show; you can hear its influence pervasively in my songs, I'm sure. The first vinyl record I bought — I don't know — maybe the Sex Pistols. Most recently, I saw King Krule at the Bowery Ballroom in NYC and bought the new record. He's a fascinating performer. I feel a sense of solidarity with other red heads.
What was the last piece you wrote about?
"Coeur d'ours grizzli", the French title track of the album, is about all kinds of feelings that the "grizzly bear heart" might be experiencing in the English song. In French I'm not as calculated with my words and so it's pretty weird, a bit dramatic. It was the first song I ever wrote on piano (which I don't know how to play) and then it turned into an electronic song when I was working with Jesse Northey on it, and I like that a lot.
If you could only listen to one album for the rest of your life?
This is tough. I think Iron and Wine with Calexico's In the Reigns. Ani DiFranco's Educated Guess is a close second.
Have you ever had to work a terrible job to support your music career?
I've had to work jobs I didn't like much just because they happened. I suppose also to support my music, because no one pays for the boxes of albums in the basement but me. I have made deep fried mars bars on a midway, and worked in feedlots recording information about cattle before they were sold (this was loud, chaotic, dirty, often a bit sad for me).
My least favorite job ever, though, was working in the mall at a clothing store during high school. That was awful, except it was during the early days of skinny jeans when I sometimes got to sell 'girl pants' to blushing punky little high school boys.
What is the best piece of advice you've received?
My mom saw something on TV once about a guy who was enormously successful at a young age and had been told, "treat every job like it's your best job." My mom repeated it to me and didn't really mean to give me advice, but I tried it out and it's on my mind a lot. Every mediocre gig, everyday at a crap job or unpaid internship, thinking that way leads to good results and opportunities arise. Eventually. Probably.
What do you love most about living in Alberta?
What I love best about occasionally living in my hometown of Lethbridge, Alberta, is the incredible artistic expression that comes out of there. It's like this totally weird place where anyone with a bit of an artsy streak is kind of isolated growing up so all this relatively original stuff happens. There is this way of looking at things, probably impacted by the weather/landscape/culture there, and I swear it's quite distinct and it shows in the music. LGBT Pride is really picking up there too, and it's making a big impact that I see every time I go back. I will probably never live there again and I'm worried no other place could be so creative for me.
Do you have any pre-show rituals?
A one drink rule! And honestly, I just try not to get really cranky-nervous. It's not attractive. I should probably get a ritual that counteracts this. My girlfriend would likely appreciate it.
Do you have any pets?
I don't have any of my own pets, but my family does have a lovely cat that I grew up with named Kale. He gets a shave twice a year because he is so so furry.
You can find Amy on Facebook, Bandcamp, and her official website. And hey, why not take advantage of that free album download? Email contact@amybronson.com!
---
If you are, or know of, a queer artist or band that should be featured in Almost Famous, drop the details to stef [at] autostraddle [dot] com. Please write 'Almost Famous' in the subject line!