The "comics" I'm featuring this week in my column are definitely the least comic-y of all the works that I've covered so far, but that doesn't mean I enjoyed them any less. Favourite Dating Tales 2009-2013 by Elisha Lim is a zine that gathers together pieces of art from Lim's New-Art-Every-Day project that's on the theme of dating. It's a beautiful little book that packs a huge punch for a book that's only 4″ X 4″. Every year Lim self-publishes a calendar, comic or zine and this latest installment is truly a gem. Not only are the themes and writing spot on, but the art is so creative and beautiful that it's sure to move even the coldest heart.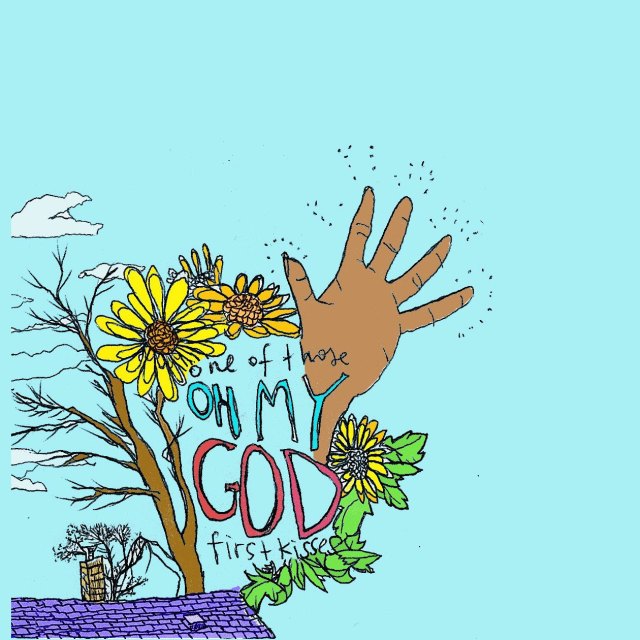 First of all, I want to say that the art in this zine is breathtakingly beautiful. It really is stunning. It ranges from full-color illustrations to a photo series of clay figures to pictures of art painted literally on Lim's body. Lim's art style is warm and inviting and has a real throw-back feel to it. The drawings feels very warm and inviting, sort of like the kind of sketches you would find in an old journal (albeit the journal of a very talented artist). Their portraits of people capture so much of the real-life essence of human beings and highlights their flaws and the details of their faces to show their true beauty. The body art featured in Favourite Dating Tales is gorgeous and brings something special and unique to this zine that you won't find in any other of the projects I've reviewed here.
This zine is split into five chapters: "omg online dating," "crushes, fantasies and unrequited love," "the honeymoon," "lesbian processing" and finally "heartbreak." As you could probably tell from the wide range of chapter subjects, the comics, images and stories cover the entire dating spectrum — from cute and romantic to awkward, funny and heartbreaking. One of the earliest comics, about the dangers of answering questions on online dating websites and the types of people you might attract, made me laugh out loud. In an absolutely brilliant move, the page titled "I hate starting the day sad" is one of the most simple and empty pages, featuring an uncolored sketch of a potted plant next to a window with blinds that are smeared with brown. The image conveys the message of the text so perfectly you can almost predict the words before you read them. The "Stages of Text Despair," a chart that shows the thoughts you have when you text someone you like and they don't respond right away is perfectly spot on and made me laugh because of how true it rings. Then, as soon as I turned the page, I saw "New-Art-Every-Day #268 I can't stop drawing you" and my laughter turned to heartache. It's amazing how Lim can turn such a simple phrase with simple art into such a devastating statement.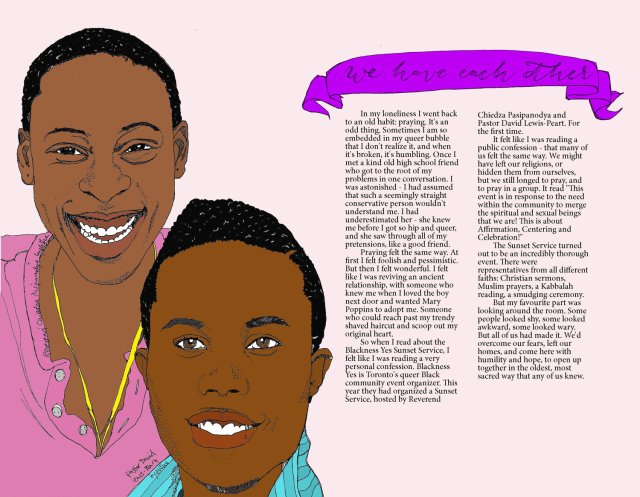 I've also been able to check out some of Lim's past projects and they are also definitely worth your time. Lim's calendar from 2013, The Comfort of Queer Family Wisdon, includes a full color illustration of queer people along with words of advice and hope from and about the people and topic featured. For February, the title is "We Have Elders in out Libraries," for June it's "Let Friendships in," for November it's "Listen to Each Other" and so on. There are some really beautiful stories about Lim's personal feelings of loneliness and alienation and how they overcame them with help from their queer community. Combine that with the, once again, absolutely spectacular portraits of queer people and this is really a must have, even though the calendar isn't really helpful anymore. Another zine, The Illustrated Gentleman, has Lim follow a dozen dapper queers to clothing stores to talk about their personal style. They went to stores where the clothes were too expensive for them, tried on their dream outfits. Not only do they give some great fashion tips, but they also talk about navigating men's clothing sections as queer people who are not men. Reading through these books, I completely fell in love with Lim's portraiture style. The way they draw queer people seems to capture the life and uniqueness of each individual. They are quickly becoming one of my favorite working artists.
Elisha Lim is an artist, queer advocate and lecturer from Canada. They work in all sorts of different media ranging from comics to zines, to claymation and portraits. They have an Etsy store where you can buy all of the zines that I've mentioned here, as well as several other of their products. Their personal website also features a lot of their projects and art. You can also follow them on tumblr if you want to keep up with all of their goings on. I keep on returning to each of the zines of theirs that I own, and if zines, or really just any art about queer people and experiences, are something you're into, I know you'll do the same.
---
Welcome to Drawn to Comics! From diary comics to superheroes, from webcomics to graphic novels – this is where we'll be taking a look at comics by, featuring and for queer ladies. So whether you love to look at detailed personal accounts of other people's lives, explore new and creative worlds, or you just love to see hot ladies in spandex, we've got something for you.
If you have a comic that you'd like to see me review, you can email me at mey [at] autostraddle [dot] com.
Header by Rory Midhani