Hi is is really still snowing? Remember when we could do lots of fun things every week but now each week we're like oops we're fucked put on some boots and go shovel the snow you lazy bum. Why on earth should it even been this cold out?? Oh. The polar vortex.
So if it has to be this cold, than I suggest you throw a polar vortex party. Wait. I should back up. In case you're unaware, the polar vortex is the reason everyone is suffering through -25 degree weather right now! I assume this means cool people in larger cities are maybe throwing a polar vortex party in which it is most definitely understood that you will sleep over because it's too cold to leave. Perhaps this party involves spending time outside in the snow playing or, more realistically, going outside for a cigarette/to help your friend shovel out their car and then immediately heading back inside for more movies and Irish coffee. Okay, maybe polar vortex parties aren't real– not yet anyways. But they will be if we all thrown them! And if you're throwing a polar vortex party anyways, you should probably wear this week's outfit.
At the heart of your polar vortex party outfit, or really any outdoor winter outfit, is an aura of being just so over winter. You are too cool for the cold. This is nicely achieved by a wool coat with leather arms. While such a coat provides the warmth of a wool coat, the leather arms pretend like you're still hanging on to fall weather.
Brightly colored but seasonally appropriate pants are a must. You can't let the cold keep your shining style down! This year plum is in style in a big way, which is particularly awesome because this hue is bold and unusual without relying on out of season bright blues and turquoises.
Be sure to layer this look with a scarf, a button-up (preferably flannel) and, well, maybe some long underwear. If you think it might be cold inside the party as well as outside, go for a lighter-weight scarf that is more comfortable as opposed to a thick wool one. A light lilac scarf, as shown here, complements plum pants perfectly, but any light colored scarf will breath life into your look.
For a butcher look, go for more straight legged pants and boxy, men's jacket. For a more femme look you could swap the plum narrow slacks for a short plum skirt and a pair of thigh high black stockings over sheer black nylons. Regardless of your gender/style presentation, you can finish this look off with military style boots for a warm but chic look. Similarly no matter how you dress be sure not to forget your lesbian purse aka your keys attached to a carabiner.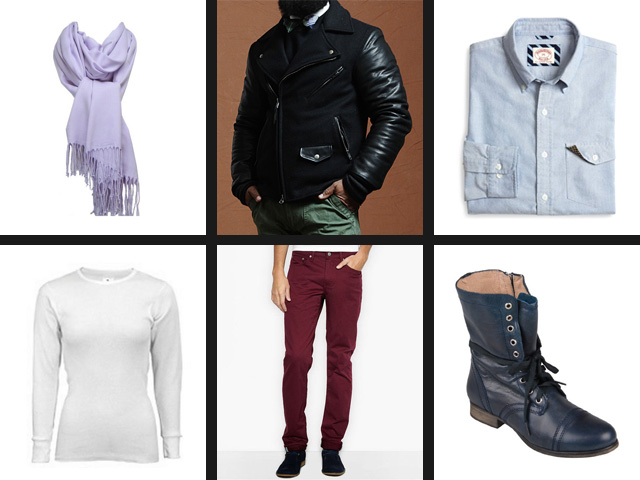 Brooklyn Circus Varsity Moto Jacket // Brooks Brothers Solid Flannel Oxford // Levi 511 Slim Commuter Pants in Wine // Lilac Pashmina // Steve Madden Troopa Boots // Indera Thermal Undershirt 
Whether you're headed to a big blow out polar vortex party (seriously guys it's real if we make it real) or just a regular freezing cold Saturday night at the bars, we've got a lot more winter outfits ahead of us.  So pick up your favorite wool jacket and settle in.
---
This is Queer Outfit of the Week where I scour the world and tell you all about my one favorite queer outfit this week. I'll envision a scenario where you or your girlfriend or your best friend or your mom or your cat could wear it and talk all about why it's a great outfit for that event. Every week will be a different style, gender presentation and event so there's a little something for everyone — even the person who just wants to look at pictures of stylish queers! So let's get to it — we're going to figure out what the heck we're going to wear this week!
If you see something that you think should be featured on Queer Outfit of the Week, send me an ASS message, ask on my tumblr, tweet me @Ohheyitslizz or email me at lizz [at] autostraddle [dot] com