I have been and probably always will be an unintentionally bleed-y person. I'm no stranger to crazy, gushing nosebleeds that result in scary blood slugs falling out of my nose — it's really not a big deal. All of the accidental scratches and cuts I rack up on a daily basis are totally normal. I rationalize this regular blood drawing by saying I may have been a Mayan sacrifice in a past life and it's definitely more of a curse than a blessing. Dating is a bloodsport unto itself, but for me it's gotten too real — two too many times. These incidences involve two different girls, both brand new acquaintances at the time, and occurred on or before the second date. At this point, I don't know if I'll ever even make it to the third date without bleeding all over everything.
I'm going to refer to the first girl as 'Health Goth', and of course we met on Tinder. As you know, I'm basically the Chairwoman of the Nosebleed Club so keep this in mind as I tell you the rest of the story. Health Goth and I had met up and gone out for a couple of drinks the night before and everything was A-OK. She comes over to my place the following evening to hang out. A couple of drinks happen and things start getting hot and heavy. Drunk sex is super fun, but drunk sex = messy sex and mama always said messy sex doesn't end well. (Just kidding, my repressed Taiwanese mother never told me shit about sex).
Anyway, at some point in the middle of me going down on this girl, my nose started bleeding and by the time my drunk self had realized that, I had lost a not-okay amount of blood, and it was EVERYWHERE. All over the sheets, my face, her crotch! How the heck was I supposed to tell the difference between various bodily fluids with only the dim flickering of candlelight in a far corner of the room? Naturally, I was horrified, not at the sight of blood but of how Health Goth was going to respond to me bleeding all over her vagina. I hope very few of you ever have to deal with telling your (new) partner, "Hey, sorry but…umm…I just bled all over your crotch."
Fortunately for me, Health Goth was a total sweetheart and even helped me clean up the trail of blood I left in my apartment leading up to the bathroom. I surprisingly didn't feel embarrassed about this at all because blood is such normal thing. Like hello, it's inside of literally every body. The blood loss combined with alcohol had rendered me woozy for a short while and I had to take a second to lay down and chill out before moving. We ended up jumping in the shower and laughing about it, but I couldn't laugh too hard or else I would get really dizzy.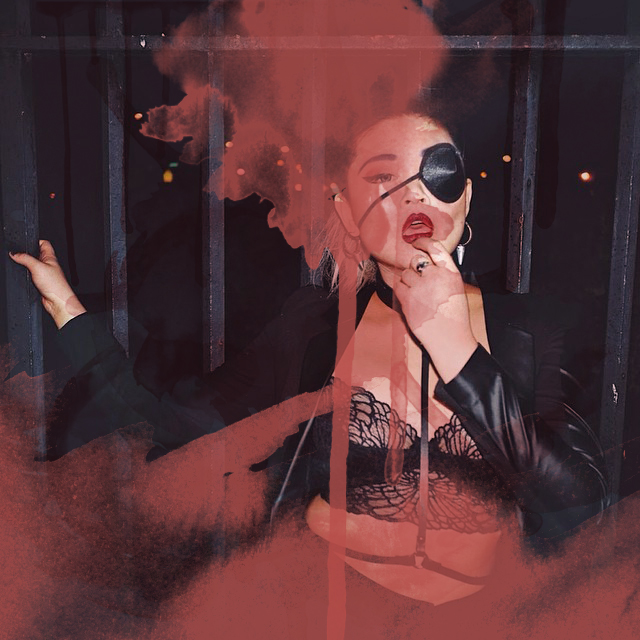 Incident two opens at a warehouse rave in Brooklyn on a stormy Halloween night. I was Madonna, she was Andy Warhol. A couple of nights later, Madonna and Andy Warhol walk into a bar…you want to know what happens? I wake up the next morning naked in Andy Warhol's fluffy white bed, drenched in a pool of my own period blood. Bless. Imagine my sheer horror when I realized my body had pulled a 'surprise bitch' attack on me. My mind was R E E L I N G. Oh fuck not again, this time blood is all over my crotch. Should I mention it? Does she know I bled all over her white sheets? Ho-ly shit. WHAT DO I DO? This is beyond help.
I ducked out into the bathroom for a couple of minutes to compose myself and of course she woke up and saw it while I was gone. Of course. When I came back she covered the bloody spot with a black robe, didn't mention it at all, and even offered to make me coffee. Andy, you're an angel. I left her place feeling all wild and scatterbrained and couldn't manage to send her a text for a whole two hours. I apologized profusely for ruining her sheets, offered to buy her some new ones or pay for laundry, and that I would make it up to her. In the end, everything was fine. My romantic life is a bloodsport — sometimes I win, sometimes I lose, but it's always a good game.
Here's some advice from my bleeding heart to yours on how to deal if you ever find yourself in a sexy bloody situation:
First of all, congrats! You just got yourself a great story to tell all your friends!
If you happen to bleed too much and begin feeling faint, stop what you're doing immediately and chill out for a second. Take some iron and drink some water, you'll be fine! Don't try to walk it off.
Anybody that makes you feel embarrassed or ashamed for bleeding is a jerk face asshole and you should cut them out of your life ASAP.
Bodies are crazy unpredictable sometimes: be it, own it, embrace it.
Communication, communication, communication! Always be upfront and and honest about it. Don't hide, lie, or be ashamed about your body bleeding. It's a totally normal thing that happens way more often than you think.
It's best to deal with these kinds of situations with a perpetual ¯\_(ツ)_/¯. Freaking out will not make the blood go away, but spit and cold water will! See also: hydrogen peroxide. Plus you can always bleach white sheets.
Life's a trip and you bleed all over people, places, and things sometimes. It's not the end of the world by ANY means and your life is NOT over. It might be anxiety inducing for a hot minute, but you're gonna be OK. Promise!