Created by the unfairly talented cousin duo of Jillian (the illustrator) and Mariko (the writer) Tamaki, the same pair who brought us the wonderful graphic novel Skim, This One Summer shifts smoothly between feeling like a cool drink of strawberry lemonade on the beach, the uncomfortable feeling of sand in your shoes, holding hands with someone you love as you lay in the warm sun and finally, the emotional punch that comes when your a kid and you realize that your summer is over and you have to go back to school the next day. This is the kind of book that you want to own and return to every summer, every time you want to be transported back to your childhood or just every time you want to cry.
Being a kid is hard. Being a friend is hard. Being a parent or daughter is hard. Being in relationships is hard. I guess just life is hard. And that truth is beautifully and exquisitely told in This One Summer. But it's not all difficulty and distress. It's also a story about friendship, family, overcoming sadness and summer.
This One Summer is about a young teenage girl named Rose and her summer spent at her family's cabin at Awago Beach. They've been going there every summer, and while there, she's always spent her time with her slightly younger friend Windy. However, this summer is unlike any previous one. Rose's parents are fighting, Rose knows that they were trying to have another child, but something happened that has driven a wedge between them. Things aren't so idyllic between Rose and Windy either; their difference in age is starting to show, as Rose is staring to show an interest in boys, while Windy still just wants to have fun and kid around. Plus, she's starting to take more interest in the older teenagers that work and hang out at the local store and the drama that's unfolding in their lives.
I absolutely love reading comics about girls growing up and just girls being girls. They're just the absolute best. For example, in this book, not necessarily a ton of stuff happens plotwise; it's mainly a character and relationship-driven story, but just seeing Rose and Windy interact with each other and be themselves and grow is wonderful. And these characters are so interesting and so well written that the story never seems to drag on or get boring, even when your just reading about them watching movies on a laptop or walking to the beach.
The relationship dynamics in this are just top notch. Mariko Tamaki is so wonderfully able to capture a wide variety of relationships, from mother-daughter, to friends starting to grow a little apart, to girl-and-the-guy-she-sort-of-has-a-crush-on, to guy-and-girl-he-may-have-gotten-pregnant. Rose is just struggling so much. She already has all the angst that comes with being a teenage girl, and then added onto that, her parents are fighting and she's growing up a little, but just enough so that it hurts her friendship with Windy and not not enough that she's able to hang out with the older teens she seems so interested in. And then you can just see how tough this all must be for Windy. She's about a year and a half younger and she's seeing her friend clearly reach a different phase in her life.
Jillian Tamaki's illustrations are the perfect match for her cousin's writing. You may recognize her work from the webcomic SuperMutant Magic Academy, 
which I highlighted here before
. Although this book isn't anywhere near that weird, it has the same perfect grasp on what it's like to be a young teen. She gives the illustrations a real airy feeling that helps them seem more youthful and summer-like. She's able to do more with just hues of blue than many artists can do with a whole color palette.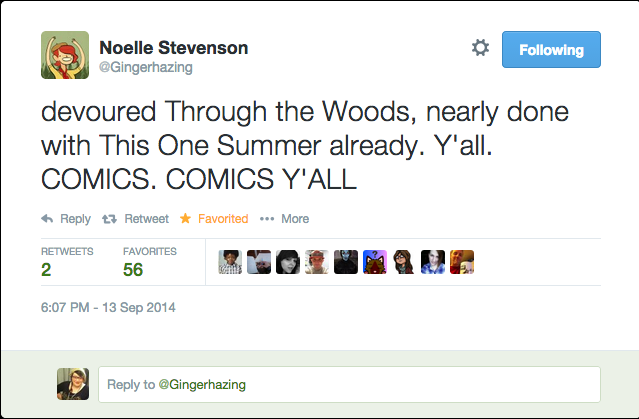 If you're a fan of 
Skim,
you definitely need to check out
This One Summer.
Heck, even if you didn't like
Skim
you should still check out this book. And I know that I have pretty good taste in comics, as
Noelle Stevenson
(of
Lumberjanes
and
Nimona
fame) 
tweeted out
that she was reading the same exact comics that I am. So make sure you check out 
This One Summer
and fondly reminisce about the summers of your youth.
New Releases (September 17)
Buffy The Vampire Slayer Season 10 #7 (Dark Horse)
Wonder Woman Futures End #1 (DC)
Shutter #6 (Image)
The Wicked + The Divine #4 (Image)
Edge of Spider-Verse #2 (the one with Gwen Stacy Spider-Woman) (Marvel)
Elektra #6 (Marvel)
---
Welcome to Drawn to Comics! From diary comics to superheroes, from webcomics to graphic novels – this is where we'll be taking a look at comics by, featuring and for queer ladies. So whether you love to look at detailed personal accounts of other people's lives, explore new and creative worlds, or you just love to see hot ladies in spandex, we've got something for you.
If you have a comic that you'd like to see me review, you can email me at mey [at] autostraddle [dot] com.