Seeing as I'm a trans woman who loves comics and who loves diverse queer representation in the comics that I read, I'm constantly on the look for good webcomics with trans protagonists. I recently found the lovely comic Becoming Me and it is wonderfully filling that role. Written by Mia Rose Elbo, a 24-year-old Chilean trans woman, Becoming Me only started as a comic back in April. But what's up so far is completely relatable, extremely cute and utterly delightful when it's not totally devastating.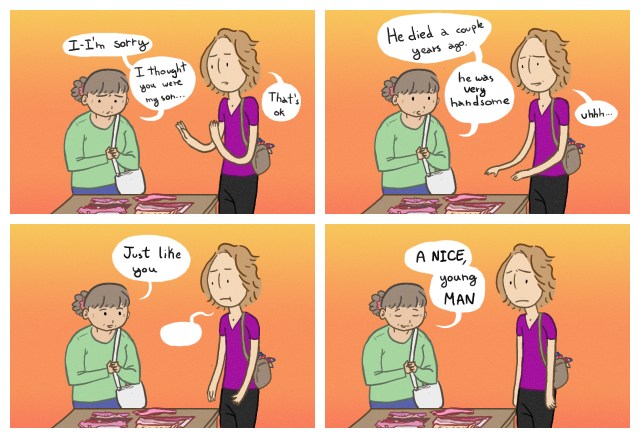 The site says that it's "a comic about Mia, a trans girl in her twenties who, fresh out of college and finally in hormone therapy, is slowly exploring her new life" and a "A totally mostly kind of  barely biographic comic about the many silly and strange things that tend to happen to me in the AMAZING city of Santiago de Chile." Since it's written by a trans woman and based, at least partially, on her life, it does a really great job of telling a trans story.
For example, the comic so perfectly captures what it's like to be misgendered. Even when it's on accident by a person who is trying to be nice and doesn't mean anything by it, it still feels like your humanity is being taken away. When Elbo said that she wondered if maybe she was a ghost when an elderly woman mistook her for her son, my heart shattered into a million pieces of "I know that feeling." She again makes a comic that hits me (and I'm sure plenty of other readers) right where it hurts in the comic that first led me to her work. In these four panels, she shows the different kinds of pain many of us go through as trans women, and ouch, does the final panel really land a killing blow.
Not to worry, it's not all Debbie Downer. There are cute comics about how fun it is trying new outfits and looks, meeting with friends for a night on the town and bragging about having dates. Since it is sort of an autobio comic, Mia's emotions seem real and varied, just like an actual person's. Being trans isn't just about the lows of being misgendered and feeling dysphoria; there's also highs and mediums.
The latest storyline has focused on Mia's adventures in online dating. At first the date seems to be going well, very well in fact. The two are having a great time, and Mia even gets invited back to the girl's place. There they start kissing, and Mia wants to disclose whether or not she's had surgery. This is a huge thing for a lot of trans women when we go on dates. It can be hard to figure out when to disclose both the fact that we're trans, and if we've had surgery. Some people are up front with it and say before the date even starts, many more of us wait until we know the person or until we're ready to be intimate with them. Really, people only have a right to know what's up with what it's your pants if you plan on sleeping with them or getting certain kinds of medical help from them.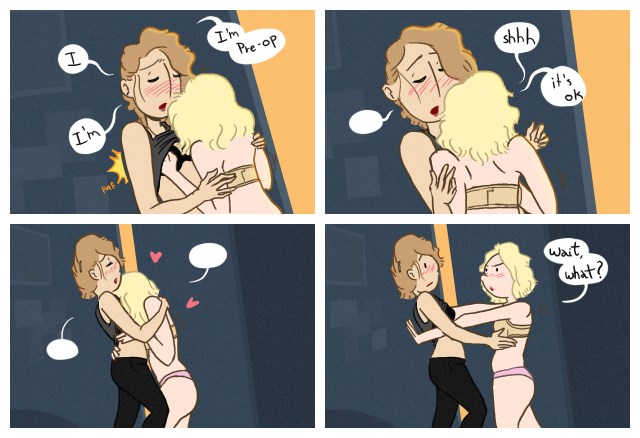 For Mia, she decided to disclose in two parts. Her date seemed to know she was trans, which I took to mean that Mia disclosed that before the date. However, when they start making out and taking their clothes off, Mia makes sure she says that she's pre-op before they get too far. She wants to make sure her partner is completely comfortable. At first it seems like she is, but then she turns on a dime and the date immediately goes sour.
I really like seeing a story about a trans woman where she's into other women. Although they're becoming more and more popular, for a long time it was hard to find stories that highlighted queer and lesbian trans women. However, seeing as the most recent data shows that upwards of 40% of trans people identify as gay, lesbian or bisexual, queer trans women should be all over the place in transgender fiction. I'm also really feeling the minimalist, but not overly simple character design and artwork. It gives the comic a clean, smooth look that helps the story flow.
Becoming Me updates on Tuesdays and Thursdays. You can also keep up with what Elbo is doing online via her various social media accounts, her website and the comic's blog.
Comic Releases (June 4)
Adventure Time The Flip Side #6 (Boom! Studios)
Angel and Faith Season 10 #3 (Dark Horse)
Harley Quinn #1 (4th printing) (DC)
Harley Quinn #3 (2nd printing) (DC)
Black Widow #7 (Marvel)
Loki Agent of Asgard #5 (Marvel)
Painkiller Jane The 22 Brides #1 (Marvel)
---
Welcome to Drawn to Comics! From diary comics to superheroes, from webcomics to graphic novels – this is where we'll be taking a look at comics by, featuring and for queer ladies. So whether you love to look at detailed personal accounts of other people's lives, explore new and creative worlds, or you just love to see hot ladies in spandex, we've got something for you.
If you have a comic that you'd like to see me review, you can email me at mey [at] autostraddle [dot] com.