Latvian comic book writer and artist Laura Ķeniņš' book "She Wants to Tell Me" is a gently told tale of exploration, love and sadness. Daina is a young woman and a photographer living in Riga, Latvia, when one night she is wandering through a park at night and stumbles upon a severed human ear. As she's standing over it, the real protagonist of the story rides her bike into the mystery of the ear and into Daina's life. This is Monta, a soft spoken lingerie shop worker. The two of them strike up a quick friendship that soon turns into something more.
At first, the relationship between the two women is pretty cute. Monta has never felt this way about a woman before and is a little nervous. She's trying to adjust to this new part of her life. But she's also definitely excited about it, it's not a reluctant nervousness. From the first time they kiss while swimming, to going to concerts and parties together, to the first time they have sex, it's all very sweet and tender, these two, especially on Monta's side, are testing the waters and not quite sure of how to do this whole "lesbian thing." I really like that Monta has started counting the number of queer women couples she sees on the streets. She's feeling like a stranger in a strange land and she's looking for comfort and familiarity.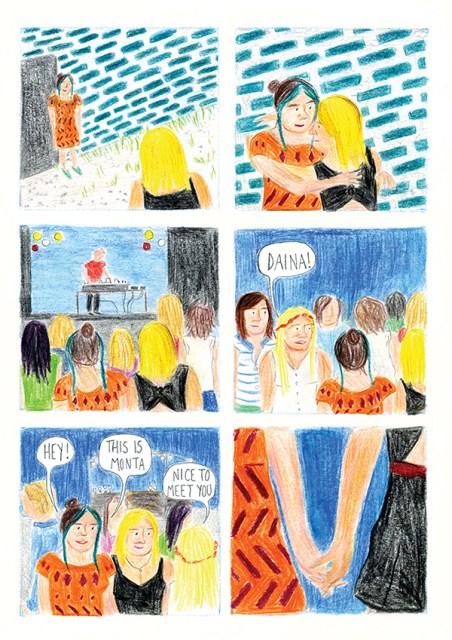 However, things aren't always perfect for the two of them. They start having some stilted conversations and annoyed responses. Daina starts to distance herself from Monta and close off her emotions. Monta can't get the ear out of her mind. She's dreaming about it, she's bringing it up to Daina, but Daina doesn't seem to really care.
Monta ends up feeling lost and delirious when Daina tells her that she's "not like" Monta, that "it isn't easy for" her like it is for Monta. Monta went into the relationship never having been with a woman before and now she's being held up as the serious and experienced one in the relationship. It's confusing and it's sad. But this isn't the "epic tragedy" kind of sadness, though, it's a slow-burning kind of blues that's just sort of there. There wasn't some big thing that caused them to drift apart, no one cheated, they didn't really fight or argue. The relationship just ran it's course. And that's one of the beautiful things about this book – the gentle sad beauty of real life that it presents.
The use of colored pencils to create the art just adds onto the themes and mood of the story. The colors are soft and blended, almost hazy, and it all adds to the very cute mood of the beginning of the relationship and the depressed mood of the later part. The scene where they first sleep together is also beautifully done, and again, the smooth colors and soft lines of Ķeniņš' art are perfect for the scene. And it's not just the tools, its Ķeniņš' actual art that makes the story really resonate and the emotions come through. Ķeniņš is able to draw her characters with real personality that comes through the sometime minimalist nature of her drawings.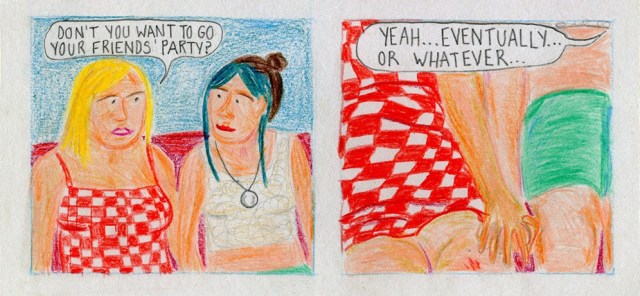 This is a really nice little book, and the art is just beautiful. You can pick up a copy online at Ķeniņš' website. You can also look at her website and her tumblr to see more comics and art by her and to keep up with what she's doing. Ķeniņš also has a lot of other great looking comics about topics ranging from the racism and discrimination that Roma people face, to feeling like you're not dressed "queer enough" for gay bars to Canadian radio towers, and all of them are wonderful.
New Releases (November 12)
Bravest Warriors # 26 (Boom!)
Batgirl #36 (DC)
Red Sonja #13 (Dynamite)
X-Files Season 10 #18 (IDW)
The Wicked + The Divine Vol. 1 The Faust Act TPB (Image)
Wytches #2 (Image)
Captain Marvel #9 (Marvel)
She-Hulk #10 (Marvel)
Thor #2 (Marvel)
---
Welcome to Drawn to Comics! From diary comics to superheroes, from webcomics to graphic novels – this is where we'll be taking a look at comics by, featuring and for queer ladies. So whether you love to look at detailed personal accounts of other people's lives, explore new and creative worlds, or you just love to see hot ladies in spandex, we've got something for you.
If you have a comic that you'd like to see me review, you can email me at mey [at] autostraddle [dot] com.