Help Us! Great Warrior is a fun fantasy webcomic done by Madéleine Flores. It's a comic about friendship, being lazy and being fabulous. Flores also does lots of other funny comics that you can see on her tumblr including a bunch of comics that are about her trying to love her pet cat but her cat not reciprocating the feelings, an experience I'm sure many of us share. She brings this same sense of humor and, oddly for a comic about an amorphous fantasy warrior, this same sense of relatability, to Help Us! Great Warrior, making it a quick and fun read that will always bring a smile to your face.
The hero of the comic seems to not really have a name other than Great Warrior. She lives up to her name and really is a great warrior, defeating all sorts of enemies, going on dangerous quests and finding lost treasures.  She's brave and dangerous and deadly, but she also is cute and loves to party and wear makeup and eat candy. Unlike other great warriors of legend, she's not motivated by conquering lands or vengeance or justice, instead she's motivated by a strange sense of glory that usually involves food, napping and making out. Great Warrior sort of reminds me of\Lumpy Space Princess from Adventure Time, except a lot more deadly and a lot more beloved by those around her.
This comic does such a good job of subverting expectations of the Sword and Sorcery and Fantasy genres. On one hand, we have the sword and sorcery trope where all women are scantily clad slave girls or sorceresses with bodies modeled after Jessica Rabbit. This comic clearly tosses that trope aside by having its heroine (and many other female characters) lack any resemblance to the traditional "sexy" female body type. On the other hand, the comic makes her into an ultimate sex symbol. She is confident in and proud of her body, she is stylish and fashionable and she seems to have a ton of make out sessions. Great Warrior may be pretty much a roundish lump, but she's still super sexy. Also, just the fact that the titular Great Warrior is a woman (or girl, I'm really unsure of her age) subverts expectations. The title Great Warrior doesn't usually conjure up images of a girl with a bow in her hair, yet here, it seems perfectly in place.
However, you don't need to analyze it that deeply to enjoy it. It also completely works on the level of just being a fun and funny webcomic about the various adventures of a little warrior creature. Flores is great at making it seem like classic Red Sonja or Conan the Barbarian comics one second and then dropping jokes about "summer dos and don'ts" or "candy parties" the next. Even though the comics often start with fantasy and sword and sorcery tropes, they quickly pull the carpet from under your feet and the punchlines definitely work well enough that you don't need to know anything about the genre to enjoy them.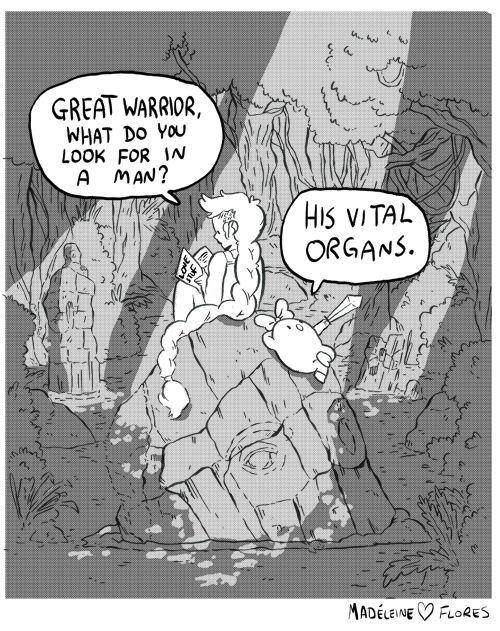 I love the art in this comic. It's a strange mixture of the basic, cartoony character design of Great Warrior and the much more elaborate fantasy background combine perfectly. When you add in Flores' love of drawing butts and overly muscular guys the art is often just as funny as the writing. Finally, the simple drawing style and character design of Great Warrior makes the gags even funnier. Since Flores spends a lot of time crafting beautiful and detailed fantasy settings and also creating some genuinely frightening and extremely creative monsters and villains, Great Warrior stands out in the best way possible.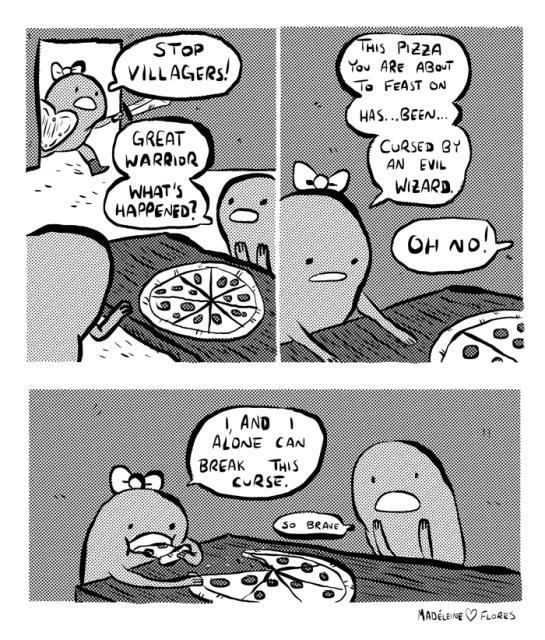 Overall this is a really fun and cute comic that also has a great message about how being feminine doesn't make you weak. In fact, Great Warrior gets a lot of her strength from her femininity. She's sort of what you would get if you combined a Sloppy Femme, Bossy Femme and the Hardest Femme in the world.  A lot of Flores' comics seem to have themes of being both tough and feminine at the same time. She has both an art and a comedic style that is super recognizable. I would really recommend checking out her other comics, as many of them are among my favorite comics that I see on tumblr. Flores has all sorts of different stores where you can buy her merchandise, whether you're looking for a Help Us! great Warrior book, a shirt or bag from the webcomic or a bunch of different products featuring her other art.
---
Welcome to Drawn to Comics! From diary comics to superheroes, from webcomics to graphic novels – this is where we'll be taking a look at comics by, featuring and for queer ladies. So whether you love to look at detailed personal accounts of other people's lives, explore new and creative worlds, or you just love to see hot ladies in spandex, we've got something for you.
If you have a comic that you'd like to see me review, you can email me at mey [at] autostraddle [dot] com.
Header by Rory Midhani