this post is in a duel with this post
---
I'd rather do almost anything with a tampon than insert it into my vagina. Almost. Once I forgot my diva cup during an extended stay at my girlfriend's apartment, which turned into an extended-er stay due to Hurricane Sandy. My diva cup was in Brooklyn, I was in Manhattan and I complained for an entire week. I'm an enthusiastic diva cup convert, but that doesn't mean I don't have tampons lying around! And it's never just one tampon — I haven't used tampons for as long as I've been dating my girlfriend, and just the other day I reached into my backpack and pulled out like six tampons. I have no doubt that in two days I'll reach into my backpack and pull out six more because they're ubiquitous and I'm convinced they multiply. I have a few ideas for my ever-growing supply of furtively reproducing tampons that I will never again stick in my vagina.
1. Make Cat Toys
I have a cat and a sharpie, and tampons have tails that make them look like mice. Game on.
---
2. Stop Nosebleeds
Actually not a bad use of tampons, as they're individually wrapped. This is, of course, provided that you don't mind walking around with a tampon up your nose. Also good for applying hydrogen peroxide to small cuts.
---
3. Nondenominational Saturnalia Ornaments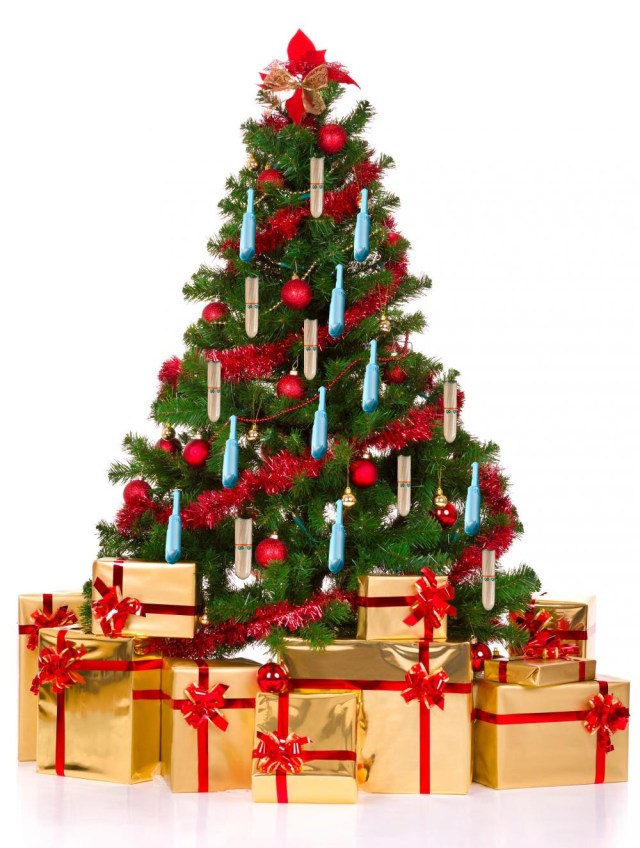 Life is hard when everyone in your queer feminist commune switches to the cup at the same time. What do you do with that closet full of tampons? Step one, dye them all fun colours. Step two, use them as ornaments on your Saturnalia tree *. What's Saturnalia, you ask?
But instead of yet another mansplainer, I'd like you to mentally substitute a crunchy butch lady with an ALH in there. Can also be used as Christmas ornaments, flameless menorah stand-ins and a substitute for Easter eggs—hide them in your backyard and set your friends free to find them!
---
4. Installation/Performance Art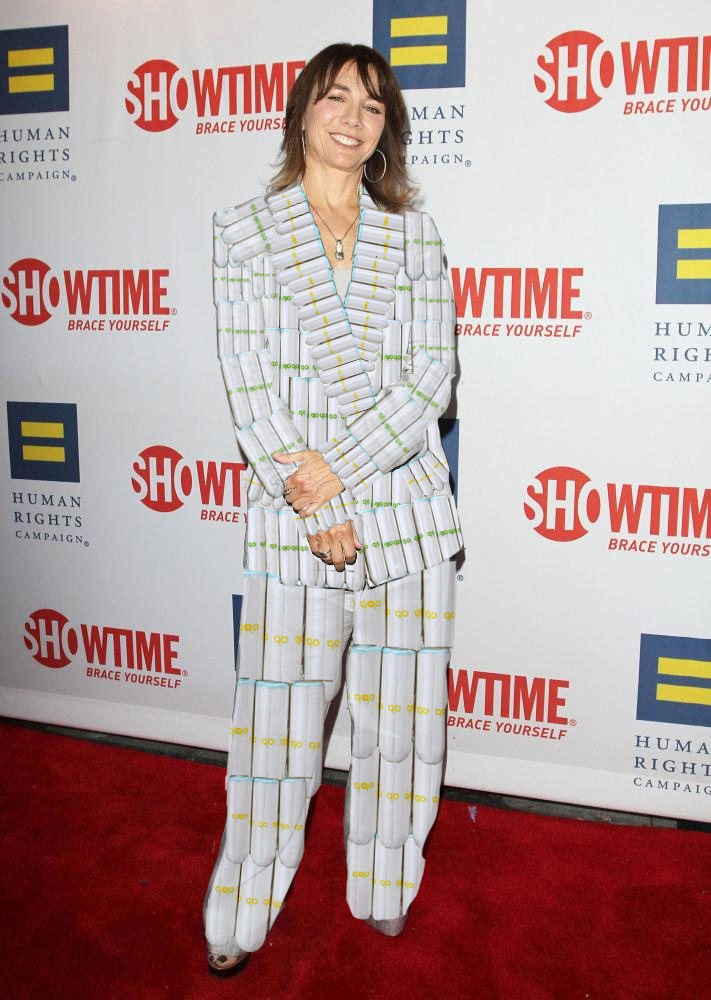 Tampon arts and crafts have certainly been done before, not the least of which occurred in my college house when my gay cis male roommates stumbled upon a cabinet of sanitary supplies after I'd moved out and I came back to visit and the downstairs bathroom had been adorned (maybe they were high?). But I'm proposing an entire movement of tampon installations and performance art. My suggestions include this suit of tampons, kindly modeled by Ilene Chaiken. **
---
5. Stuff a Teddy Bear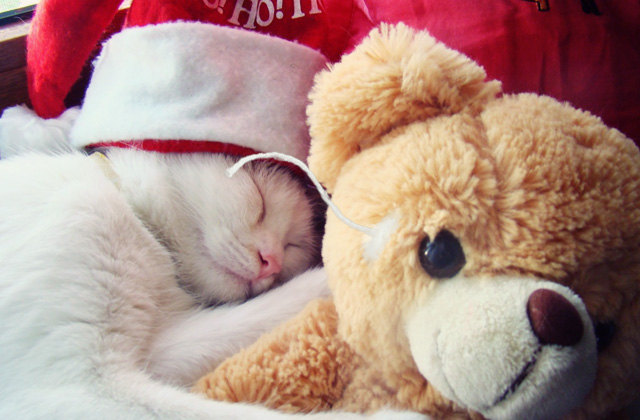 My girlfriend has pointed out that this teddy wouldn't be very comfortable, but that will not stop me from daring you to walk into a Build-A-Bear with two large cartons of tampons.
---
6. Cleaning Up Tiny Spills While Plating Gourmet Food
Let's be real here—I can barely cook canned soup without fucking it up, so I'll never be plating gourmet anything. But I imagine that if I wanted to clean up small spills of that canned soup off the rims of plates, that a tampon would be a very precise way of doing it. So it's not a far jump for my imagination to also imagine that if you're plating something with, oh I dunno, a raspberry cayenne coulis or some such thing (is that a thing?) that it would be a very precise way to clean up coulis spills too.
---
7. Nerf Gun Ammunition
Don't tell me you haven't thought about it.
If you haven't, someone else has. According to my research, they'd need to be a bit heavier on the tip to fly straight, but that's not going to stop me from encouraging you to try it. If it doesn't work as Nerf ammo, we'll just make the PVC tampon launcher.
---
8. Plug Up Holes in Sinking Boats
Ali: I'm thinking #8 is "plug up holes in sinking boats."
Karen: That won't work.
Ali: Won't it?
Karen: Tampons would just expand and absorb and more water would get in and the boat would continue to sink.
Ali: But it's the perfect opportunity to use this picture:
Karen: You could use something non absorbent.
Ali: And this gif:
Karen: Like a wine cork.
Ali: I'm not doing a post about things I'd rather do with a wine cork than shove it up my hoo-ha.
---
9. Get it Chemically Tested Because I Trust No One
No one can properly tell me what's in a tampon. Like, I know it's rayon fiber or cotton or a mix, but then some internet says the dioxin from the manufacturing is in there too, which would be real bad. Then the FDA says there's not really anything in a tampon that would make it not-so-great, and historically I believe governmental institutions when they tell me things (at least at first). I just wish that I had the resources and the know-how to do a damn test on the tampon all by myself so I could know for sure what's actually in the tampon.
---
10. Make a Ball Pit or Make It Rain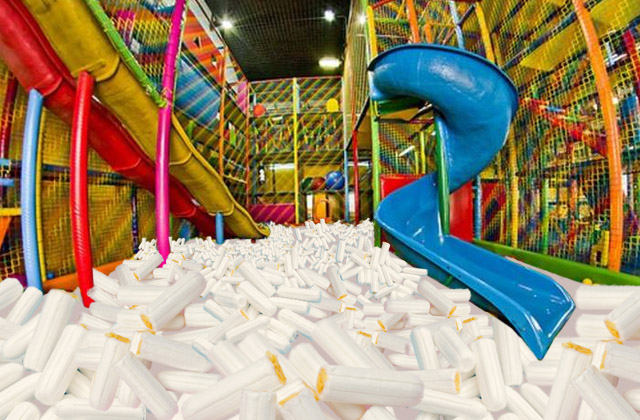 If all else fails, you could pull a Melissa Harris Perry and wear them as earrings in protest.
---
* Actually, the Christmas tree originated out of a completely separate German tradition, but people for whom conversion was convenient really enjoy mashing traditions together to make something politically expedient.
** Ilene Chaiken, as you may have guessed, was not a willing participant in modeling this suit made of tampons. But I really wish she had been.
Special thanks to Interns Geneva and Liz for the photo-tastic photoshopping. Feature image via Shutterstock.