IS THAT YOUR FINAL ANSWER? Chris Cooper, a lawyer for a group of California voters who sponsored Prop 8's proposal to ban same-sex marriage, motioned to dismiss the recently filed lawsuit which challenges the gay rights ban as discriminatory under the U.S. constitution.
U.S. District Chief Judge Vaughn Walker declined the motion and asked Cooper to explain how allowing same-sex civil unions would threaten conventional marriage. Cooper couldn't answer the question, later clarifying, "The people of California are entitled to step back and let the [same-sex marriage] experiment unfold in Massachusetts to see whether our concerns about the health of marital unions have been confirmed or assuaged."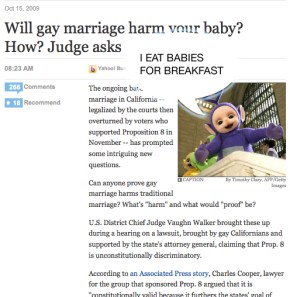 USA Today also covers the story, which we've screenshotted for you  [right]. Seriously who's in charge of the stock photography situation at the USA Today? Who said "let's find a photo of the gay-seeming  Teletubbie where he looks like he's about to hug you real big but for slightly too long and throw it up next to this article about the gays." We added a speech balloon to the screenshot in case you're unable to read between the lines.
Andy Pugno, general counsel to the coalition of religious and social conservative groups behind Prop. 8, complained that the "real impact" is that people are saying mean things about him! I KNOW HOW UNFAIR! See, the cool kids at the other side of the cafeteria keep saying him and his friends are "being irrational and bigoted for restoring the traditional definition of marriage."  Okay that's like when your girlfriend cheats on you and then complains you don't trust her anymore. You did the crime, Andy, now do the time.
MORMONS: Senator Harry Reid admits that the resources Momons put into fighting gay marriage could've been put to better use, although he does agree with his church that marriage is between a man and a woman. The following response comes from LDS apostle Dallin H.Oaks: 'We must insist on our constitutional right and duty to exercise our religion, to vote our consciences on public issues and to participate in elections and debates in the public square and the halls of justice. These are the rights of all citizens and they are also the rights of religious leaders." I couldn't possibly agree more — and that's exactly why we gays deserve equal rights, asshat.
MAINE PROP 1: Maine's Proposition 1 gay marriage vote is coming up, and the AG has informed the villagers that gay marriage will not affect teaching in the public schools. The Yes on 1 campaign disagrees, and asks supporters to "look at the facts," wherever those are.
SECULAR SABOTAGE: "The battle for the soul and future of America rages on between those trying to preserve America's Judeo Christian foundation and those who hate it, and have dedicated themselves to destroying it." Take a gander:
Did you know they say the ACLU is "Americans United for Separation of Church and State"? That actually doesn't make sense, but neither does anything they say, so.
HOMOSEXUAL MARRIAGE: This article, Notre Dame criticized for funding student travel to D.C homosexual march made my blood boil! Firstly, why does the term "homosexual marriage" upset me so much? I don't know. 'Marriage' in quotation marks is another favorite technique. Good news though it didn't cost much, "[Colleen King] told the Observer that the group hung out in the homosexual neighborhood of the city and stayed with friends to minimize costs."