JENNIFER BEALS: The seriously/awesomely dedicated curators over at Tibette.com got a second-hand sneak peak of the Hong Kong edition of The L Word Season 6 DVD, which debuts in the states on October 20th.  You know, the day that you'll all be listening to Tegan & Sara's livestream. The good news is, Jenny isn't killed, she's actually immortal and is presently writing poems and drinking something precious on the porch. Wait … no, I think Sue Sylvester brought Jenny back to life because she didn't like Ilene Chaiken playing Sue Sylvester. NO!
The bad news is, it's the same show we saw on the teevee last year. The good news is some of the photos from Jennifer Beals' upcoming photography book about her time on lesbian superseries The L Word is in there. Some of the photos we've seen before, but some we haven't. The other bad news is according to Tibette.com who I trust as the Authority on All Things Beals Related, there's still no info on when the book will come out and how to get our hands on it.
"Me in my Trailer" is really interesting. I mean that, she summons something really compelling in that shot.
TWITTER: Sue Sylvester is the new Chuck Norris. Have we mentioned that The Lynch Can Do No Wrong, and she is gay, well it's true.
@DontScrewWithSS Death once had a near-Sue-Sylvester experience".
@jaypickern Sue Sylvester does not go 'hunting', because that kind of terminology implies the possibility of failure. Sue Sylvester goes killing.
"Sue Sylvester doesn't need a Twitter. She's already following you…"
@linzeeJ722 Sue Sylvester had to get a concealed weapons license just so she could put her hands in her pockets.
@mb_hatter Sue Sylvester destroyed the periodic table, because she only recognizes the element of surprise.
SPICE GIRLS: The Spice Bus is owned by a fan, and it looks a little apocalyptic in there.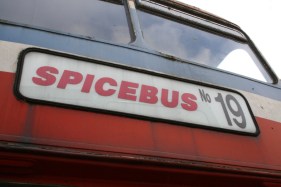 QUEER AS THE FACTORY: Justin from Queer as Folk is playing Andy Warhol at the Yale Rep! (@variety)
GLAMBERT: New Adam Lambert Song will be officially released today. (@rockstarweekly)
WHERE THE WILD THINGS ARE: And ten other controversy-causing children's movies –– Oh my God, North, I saw North, "I hated this movie as much as any movie we've ever reviewed in the 19 years of doing this show," said Siskel. Ebert agreed: "It's deplorable. There wasn't a single gag that worked. Yo couldn't write worse jokes if I told you to. The ethnic stereotyping is appalling, it's embarrassing. It's junk, first-class junk." (@nymag)
MAD MEN: Mad Men Creator Has Feelings About the Internet: "Are you just like sitting with your phone and you're kissing your girlfriend and saying, 'I'm kissing my girlfriend! This is so great, we're having sex!'" EXPERIENCE THINGS!"" Wasn't there just an article about how people tweet right after they have sex? (@nymag)
BTW have you tried to win a copy of Tegan & Sara's new album Sainthood? You should. All the other kids are doing it. They're also all trying to win a Caribbean cruise with the Team, you should do that too. Really this week is OOC. (@autostraddle)