LOHAN: It's Sunday. We have the whole week to The entire Lohan family has chosen to communicate via Twitter, with Dad threatening to hurt LiLo's alleged drug dealer. Lohan herself was committed to an additional year of probation at her court hearing October 16th. She arrived an hour and a half late, which slightly crosses the line from fashionable to two-thousand-and-LATE.
Yes, we're talking about Lindsay Lohan as if she matters in some real way, but it's Sunday! So.
Last night, LiLo tweeted ostensibly to inquire about Sam's whereabouts, as if the Code of Twilence would ever be broken for such a thing, but really she tweeted to announce to the world that she still has keys & is trusted with Sam's animals, e.g., her puppy Caddy.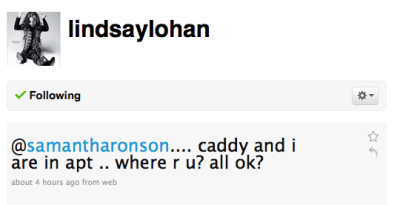 Here's the thing about Twitter — you can't ignore it. You can't delete the email or erase the voicemail. You can't see just SOME @-replies, you've gotta see 'em all, and if you somehow manage to NOT notice a tweet directed at you, it's likely 10 of your best friends — or thousands of fans — did see it, and will ask you about it. It's the best thing to happen to desperate irrational lovers since AIM away messages.
TEGAN & SARA: HEY-O! You could be winning a copy of Tegan & Sara's new album Sainthood right now, GET ON IT. Also you could win a Caribbean Cruise for 2! Seriously!
LAMBERT: Adam Lambert graces the cover of DETAILS magazine, making out with a woman to illustrate how women want to make out with him. Here's the photoshoot, via @reignoer at ONTD:
REAL MEN OF MOREHOUSE: Morehouse, an all-male college in Atlanta, has banned students from wearing feminine attire, including heels, dresses, purses or makeup. The new dress code has a lot of provisions, but it is mostly targeted at a handful of gay men. "We are talking about five students who are living a gay lifestyle that is leading them to dress in a way we do not expect in Morehouse men," said Dr. William Bynum, vice president for Student Services.
Ok, first off, I'm not sure how a ban on cross-dressing will curb the gayness on campus. They're not the same thing; you don't need heels or eyeliner to be fabulous, obvs (though it helps). Secondly, before it was enacted, the policy was discussed with the gay organization on campus, and ONLY THREE PEOPLE had a problem with it. Really, guys? Really? Also, students breaking the dress code won't be allowed in class until they change. What is this, high school? At least my high school had fun with it, i.e., girls with short skirts were forced to wear embarrassingly large t-shirts clearly purchased at a gas station.
I get why the college is pushing a dress code (creating an image of professionalism or whatever), but apparently when they say "professional" they mean "heteronormative." Which seems to so often be the case. [-Intern Sarah]
BILLY ELLIOT: Thomas Jones and Rob Gibson are acutely aware that they are setting themselves up for a barrage of "nature versus nurture" jokes whenever they tell people their son is a budding ballet prodigy.
THERE'S A REP FOR THAT: Waking Up Now pokes fun at the Republican party via a spoof of the iPhone app commercials. Check out the article that accompanies the video for a more in-depth look at various Republican gaffes. (@wakeupnow)
BALLOON BOY: OMG you guys! The 6-year-old-in-a-balloon story was totally a hoax!! I had no idea!!! None. Gawker has the exclusive story. (@gawker)
JORDAN CATALANO IS IMMORTAL: Now They're Old: How old are the casts of Dawson's Creek, Beverly Hills 90210, Party of Five and our other favorite 90's shows now?
UPDATE: Some developments in the Louisiana interracial marriage story: The couple that was denied a marriage license wants the justice of the peace removed from his post — and the justice of the peace refuses to apologize for his actions. The Louisiana governor and a state senator agree. Also, the couple managed to get a license and were married by a justice of the peace from the same parish. (@cnn)