You can usually tell how much money is in my bank account based on the beverages of choice in my fridge. Not all of us can be refrigerator raiders and have milk all the time.  In these parts, V8 Fusion is a delicacy and orange juice is bougie. The next time you're pinching pennies and want to account for your daily value of carbohydrates through liquid form, try one of these delicious drinks.
Top 5 Things to Drink When You're Broke
1. Kool-Aid
What is there to say about Kool-Aid that hasn't already been said? With colors perpetrating as flavors like Pink Swimmingo and hood classics like Black Cherry, how could you not pick up a few 35 cent packets? But what's the deal with Kool-Aid Bursts? They don't taste like regular Kool-Aid. This confused me as a child and upsets me as an adult. Also, if you haven't pretended to be the Kool-Aid man at least once, you're just not living.
2. Lipton Ice Tea
You can grab a box of the family size packets for around 3 bucks. I may offset any money I save on this one because I'm a little heavy-handed on the sugar. All tea should be sweet tea as far as I'm concerned.
3. Drink
Not to be confused with drank. Drinking Drink actually makes you broker. You can tell it's working because it burns when it goes down. If you're lucky enough to shop where Drink is sold, grab a whooole gallon for 99 cents. The best way to choose Drink is by color, not flavor. I recommend Apple Drink. It's green.
4. Arizona cans
The great thing about Arizona is they put the price right on the can so they're 99 cents everywhere. If anyone ever tries to sell you one for more than that, I'm pretty sure you can sue. Go stand in the refrigerated section of the gas station and peruse the wide variety of options the good people of Arizona have provided. Take solace that no matter which one you pick, it will be so cold and come out of the can in such an awkward fashion that you have to drink it at a reasonable rate of speed to prevent your front two teeth from freezing and possibly falling right out of your mouth. This definitely happens all the time.
5. Off-brand pop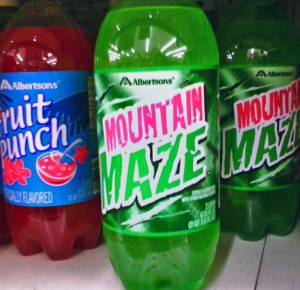 Recently I've been trying to drink pop less but it's SO HARD when it costs 99 cents for a 2 liter. I'm one of those people that will buy a 2 liter even when I only need of a single serving. I don't care if it's warm. I don't care if I there isn't a cup handy. I can't bring myself to pay $1.69 for a cold 20 oz. when there's a perfectly good bootleg brand staring me in the face. Of course I want my mouth to taste like a maze on a mountain.

Maybe one day I'll have a stocked fridge that will get me many women. Until then, what other cheap drinks would you suggest?