So! That happened!
I didn't watch the GOP debate because I don't own a TV and also suspected it would make me unhappy. Luckily everyone else on Earth did and then wrote about on the internet, so we still have something to talk about. Mostly, we have to talk about Which One Is Going To Win based on this televised feelings-sharing event, which is not a particularly accurate way of going about it but is, I guess, how the world works. ANYWAYS.
First of all, who was there? Pretty much the usual suspects: Michele Bachmann, Rick Santorum, Rick Perry, Mitt Romney, Newt Gingrich, Tim Pawlenty, Herman Cain, Ron Paul, Jon Huntsman, Not Fred Karger Because He's Gay, etc. Did I forget anyone? Was Gary Johnson there? I just forgot Gary Johnson's name for a minute but was able to recall it immediately by googling "GOP + candidate + weed." (If you would like a refresher on who at least the first six people plus Fred Karger are, lucky for you we have one!)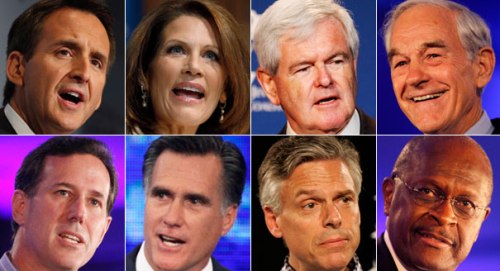 In a nutshell, you could think of the September 7 debate this way: PERRY ROMNEY PERRY ROMNEY PERRY ROMNEY PERRY ROMNEY. The consensus is that Romney and Perry, at least based on events up until today, are the two clear frontrunners, and therefore each others' major rivals.  Perry was one of the top-polling candidates before he declared he was running, which says something about the success he's having in appealing to the kind of mythology that extreme conservatives and Tea Partiers are so fond of. I think this piece from the New Yorker illustrates it really well:
 "Your state has executed two hundred and thirty-four death row inmates, more than any other governor in modern times," Brian Williams, of NBC, said to Rick Perry in the Republican debate at the Reagan Museum and Library last night. Before Williams finished asking whether Perry worried about killing an innocent person—he said he didn't—the audience began to cheer wildly. 
Williams: What do you make of that dynamic that just happened here, the mention of two hundred and thirty-four executions drew applause?
Perry: I think Americans understand justice."
Romney, on the other hand, is playing a much more moderately. Romney's Mormonism and ties to things like Obama-esque healthcare mean that he would have a hard time winning over diehard Tea Partiers, but while the NYT describes Perry as "an unabashed Southern conservative who is unafraid to speak bluntly," Romney comes across as cool, calm, collected, and most interestingly, better-educated on the issues. From the NYT again:
In one exchange, Mr. Perry quipped that "Michael Dukakis created jobs three times faster than you did, Mitt." Mr. Romney shot back, "Well, as a matter of fact, George Bush and his predecessor created jobs at a faster rate than you did, governor."
Fact-checking after the debate confirms that Romney is right on this one. In fact, fact-checking reveals a lot of things! Who would have thought! The Boston Globe followed up on several different statements throughout the debate, and found that both Perry and Michele Bachmann were incorrect about some bold declarations. Of course, a live debate is much different than a speech or press conference, and we should reasonably be more forgiving of mistakes. But Perry's claims about global warming suggest that he's in total denial or confusion about the actual facts of the issue, and it's not just a slip of the tongue.
Also lacking a certain level of fact competency is, of course, Michele Bachmann.
Minnesota Congresswoman Michele Bachmann on President Obama's health care overhaul: "As I go across the country and speak to small business people – men and woman, Obamacare is leading them to not create jobs…Obamacare is clearly leading to job-killing regulations not job-creating regulations."
This statement relies on a Congressional Budget Office estimate from August 2010 that Obama's health care reform will reduce the workforce by half a percent – around 800,000 people – "primarily by reducing the amount of labor that workers choose to supply." In other words, workers will choose not to work, rather than employers choosing not to hire. The CBO explains that because Medicaid will be expanded, and subsidies for health care insurance provided through exchanges, which will be established in 2014, health insurance will be more affordable. That means some people will no longer seek employment in order to buy or gain access to health insurance.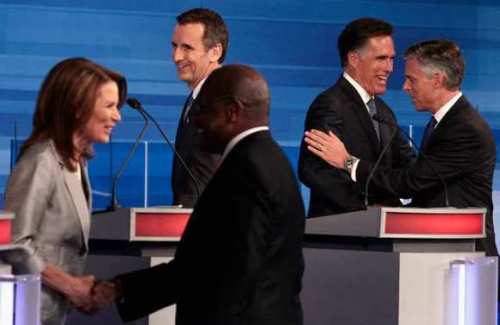 In fact, this wasn't a great night for Michele Bachmann in general — some are calling her the "incontrovertible loser."  Apparently she was "nowhere to be found in last night's debate, failing to insert herself in any of the major conversations and often awkwardly unresponsive to the questions." Bachmann has won over plenty of supporters in speeches, but those can be rehearsed — it's possible that her personal brand of politically themed hucksterism doesn't translate well to speaking extemporaneously. Although Rick Perry is no bed of roses, it will be great news if Bachmann really did have "her campaign [peak] last month, and that she will be increasingly irrelevant as the primary season continues."
This is only the first of seemingly billions of Special Moments in the move towards a GOP candidate for 2012, and it's possible that the national consensus on everything, including the frontrunner(s), will change plenty of times. For now, if you'd like to make your own decision, read the transcripts of the trial here.