Golly gee, is it getting to be election season already? Yes, it is, because in America "election season" is the entire 15 months, give or take 5 months, before a presidential election. Since there's little one can do at this early juncture to really influence the outcome, it almost seems better to stick your head in the sand until at least the point where there's a single candidate nominated and televised debates for you to scream and throw things at. That's actually a totally okay strategy.
But if you are the kind of person who just needs to know, and who has had a vague background noise of anxiety going on for weeks because you keep hearing snippets of NPR stories about candidates you don't really know anything about and how awful is Michele Bachmann REALLY and you sort of feel like maybe one of them might be a Scientologist? If you are that person, here is a helpful cheat sheet of the basic facts about the frontrunners, with special attention to How They Feel About Gay People.
Now, note that "frontrunners" up there – there are as of right now 15 GOP presidential candidates, and we're only going to talk about five. They are the five that I felt were most worthwhile to discuss, mostly because they seem most likely to win a nomination. For example, they do not run a pizza chain, nor are they Jimmy McMillan (as much as I sort of think he's hilarious and great, as does Riese sometimes) or Ron Paul (who I never want to hear another word about ever.) That said, there are other candidates who are interesting and worth reading about, even if they almost definitely won't become President – like Gary Johnson of New Mexico, who recently lashed out at other candidates for their anti-gay views, saying:
"This type of rhetoric is what gives Republicans a bad name… While the Family Leader pledge [ed. note – which was recently signed by Santorum and Bachmann] covers just about every other so-called virtue they can think of, the one that is conspicuously missing is tolerance. In one concise document, they manage to condemn gays, single parents, single individuals, divorcees, Muslims, gays in the military, unmarried couples, women who choose to have abortions, and everyone else who doesn't fit in a Norman Rockwell painting."
If you would like to know more about the rest of those candidates, I recommend Wikipedia and also, duh, their campaign websites. Actually I recommend that for the candidates below also, because you shouldn't let me be your only source on this, I mean really.
That said, get out your red-white-and-blue flags to wave while scrolling, and let's get to it. (Thanks to Julia for research help and Rose for dead-on Harry Potter insights.)
+
MITT ROMNEY: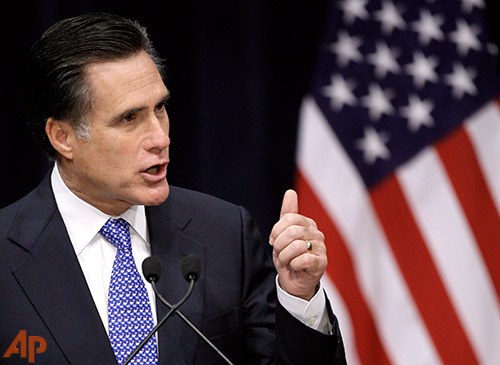 Believing in America and believing also that Obama is a bad president. Also though, job creation, fiscal responsibility, health care and foreign policy.
What he's got going for him: As of last month, Romney was well ahead of the other candidates in polls – "A quarter of Republicans or GOP-leaning independent voters said they would back Romney over the rest of field for the Republican nod." It seems safe as of right now to call him "the favorite." As one of the more moderate candidates (i.e. not Michele Bachmann), he has more political clout within the Republican Party than Santorum, which gives him a pretty strong advantage.
 What might not work out so well: Despite his popularity, Romney has more than a few strikes against him. Maybe the most important is his religion – he's Mormon, and the LA Times reports that "between a quarter and a third of voters say they would have a problem voting for a Mormon." Furthermore, Romney has a history of flip-flopping that's pretty objectively impressive, on issues from abortion and gay rights to job creation. This will be brought up again and again by his opponents, and so far in his career Romney doesn't seem to have formulated a good defense. Lastly, as former governor of Massachusetts, Romney participated in a state healthcare program that shared many of the same tenets as Obama's Affordable Care model – some have used the derisive nickname "Romneycare" alongside "Obamacare." Healthcare is a huge issue in this election, and Romney will have to work hard to distance himself from Obama on it to win over Republican opponents of it.
Feelings about The Gays: Romney was the governor of Massachusetts when same-sex marriage was legalized in 2004, and so he's never been in a position to espouse any really virulent antigay attitudes (although, as a Mormon, one has to note that he's complicit with a church that has proven itself to be out to get them.) When pressed on the issue, his response is… to not commit!
PIERS MORGAN: Do you personally think homosexuality is a sin?
ROMNEY: Nice try, but I'm not going to get into –
MORGAN: That's a valid question, isn't it?
ROMNEY: It's a valid question and my answer is nice try.
[yframe url='https://www.youtube.com/watch?v=N_GVCZw52a4′]
Of course, no one can be president if they support gay marriage, so mostly Romney's party line has been to express tepidly supportive feelings towards gay people while disavowing support for marriage equality. From a 2007 primary debate:
"I've been in a state that has gay marriage, and I recognize that the consequences of gay marriage fall far beyond just the relationship between a man and a woman. They also relate to our kids and the right of religion to be practiced freely in a society."
"I agree with 3000 years of recorded history. I believe marriage is a sacred institution between a man and a woman and I have been rock solid in my support of traditional marriage. Marriage is first and foremost about nurturing and developing children. It's unfortunate that those who choose to defend the institution of marriage are often demonized.wp_posts– 12/14/06 National Review Online
Death Eater Equivalent:  Snape: No one knows whose side he's on (since he's flip-flopped on issues so many times)
+
TIM PAWLENTY:
At the risk of sounding lazy, no different from any other Republican politician. Strengthening the economy, healthcare, national security and "values."
What he's got going for him: He allegedly goes by T-Paw in his personal life? He was governor of Minnesota, where an anti-gay marriage amendment is currently looming. When he originally announced his candidacy, he was viewed as a possible strong alternative to Romney. He has a genuinely working-class background, which is very attractive to Republican voters right now, and his populist leanings are appealing to the Tea Party, as is his evangelical Christianity.
What might not work out so well: Pawlenty doesn't have the name recognition that most of the other candidates do, and in a word, he's boring. He's not a charismatic and inspiring speaker like Romney or Bachmann, and may not elicit a strong emotional reaction from voters. At least, he doesn't seem to be so far — the Wall Street Journal reports that "Ms. Bachmann statistically tied former Massachusetts Gov. Mitt Romney last month in a poll of likely Iowa caucus goers (22% and 23%, respectively). Mr. Pawlenty took 6% support."
Feelings about The Gays: Not great. In a widely publicized and slightly bizarre turn of events, he recently responded to Lady Gaga's "Born This Way," saying that he disputes the theory that there's a genetic basis for homosexuality.
[yframe url='https://www.youtube.com/watch?v=0DBGF6tX5qA']
As a strong social conservative, he definitely opposes gay marriage.
Death Eater Equivalent: Lucius Malfoy: Because he's able to come off more mainstream and get lots of respect from politicians across the aisle while secretly being just as bad as the rest of them. Like how Lucius Malfoy was able to be in a high-ranking Ministry position for a while.
+
RICK SANTORUM: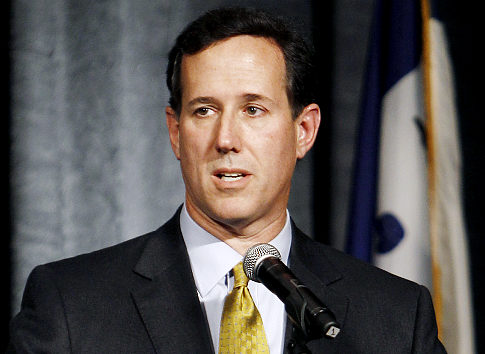 The very first issue listed on Rick Santorum's campaign website is "the preservation of the traditional American family" which means, obviously, that he hates your family. Not a good sign. He's also concerned with "making sure American tax dollars are spent wisely" (which sounds suspiciously like code for shutting down government programs for the underprivileged and universal healthcare) and also something pretty unhinged-sounding that's vague but refers to 9/11, "American Exceptionalism" and Jihadism, which is charming. Has said that he thinks healthcare is "the number one issue for voters." 
What he's got going for him: He's smart, and has been trying to play the game, making friends in the party – like John Boehner, Speaker of the House. He's socially conservative enough to appeal to people who are attracted to some of Bachmann's views but not her delivery, and comes across as someone who really cares about his 'family values.' Seems very unlikely to have a bizarre sex scandal surface (although it's always the unlikely ones, isn't it).  He's one of the candidates who have enough political clout that a bid for presidency seems possible, and his views might really resonate with the conservative voting bloc.
What might not work out so well: His last bid for re-election was a major failure, and his poll numbers were very low as of last month. His level of respect within his own party seems remarkably low — Tony Norman writes that "Mr. Santorum's popularity among tea party types and social conservatives hovers at 3 percent on a good day, but usually settles at 2 percent. As a result, he's had to deal with the indignity of being left off of every political svengali's short list of Republican candidates who could give President Barack Obama a sleepless night or two." Also, Dan Savage turned his name into the term for "the frothy mix of lube and fecal matter that is sometimes the byproduct of anal sex." It's the first Google result for his name. Which can't be helping matters.
Feelings about The Gays: I mean, there is a reason Dan Savage turned his name into the term for the frothy mix of lube and fecal matter that is sometimes the byproduct of anal sex — Santorum has been a fervent opponent of marriage equality and equality for queers in general since his days as a Pennsylvania senator. He was supporter of John Boehner in his efforts to have the House defend DOMA independently of the DoJ, and signed the same horrific conservative-values pledge as Bachmann (see below). Some choice quotes from him on the matter of gays in general:
"If the Supreme Court says that you have the right to consensual [gay] sex within your home, then you have the right to bigamy, you have the right to polygamy, you have the right to incest, you have the right to adultery. You have the right to anything… In every society, the definition of marriage has not ever to my knowledge included homosexuality. That's not to pick on homosexuality. It's not, you know, man on child, man on dog, or whatever the case may be. It is one thing."
"A lesbian woman came up to me and said, 'Why are you denying me my right?' I said, 'Well, because it's not a right.' It's a privilege that society recognizes because society sees intrinsic value to that relationship over any other relationship."
Also, you really just have to read this entire list of Rick Santorum's 12 Most Offensive Statements, the ones on black people are just really incredible, but here's a nice gay one: "Is anyone saying same-sex couples can't love each other? I love my children. I love my friends, my brother. Heck, I even love my mother-in-law. Should we call these relationships marriage, too?"
Death Eater Equivalent:  Fenrir Greyback: Since Santorum's name is now a sexual term thanks to Dan Savage, and Greyback's name sounds like it should be a sexual term.


NEXT:
"Other highlights include "repealing Obamacare," reducing debt, "defending marriage" and – this is on her website verbatim – "[rebuilding] respect for America as the shining city upon a hill"
Pages: 1 2See entire article on one page