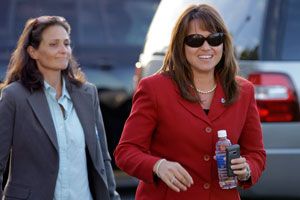 We've fastidiously avoided the Tea Party Delaware Senatorial Candidate Christine O'Donnell story because — well — it's just so EASY. O'Donnell surprised the universe when she won the primaries for her state's Senate seat last week, beating out incumbent Mike Castle. The chances of her actually being elected to the Senate are minimal, however — even Karl Rove called her "nutty"— and we can really only spend so many minutes of our lives making fun of far-right Christian Conservatives and their crazy ideas about evolution, homosexuals, abortion, sex, etc before we become a parody of ourselves, like those Dark Days of 2008 when we couldn't manage to tear ourselves away from the latest news on Sarah Palin's particular brand of astoundingly oblivious self-assured WRONGNESS.
Christine O'Donnell founded The Savior's Alliance for Lifting the Truth (SALT) in 1996 to organize young people against abortion, sex education and homosexuality! She blames AIDS patients for their acquisition of AIDS and doesn't consider them 'victims!' OMG LOL she's even against masturbation and says so in this HILARIOUS video from the '90s! She might even be a virgin!! Can you believe it?  God we are SO RIGHT and SO SMART and she is SO WRONG about EVERYTHING! The thing is that Sarah Palin almost became our Vice President. Christine O'Donnell stands no such chance, so is all this attention anything more than a three-ring circus?
Although I'd sort of assumed, while distractedly scrolling past the latest Christine O'Donnell shock piece on my Google Reader, that she was probably secretly gay, since I think everyone who hates gays that much is probably secretly gay, it turns out that there's another gay O'Donnell in the pasture — her sister. Jenni O'Donnell is an actress and spiritual healer who lives in WEST HOLLYWOOD WITH HER GIRLFRIEND, and her "likes" section on Facebook include both "the No H8 campaign" and "Christine O'Donnell for Senate" as well as "the word fuck" and the National Center for Lesbian Rights.. I know, right?
Our knee-jerk response to the outing of Jenni was, "oh obviously. And I bet she's super supportive of her sister anyhow, predictably enough." But really now — should we still be brushing this off as another symptom of the political disease? That it's nationally accepted to not only vote against, but push forward legislation against the rights of your allegedly loved gay family members?
Because Jenni defends Christine's views:
support of my sister,no matter what lies were made up about her…oh.. p.s. haave you heard the latest? she's homophobic… gotta laugh
Therefore although, as aforementioned, this is really just another brick in the wall of "Christine O'Donnell is ridiculous and won't get elected" stories, it does draw attention to a bigger issue:
What do Americans learn about how to treat their GLBT relatives from watching politicians fully willing to not only vote, but push forward legislation and ideologies which exclude the family members they allegedly care for? Are these really the "Family Values" our country ought to endorse?

To the extent that people are aware of someone like Christine O'Donnell's politics and also their families, what does it mean to them? Do they recognize the enormous, yawning disconnect there, or does it confirm their conviction that they can persist in believing that gay people are intrinsically inferior and objectionable, and that any kind of relationship with any gay person will save them from "homophobia?" Does Dick Cheney set a bad example for your parents who think it's okay to love you but vote against your rights?
Where's our lesbian Megan McCain?
Let's take a look at some of the most well-known gay family members and the families that birthed them.

Dick Cheney (former Vice President of the United States)
Gay Family: Daughter, Mary Claire Cheney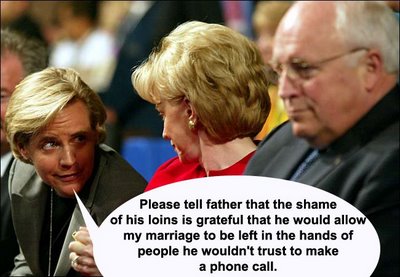 During the 2000 Bush-Cheney Presidential Campaign, Mary's private life was both well-known and totally not talked about, although this 'open secret' helped make the Cheney/Bush ticket seem more "compassionate conservative" than "totally emotionally void douchebag warmonger," despite Cheney's refusal to discuss the issue. When his wife was asked about it in an interview, she said Mary had said "no such thing."
In 2002 Cheney said sexual orientation shouldn't be a Republican issue, but by 2004 he was supporting the Federal Marriage Amendment, despite his apparent conviction that 'states should decide' which basically is the world's Default Copout at this point, like 'go ask your father.'
When she and her partner Heather had a baby in 2007, Cheney's office said "The vice president and Mrs. Cheney are looking forward with eager anticipation to the arrival of their sixth grandchild." So that's good. They aren't condemning the babies.


Alan Keyes: American conservative political activist, former diplomat, perennial political candidate.
Gay Family: Daughter, Maya Keyes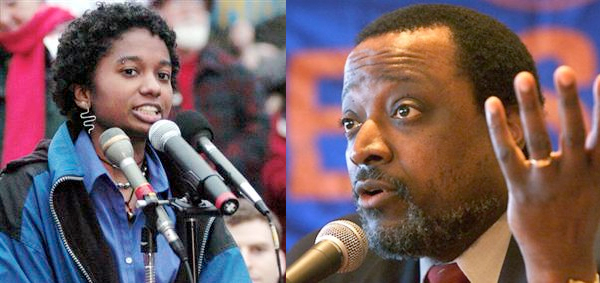 Alan Keyes ran for President of the United States in 1996, 2000 and 2008 and was a Republican nominee for U.S. Senate in 1988, 1992 and 2004. He served in the U.S. Foreign Service, was appointed Ambaasador to the Economic and Social Council of the UN under President Ronald Reagan and served as Aisstant Secretary of State for International Organization Affairs from 1985 to 1987.
Dad Says: Accepting homosexual marriage means that we're creating a "marriage state" that in principle "excludes procreation and is based simply on the premise of selfish hedonism." Gay sex is "mutual pleasure" that shouldn't even count as "sexual relations."
Daughter Says: Maya was kicked out of her house and cut off, leaving her unable to pay her college tuition at Brown, for which she eventually received a scholarship from The Point Foundation. Maya seems to have made her peace with the situation, and now identifies as a "liberal queer" and has spoken at gay rallies and events. Maya said she voted for Nader because "I'm really an anarachist but I felt this was an election that needed to be voted on." (source)
Keyes has the dubious distinction of actually following through on his homophobic stance, which is even worse than maintaining a tenuous kind of 1984 doublethink about the situation — or is it?  I mean, at least he's consistent.
"Word from Alan Keyes is that Maya is an adult and will have to live with her choices. It's a position that Maya says not only makes sense, but that she respects. While on the surface it may be hard to find common ground between father and daughter, their commitment to their ideals shows that the apple does not fall far from the tree."


Robert Mosbacher, Commerce Secretary, & GOP megafundraiser
Gay Family: Daughter Diane Mosbacher
Dad says: Robert Mosbacher was George H.W. Bush's Secretary of Commerce. He was generally accepting of his daughter despite their "differences." "She's my daughter and I love her. I am proud of her for what she is, and I hope she feels the same way about me."
When Robert became Bush's 1992 campaign manager, though, there was conflict. Diane was quoted as saying, "I would like my father to understand… I would like the Bushes to understand, that it's neither expedient nor ethical what they're doing."


Ruben Díaz Senior, New York Senator
Gay Family: Senator Diaz has two gay brothers.
Survey says: We hate this guy. He has made a career out of f*cking us over in the state of New York, and he's made blocking the passage of gay marriage his personal crusade, and then he says stuff like this: "I'm not homophobic. I have a problem with gay marriage. I have no problem with gays."
Meanwhile he wanted to block the Gay Games from being held in his city (b/c it spreads AIDS, duh!) and sued Harvey Milk High School for excluding heterosexuals. We went to one of his rallies one time!
And it doesn't help when our people defend him, WE ARE LOOKING AT YOU, "GAY BEST FRIEND" CHRISTOPHER LYNN: "It's a moral issue to Diaz. He's not saying, 'I castigate your lifestyle.' He doesn't say people who are opposed to him are sinners. He refuses to vote for something that he feels would imperil his soul."
Nope! Not possible! That hypocrisy is not okay!

Newt Gingrich, he Speaker of the United States House of Representatives from 1995 to 1999
Gay Family: Half-Sister Candace Gingrich. She works for the HRC as a Youth and Campus Outreach Manager, and she's, uh, had a guest appearance on Friends?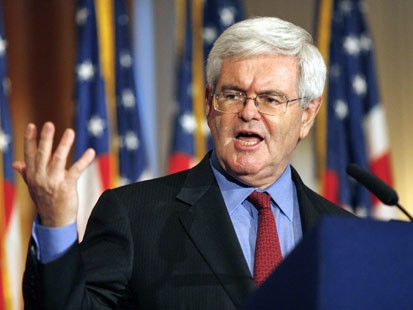 Newt says: Nothing, ever, on the topic, as far as we can tell. What does she have to say?
ABC 4 News: "Who would you vote for between Romney and Gingrich?"
Candace Gingrich: "I've never voted for a Republican for president in my life."


In conclusion, Maya Keyes is a rockstar, and there should be more people like her. But also, what can we learn from looking at all these stories in succession, this little parade of all the rainbow colors of homophobia? It complicates the question that we so often ask ourselves of how so many people in power can possibly hate us this much – how can so many people in power hate us when their families are us, when they come home to us every night? It's increasingly difficult to live in the US without knowing a gay person, even if you define "knowing" by "watching them present an Academy Award." How do you continue to hate what you know? We're asking you, Christine O'Donnell, but also everyone else. Also Ruben Diaz, but also our aunts and teachers and bosses. Really, how are you doing this? We'd really like to know. And why do so many gay family members present the message that love for their family exists regardless of their family looking out for their own well-being? It's certainly better than no love at all, but I doubt that sets a good precedent to parents who might wish you could be a little bit more like Mary Cheney.