If you know anything about the Mormon position on LGBT and Women's Rights, you may have been a bit shocked, as I was, to see this week's Newsweek cover story: "The Mormon Moment: How the Outsider Faith Creates Winners."
Featuring Mitt Romney's head photoshopped onto the body of a leaping Mormon missionary from the Trey Parker/Matt Stone musical, The Book of Mormon, this feature story was not, as you may have guessed, written by Ramin Setoodeh, a legend in the gay community for the internalized homophobia he's projected into a number of Newsweek stories, including one about how gay actors can't play straight roles and another about how a mudrered 15-year old gay boy could've maybe saved his own life by not wearing so much glitter to school.
But nope. And while this isn't a Setoodeh piece, it's still another unfortunate example of Newsweek totally alienating gay people!  Mormons Rock!, which is described like so…
They've conquered Broadway, talk radio, the U.S. Senate — and they may win the White House. Why Mitt Romney and 6 million Mormons have the secret to success.
… is by Walter Kirn, a journalist who's work I've actually enjoyed for many years now, including most notably Lost in the Meritocracy: How I traded an education for a ticket to the ruling class and The Autumn of the Multi-Taskers, which inspired me to give up multi-tasking for three days.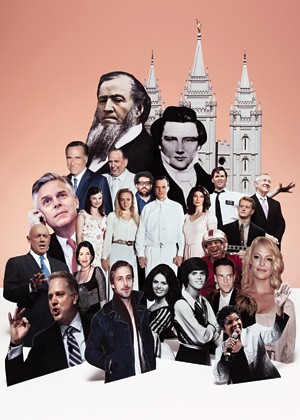 Mormons Rock!, however, oddly almost inspired me to cry and throw things. The article's thesis, it seems, is that Mormons are misunderstood as crazy zealots with personal planets, but due to the people/things represented in a neat-o collage [see photo, right], Mormons are on the verge of "having a moment."
Kirn writes that "despite the sudden proliferation of Mormons in the mainstream, Mormonism itself isn't any closer to gaining mainstream acceptance." Huh, I wonder why.
This is especially evident in politics, Kirn says, where "15 Mormons currently serving in the U.S Congress" feel they must downplay their Mormonism because Americans won't vote for Mormons. That must be so hard for them, to have to hide who they are in order to succeed!
Kirn suggests we abandon our Magical Underwear feelings in favor of a new, pro-Mormon argument:
The pro-Mormon argument doesn't have anything to do with the quirkier aspects of the sect's history and practices (special underpants, magic spectacles); the accouterments of any religion can seem wacky when scrutinized in the public square. Instead, it centers on the distinctive values and characteristics that have come to define Mormons outside the church walls—in their communities, in their careers, and in the culture at large. Those inclined to think of Mormons as a band of zealots bent on amending the Constitution to outlaw cappuccino may never be convinced. But the rest of us might benefit from hearing the country's most prominent and influential Mormons tell the truth about their faith: that the distinctiveness of the Mormons is actually the secret of their success.
A few examples of many Mormon success stories discussed therein:
+
Politics – Mitt Romney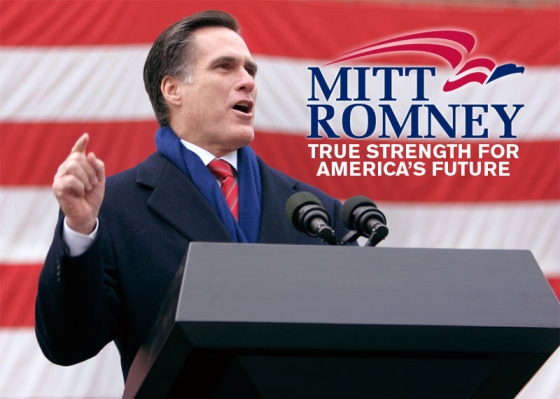 Newsweek says:
By de-emphasizing his Mormonism, Mitt Romney is missing an "unprecedented opportunity to dispel misconceptions, blunt biases, and make real progress." This is unfortunate because "nowhere is the gap between increased exposure and actual progress more pronounced than in politics." In both of those sentences, "progress" is defined as "Americans realizing that Mormons are all good citizens, good people, and misunderstood."
But:
Mitt Romney is on record supporting moves to de-fund Planned Parenthood and favors a repeal of Roe vs. Wade. He believes same-sex marriage "would destroy not only the culture of America but also irreparably damage the education system and thereby children."
What a good citizen!
+
Economics: Tithings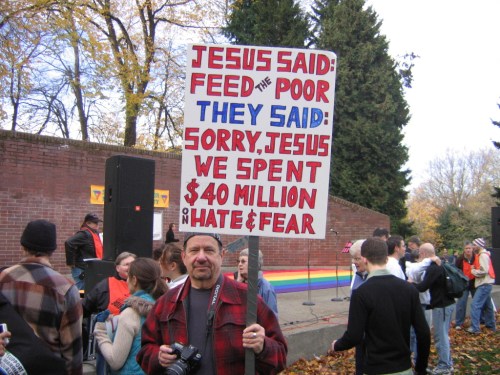 Newsweek says:
"The desire to avoid asking for assistance from non-Mormons has also influenced the church's structure, which requires nearly every member to contribute to the common cause… in an age of spiritual consumerism, when many people regard religion as a therapeutic lifestyle aid, faith is often expected to serve the individual. For Mormons, it's the other way around."
But:
The Mormon Church has made $30 billion as of 1997 and pulls in a $5.6 billion annual gross that would place it above Nike and Gap Inc on The Fortune 500. When same-sex marriage was passed in California, members of the Mormon Church took it upon themselves to pass Prop 8, providing 75% of the funds required to win Prop 8 via Protect Marriage. M.Russell Ballard and two other "living prophets" told their followers that giving money to stop same-sex marriage was imperative re: the quality of their afterlife/relationship with God, Jesus et al. A majority of these Yes on 8 funds came from individual Mormon donors.
(ALSO because the church decries all sexual activity outside of traditional marriage, as long as same-sex marriage is prohibited, gay Mormons will never get laid ever in their entire lives!)
+
Pop Culture – Twilight
Newsweek says:
"Stephanie Meyer's extraordinarily popular Twilight novels and films give vampires a Mormon makeover, with a lead character, Edward Cullen, serving as a sexy model of moral purity and chastity."
But:
Regardless of the book/movie's entertainment value, the Bella/Edward situation is a feminist's nightmare. Edward Cullen meets/smells Bella, falls obsessively 'in love' with her and spends the next few years 'protecting' her by controlling her in a psychologically abusive relationship which keeps her helpless, useless, sans ambition and perpetually near death without him. Characterized by Bitch! Magazine as "abstinence porn," I don't think anyone needs Edward to be a "model of moral purity and chastity."
In general the article seems to confuse "individualism" with "egoism" as well as highlighting Mormon achievements as distinctive and singular as if JetBlue's success is clear evidence of Supreme Mormon Outsider Values Conquering All. If you strip away the extreme tenants of ANY religion, you'll find good strong values underneath and concordant patterns of traditional measures of success. 87% of Jews go to college! 65% of Hindus make over $75,000 a year! 97% of Buddhists graduate high school!

Perhaps most upsetting, however, is Kirn's characterization of the Mormon faith as "underdogs" desperately in need of this aforementioned "moment." Kirn details the history of the Mormon Church, claiming that its astonishing growth in the present day (which is problematically provided as evidence of its validity) is "fueled by a ferocious underdog energy derived from an experience of brutal persecution… the sect's unusual beliefs, like the wives of its leaders, multiplied rapidly, provoking opposition everywhere the Mormons turned."
His repeated insistence that our disillusionment with Mormons stems from unnecessary focus on the "wacky" tenets of the Magic Underwear Religion is misguided. He's right that "the accouterments of any religion can seem wacky when scrutinized in the public square." But who cares? THAT'S NOT OUR PROBLEM.
The problem is that for a group allegedly suffering from non-stop misunderstanding and persecution, they sure are quick to misunderstand and persecute others, using their unique economic power to defeat civil rights for gay people. Gay people, by the way, were also persecuted and eventually made San Francisco into their Utah after the rest of the country was deemed unsafe to live. Prop 8 is mentioned  but quickly brushed aside and it's certainly not apologized for.
Though it's not referenced in the piece, Kirn's family joined the Church of Latter-Day Saints when Kirn was 12, but he ended his formal association with the church at 17 and now identifies as a "Cultural Mormon." He's a white, cisgender male who legally married his wife in 1995 and later divorced. It'd be dismissive and unfair to write off his perspective on Mormonism as reflective of privilege, but I would've appreciated some attempt to address its controversial positions on reproductive rights and gay rights.
Am I the crazy one? Am I overreacting? Yes we've got about 678 bones to pick with the Mormon faith, from little things to big things, but I've been to a Mormon Church service and it wasn't totally unbearable, I've known some very lovely Mormons and OBVIOUSLY not all Mormons are anti-gay.
And that's the thing! If there IS progress to be noted in the Mormon Church, it's groups like Affirmation: Gay & Lesbian Mormons and Mormons for Marriage or movements like this new wave of Mormon feminism.
When Kirn says "Today the legacy of that marginalization continues to mark the Mormon outlook of the world," he could be aptly describing feminist and gay Mormons, but he's not, he's focusing on people like MITT F*CKING ROMNEY. But the day that statement becomes true will be a day worthy of the exuberance currently reflected on the cover of a magazine that used to be considered one of the more liberal publications.