+
MICHELE BACHMANN: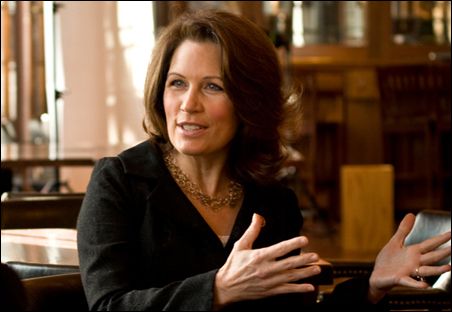 (read our full profile of her here!)
Economy and jobs! I may just stop typing that each time and let you assume it, like how they no longer put the Bible on the NYT Bestseller List. Other highlights include "repealing Obamacare," reducing debt, "defending marriage" and – this is on her website verbatim – "[rebuilding] respect for America as the shining city upon a hill."
What she's got going for her: The Tea Party. Virtually every person and media outlet with any modicum of neutrality views Bachmann as so far out there that you can only reach her via space shuttle, but unfortunately extremism is very on-trend right now. What's worse is that one of the hallmarks of extremism is that it isn't so interested in recognizing criticism of itself, and so all the media snarking and attention piled on Bachmann's politically calculated crazy talk (including this right here) actually only strengthens her base of support. As Frank Schaeffer says at the Daily Beast, "[She] says certain things which sound crazy to the general public. But to anybody raised in the environment of the evangelical right wing, what she says makes perfect sense."
What might not work out so well: As noted above, Michele Bachmann is a little unhinged, which has its advantages in the current political climate but also doesn't lend itself well to life success in general. Probably what critics have harped on most is her strong track record of being wrong – which Politico politely refers to as "a pattern." For instance, this January speech covered by Wonkette:
[yframe url='https://www.youtube.com/watch?v=hGSCF712FCA']
Most recently and controversially was an intended comparison of herself to John Wayne of Western fame that instead unintentionally referenced murderer John Wayne Gacy. For now, these things are embarrassing gaffes that Bachmann hasn't seemed particularly bothered by. But when the debates begin in earnest and become an important factor in a candidate's campaign, it may come back to bite her.
Feelings about The Gays: VERY NEGATIVE, which we have already explained in great detail. In the interests of time and space, we'll stick to the highlights (lowlights):
+ Lists "defending marriage" as part of her official campaign platform
+ Believes homosexuality can be "cured," and her husband runs an ex-gay clinic that was recently infiltrated by Truth Wins Out.
+ Described homosexuality as a disorder at a national educational conference in 2004: "Don't misunderstand. I am not here bashing people who are homosexuals, who are lesbians, who are bisexual, who are transgender. We need to have profound compassion for people who are dealing with the very real issue of sexual dysfunction in their life and sexual identity disorders."
+ Says that after being "devastated" by marriage equality in Massachusetts, knew through prayer that the only answer was to introduce an anti-gay marriage amendment in Minnesota in 2004. Her thoughts on what would happen if it failed: "It isn't that some gay will get some rights. It's that everyone else in our state will lose rights. For instance, parents will lose the right to protect and direct the upbringing of their children. Because our K-12 public school system, of which ninety per cent of all youth are in the public school system, they will be required to learn that homosexuality is normal, equal and perhaps you should try it. And that will occur immediately, that all schools will begin teaching homosexuality."
+ Signed a pledge from Iowa group FAMiLY Leader, which seems to imply that slavery is preferable to gay families (or that enslaved black families were somehow lucky in that at least they weren't headed by gays) "…a child born into slavery in 1860 was more likely to be raised by his mother and father in a two-parent household than an African-American baby born after the election of the USA's first African-American President."
+ Assisted in the writing of the 1987 book Christianity and the Constitution, which contends (among many other things) that the Founding Fathers can't be blamed for OWNING SLAVES: "[Author John Eidsmoe] also argues that even those founders who owned slaves opposed the institution and wanted it to disappear, and that it was only Christian for them to protect their slaves until it did. 'It might be very difficult for a freed slave to make a living in that economy; under such circumstances setting slaves free was both inhumane and irresponsible,' he wrote."
(Many quotes taken from The Bachmann Record, where there are still plenty more.) Bachmann has also been extremely vocal in her opposition to Planned Parenthood and any kind of reproductive choice, as well as essentially attempting to ban pornography. She has said that she studied tax law because of her husband's instruction, and recommends: "Be submissive, wives. You are to be submissive to your husbands."
Death Eater Equivalent: Bellatrix Lestrange
+
FRED KARGER ("THE GAY ONE"):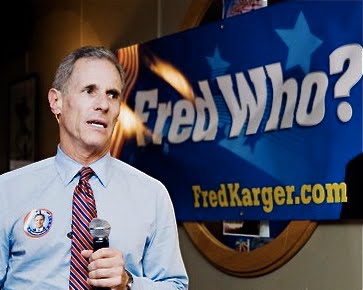 Strengthening the economy and "keeping jobs in America" – he describes himself as fiscally conservative. Also, education prioritization and reform, more conciliatory foreign policy, and ending the wars in Iraq and Afghanistan, as well as bringing peace to the Middle East and Israel. He supports a path to citizenship for immigrants as well as improving border security, and also lowering the voting age – which is a pretty astute goal for a gay candidate.
What he's got going for him: Well, put charitably, he's a "long shot." His goal seems to be to appeal to younger voters, who might not be impressed by Gingrich or Pawlenty, and who may not belong to the middle-aged Tea Party set that Bachmann seems to cater to. He was a consultant on Reagan's campaign, whose name is still sacred in the Republican party. He also calls Obama a "miserable failure," which seems like a popular position to take at the moment.
What might not work out so well: Well, he's gay. (And Jewish.) And his pet cause is exposing Mormon involvement in Prop 8, which is an admirable but not politically expedient move. So there's that. To be honest, Karger may see himself as a gay Shirley Chisholm; someone with a virtually negligible chance of winning, but whose role in history is important. He wasn't invited to the first major GOP event for the 2012 election, which even pro-marijuana legalization Gary Johnson was. He's a very seasoned campaign consultant and strategist, but seems to have little interest in using those skills to win votes, and more interested in stirring things up.
Feelings about The Gays: Um, positive? His statement on GLBT Pride Month:
"My candidacy sends a strong message to millions of Americans that if you are Lesbian, Gay, Bisexual, Transgender or Queer you can do anything you want in life, you can even run for President. As the only full equality candidate running for President in 2012, I will fight for full equality for all Americans."
Also, he's a pro-choice feminist (i.e. not the Sarah Palin kind.)
"I'm a very strong feminist. My mother was so I better be. I'm a founding member of Republican Majority for Choice. I've been a big supporter of Planned Parenthood, of the Equal Rights Amendment which was around when I was just starting in politics, and a big supporter of Hilary Clinton the first time around."
+
NEWT GINGRICH:
Surprise, he wants to pay down the debt and create jobs, as well as ramping up national security, as well as "protecting life and religious liberty" (which I am fairly sure is Republican code for "restrict access to abortion and contraception"). His alternative to Obama's healthcare plan is called Patient Power, and you can read about it here.
What he's got going for him: Newt Gingrich is part of the old guard of the Republican Party, and he's really put the time in. He was Speaker of the House from 1995 to 1999, and was named "Man of the Year" in 1995 by TIME Magazine for being an integral part of ending 40 years of Democratic majority in Congress. The respect he gained for those accomplishments is significant and still alive in the Republican Party. Gingrich still has an active career in consulting and political analysis, has written twenty-three books, and still speaks and is invited to conferences and lectures very regularly. He also writes historical fiction!
What might not work out so well: Newt Gingrich's entire campaign staff more or less walked out on him earlier this year, reportedly because "they realized they were working for Newt Gingrich." He's decided to continue his run despite what seems like a pretty fundamental and insurmountable obstacle, but betting markets give him only a 1-in-200 chance of winning just the Republican nomination. Also, there is apparently an issue where he's bought a lot of things at Tiffany's, and he has also raised less than half the amount of money than his main Republican competitors, and these elections are in a lot of ways won and lost with money.
Feelings about The Gays: He's given at least $350,000 to anti-gay groups, so that, you know, sets a certain tone. He sides with John Boehner in maintaining that the DoJ refusing to defend DOMA (and now actively challenging it) is a failure on Obama's part to "do his job." He's also said that he would "work on slowing down the progress of gay rights if elected president," which seems pretty clear-cut.
Death Eater Equivalent: Barty Crouch Jr: "He was basically out of this race just as it was beginning, just like Barty Crouch Jr. lost his soul just as Voldemort first came back to power. Also, Gingrich is kind of considered the "intellectual" Republican (and was voted "Most Intellectual" in high school and was a National Merit Finalist) and Barty Crouch Jr. got 12 O.W.L.s"



So! Whether you or someone you know/are related to is voting Republican this year, consider yourself prepared.
---
Are you following us on Facebook?
Pages: 1 2 See entire article on one page