This whole post got borne out of a question I got asked through the A+ inbox and we all felt like it could use a little elaboration: what do you bring your alcohol-enthusiast friend when bringing them alcohol just isn't in the budget? You know that friend, we all either have that friend or are that friend — the one with the bar in their house, or the dedicated cabinet or the one who spends, like, six minutes per glass on garnish alone. That friend is a good friend to have. They often open their homes to help make up for some of the dedicated spaces closing; and having a cocktail in a living room is always a more monetarily sustainable option than going out. Plus, if you don't drink, your alcohol-enthusiast friend will almost always have the ingredients to whip up a fancy soda with limes and syrups and such. Thank the alcohol-enthusiast friend. Be kind to the alcohol-enthusiast friend. Give back to the alcohol-enthusiast friend when you can. Here are a few ways to do so without breaking the bank.
Bar Supplies
You'd be surprised at the amount of bar supplies that are wee tiny additions and people don't effing buy them for themselves because it's not a priority. But a few well-placed, eight- to fifteen- dollar accessories make for a smoother home bar process, and if you choose something that's not consumable, your friend will think of you every time they use it. I didn't buy an atomizer ($7.90) for literal years, and it's a game changer whenever a recipe calls for a rinse. A bag of pour spouts ($8.99 for 12) is just as good as bringing a bottle of wine and it lasts longer.  I literally also have never bought myself a receptacle for my own simple syrup ($12.88 for two) and other longer-lasting homemade ingredients, and let me tell you, I kick myself EVERY cocktail hour I throw. And if you're okay bringing something consumable with alcohol in it, your friend might not pick the weird bitters up in favor of old standards that they use a lot—pick the strange bitters ($11.38 for Fee Brothers' Rhubarb) for them so they can experiment with new flavors!
Books and Paper Goods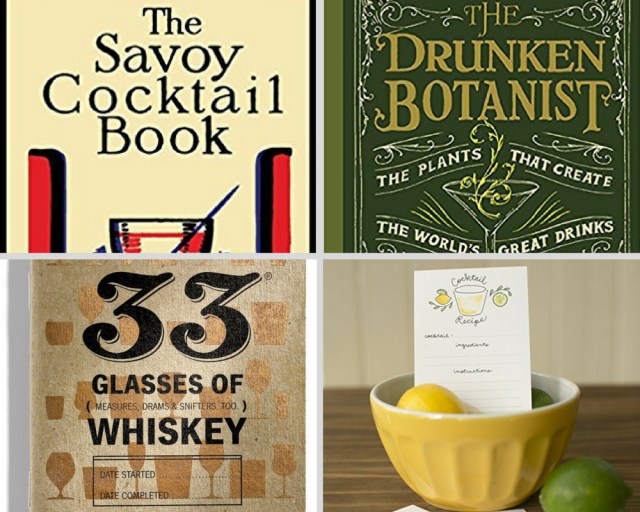 Alcohol nerds love a good read. The Savoy Cocktail Book ($9.99-$19.95) is an amazing resource full of classic recipes from the '30s. Grabbing up The Drunken Botanist ($9.15-$11.99) ain't a bad call, either. Alcohol nerds also love a good notebook, so get them one specifically for tastings for their fave kind of alcohol (whiskey tasting notebook from 33 Books, $5 for one, or $12 for three). Recipe cards ($10 for 12) are also PERFECT for the queer who's making up their own shit—keeping track is often hard among all the experimentation.
Make a Syrup
Budget even tighter? A home-made simple syrup with an ingredient you already have lying around in your kitchen might be just the thing! The basic proportion for simple syrup is equal parts sugar and water, simmer until all the sugar dissolves. Just a quick search through Saveur provides a ton of recipes and inspiration to take it further with stuff you likely already have on hand: mint, rosemary-clove,  black pepper, cardamom or cinnamon. Just make sure you've got a jar to give the gift in and you're golden!
Favorite Recipes
Listen, if the budget is even tighter, for the price of a cool index card and the ink in your pen, you can give your bar friend your very favorite cocktail recipe, be it one you made up yourself, one you chatted the bartender into giving to you or one that your family is known for. If you don't drink, I guarantee your friend would LOVE to hear about your favorite non-alcoholic mixed drink or scrumptious soda concoction; and hey, that makes it even more likely that their next party features your fave as an option. My favorite thing to receive as both an alcohol and a baking enthusiast is a recipe I would not have otherwise gotten a chance to try (if anyone has a good recipe for Icelandic Kleina, please send it to me!). You don't have to break the bank to add to the bar—your knowledge is priceless.