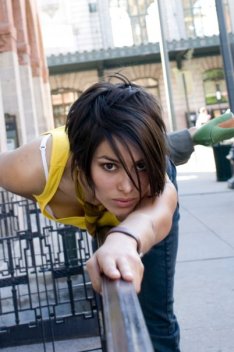 So, obviously we're working our asses off to make 2010 at least 400 times better than 2009. We launched Technostraddle yesterday, and now we're preparing for our first original Autostraddle web-series starring experienced vlogstar Natalie Garcia, the Cutest Sweetest Lesbian in the Universe, which will debut at the end of January 2010.
It'll be unlike anything you've ever seen before on the internet so we can't reveal too much just yet — all you need to know is it'll be a mashup of reality doc-style journalism & celesbian & straight people interviews, woman-on-the-street adventures, Funny or Die style whacky/absurd vloggetry to the max.
A little more about Nat: this Hispanic Lesbian social activist animal-lover was born & raised in New Mexico, moved to Denver in 2007 (she LOVES DENVER ALL CAPS) and now resides in Los Angeles a.k.a. Lesbian HQ, where she actively pursues an alternative lifestyle and also enjoys playing with her dog Maggie, making tea, the beach, swinging on swings, eating sushi, and hanging out with her cat Pumpkin who "is a gansgter, missing parts of his ear. He is like 50cent as a cat."
She also loves dancing — as in; ballroom, swing, two-step, waltzing, salsa and some oldies. Favorite things in life include Dolly Parton, The Graduate, Harold and Maude and The Golden Girls — because she is apparently 79, hopelessly trapped in the body of a 23-year-old. This seems to be working out okay for her though.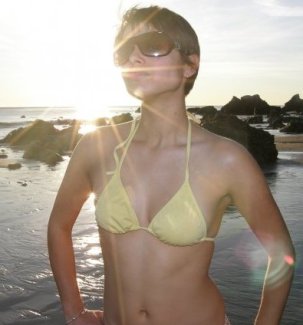 Nat is gonna be a killer addition, brave ambassador and beautiful face for Autostraddle.com 2.0: THE REVOLUTION.
But before we reveal the top eight to you, we should take a moment to honor some of the suggestions that did not make the final cut, because we think they are hilarious, and perhaps you'd like a t-shirt. Most of these suggestions are from Intern Lola, who graduated high school when she was 15 or something. Clearly you can see why:
– Honey Nat Queerios
– Au Naturale
– Walking with a Nat
– Nat's Got Your Tongue
– Nat-o-Matic
– Nat Outta Hell
– Nat on a Hot Tin Roof
– Holy Natrimony
– There's More Than One Way to Skin a Nat
And my personal favorite, "Nat Takes Her Clothes Off and Has Sex With Other Women On Camera," which unfortunately is just a bit wordy.
Okay ready to vote? If you have any particular feedback, comment it up, ladies!