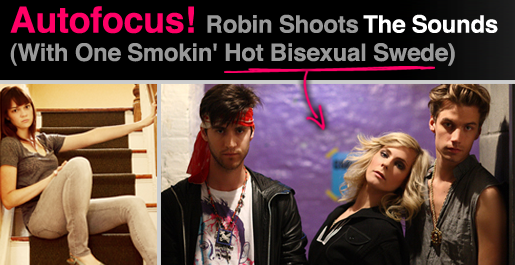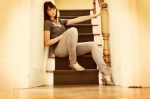 In the downstairs room of the
Santos Party House
,
The Sounds
are running late. A couple of skinny stylists are quickly grooming the five members of this Swedish crossover new wave band and I've got about three minutes to do the photos  — a situation that's actually pretty normal for band shoots. There's no time for lighting or adjustments but there are plenty of cool looking spaces to snap a few quickies on the fly. And it doesn't hurt that The Sounds are pretty easy on the eyes.
After that manic burst of creative energy I've got time to sit down and listen to the interviews. The Sounds formed in high school and are five members strong: Maja Ivarsson on vocals, Felix Rodriguez on Guitar, Johan Bengtsson on Bass, Jasper Anderberg on keyboards, piano and guitar and Fredrik Nilsson on drums. Three are songwriters [pictured below] and the group is set to release its third album, Crossing the Rubicon, this June.
Maja Ivarsson (pronounced Maya) is not only smokin' hot (and one of Blender Magazines "Hottest Women in Rock") but she's also
openly bisexual
. The other members are straight but very gay friendly. 
They don't mind being seen as a queer band 'cause "the queer community is always the first to pick up on cool trends."
We all agreed on this and I took it as a personal compliment and as evidence that Maja would love
Autostraddle
! Have you seen their video for
Tony the Beat
? It features two girls kissing.  Sexy.
The Swedish band says they often get questions from interviewers about
ABBA
(the band) and
IKEA
(the home furnishing store) and now are adept at playing along. One of Maja's fave ABBA songs is
Summer Night City
(which happens to be a favorite of my dad's and mine as well). The group actually enjoys almost "Disneyland in Paris" as Maja puts it, trips to IKEA on tours to the US.
What does this band like to see in the crowd at their concerts?  People going crazy.  "Like going to the hospital crazy," Maja calmly says, quickly following up with "I don't want people to get hurt." She does get sad when people aren't having a good time though, so if you go see The Sounds, and are standing close enough, bring some enthusiasm with you because this band is all heart.
Hey kids. Carlytron here. I snuck into Robin's post to tell you all about the Sounds' Secret Show last night at Santos Party House, a new-ish venue in Chinatown that's part-owned by Andrew W.K. This was my first time at the venue and I have to say, I really like it. State-of-the-art everything, decent amount of space, giant disco balls… I'm sold. The Sounds went on around 10pm and played a solid set of about 14 songs, comprised of a few new tracks and all their old classics. The crowd was made up of a bizarre mix of fans who won tickets online and industry types. Very few people were dancing and that bummed me out. The Sounds rocked it super hard but you could tell that they wanted the crowd to get into it more.
I've never seen the Sounds live until last night and they were just as awesome live as I heard they would be. There were maybe 10 people dancing in the entire crowd, 3 of which were in my party, 1 of which was me (obvs). Maja is a powerhouse on stage, a total rockstar. Felix and Jasper were totally rocking too, and the band was really tight and sounded just like their albums, if not better. Their encore of "Tony the Beat" was sick, instead of the sharp guitars during the verses they had sorta remixed it to use synths instead and it sounded amazing. Leaving the show, we all agreed that we wanted to have Maja's babies, though none of the members of my party are actually into girls at all, 'cept for me. She's THAT AWESOME.
These were my tweets during the show (and my Friday morning comments in italics):
@carlytron: Off to the Sounds secret show!

@carlytron: I think BETTY is at this show? (srsly the lady with the blonde braids was totally there)


@carlytron: Maja is wearing ripped fishnets, hot pants, a leather jacket and a captain's hat. In case anyone was wondering – http://twitpic.com/4b7si (she's so hot, you guys)

@carlytron: And a New York shirt! She's doing jumps and kicks. This crowd sucks.

Check out the Sounds on their headlining tour and then on tour this summer with No Doubt and Parramore. And! (this is exciting!) Check out photos from the show last night (and a full set list) at brooklynvegan (and look who they quoted– our very own Robin Roemer!!).

[ad#postads]