Hello and welcome to your last NSFW Sunday of 2009! What a year it's been! I bet you're totally tired from doing all those kegels, but if you remove yourself from your rabbit and GET YOUR SHIT TOGETHER then you are in for a really special treat. Because it's hard enough to find content for NSFW Sunday on a normal week (b/c of the patriarchy et al), let alone the internet's slowest week of the year, we thought we'd jump on the nostalgia bandwagon and take a look back at some of the sexiest lesbian moments of 2009.
Also you can check out Violet Blue's Sexiest Geeks of 2009, Co-Ed's Women Who Wowed 2009 & Most Oogled Women on Playboy 2009, Fleshbot's review of Best Lesbian Erotica 2010, and Refinery 29's Year of the Boob: The 11 Sexiest Editorials From 2009 —
And though it's basically unrelated, Sugarbutch's favorite scenes in dyke porn should keep you busy or whatnot.
GIRLS GONE TOPLESS: In addition to our gallery of almost-topless women that put us in the line of fire from our former web-hosting company, lots of other girls took off their shirts this year. These photos of Dita von Teese posing with a Playmate Model were taken in 1999, but didn't see the sun 'til this October. Here's a work-friendly shot to jog your memory: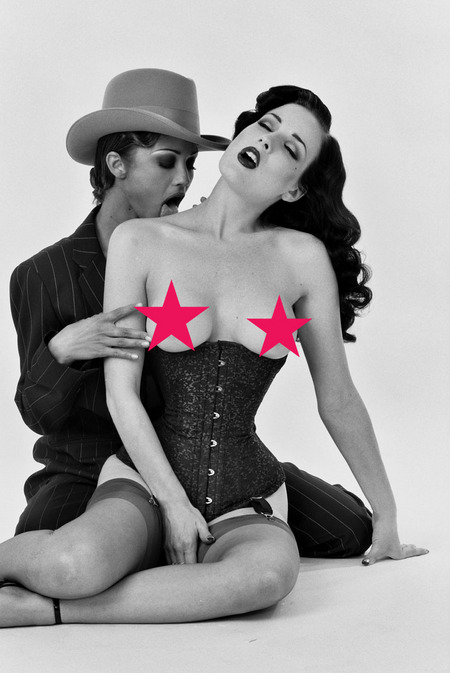 Our dear Lindsay Lohan has been sending "I'm over clothes" vibes to us for years — I mean leggings are really the next best thing to naked, and she loves that shit. So it's not uncommon for her to remove her top for a photo. She began 2009 with a bang in this February Hedi Slimane photoshoot:
Lady Gaga took off her shirt netting/hulahoop/nest for V Magazine and then Rihanna finished 2009 by covering GQ topless for its January 2010 issue.

ON-SCREEN LOVERS: Bette & Tina's final lesbian sex scene on The L Word was the only highlight of the worst television episode of all time. They hold each other for about half the clip 'cause they're serious lesbians:
In May, Los Hombres De Paco's lesbian lovers Pepa & Sylvia got all hot & bothered again, and it was good… until Curtis interrupted. Never fear, the duo is on a one-way road to "getting back togetherville." Spoiler Alert, LOL!
Skins began on BBC America and with it the homosexy relationship between Naomi & Emily, as recapped by Crystal for Autostraddle. Although the sexiest parts were edited out of the US version, because the US is bunk, and furthermore we're unable to catch it on YouTube b/c YouTube is bunk, we hear it was hot!
In September we witnessed the splendor of the most over-hyped lesbian kiss of all time, between bisexual Megan Fox & Amanda Seyfried in Jennifer's Body:
In November, the webseries Lovers and Friends ended 2009 with a bang…in' job interview for Kai that became a threesome, reminding us why lesbian teevee is so much more fun on the interwebs and leaving viewers breathless for more next season: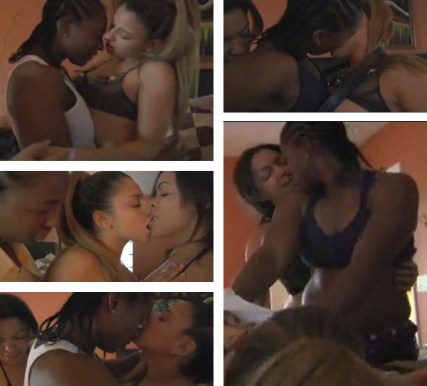 Outfest's lesbian programming included And Then Came Lola, Drool …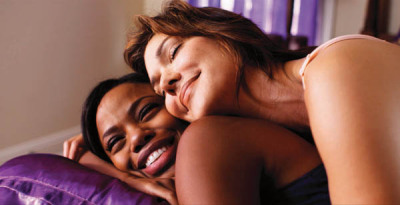 ..and got a little heated with the star-crossed lovers of El Niño Pez ..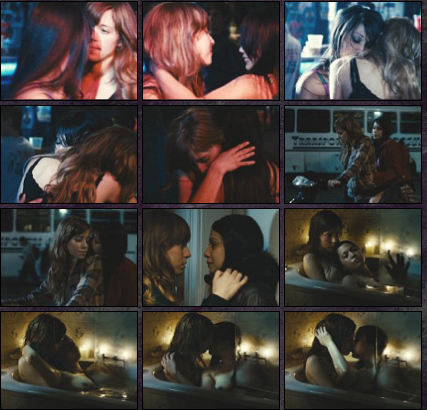 Girltrash released some unedited footage, with a bit of (SPASHLEY) making out thrown in. The fun begins around 2:20.
TEEVEE: Besides SHENNY and some chaste kisses on various prime-time network dramas, we got to witness Evan Rachel Wood guest starring on True Blood and doing some bloody muff diving!
IMAGERY: In addition to the multitude of girl-on-girl action available on tumblr, per always, Suicide Girls provided its members with a bajillion new pictures of hot naked chicks with real breasts. A retrospective [click to enlarge]:
REMAINDERS: Then there were very special memorable moments, like Barbie demonstrating the proper techniques for lesbian sex and "looks like the Lesbians For Men Club thrives in hipster porn too." And one of our favorite NSFW Sundays was when we all got to bitch about how annoying it is when people ask if lesbians can "really have sex." Also, the Lesbian teachers going at it in an empty classroom was golden.
NEXT YEAR: What's gonna happen next year? Well you can begin with the 2010 Lovers & Friends Show Calendar, available through the webseries's website. The 2010 I Love Kissing Girls Calendar is a sight to behold. But better; on the website you can read testimonies from all of the models about why, precisely, they so love kissing girls. Or how about Bicycle Bondage for a good cause? Their 2010 Calendar goes to fund a rider in the AIDS/LifeCycle Ride to end AIDS this year (co-produced by the L.A. Gay & Lesbian Center and the San Francisco AIDS Foundation).
Also, Bitch Slap comes out in the US in a few weeks, but it's been out in many other countries for a while now. And WOW does it look kinda terrible but also it is gonna have a lot of lesbian action!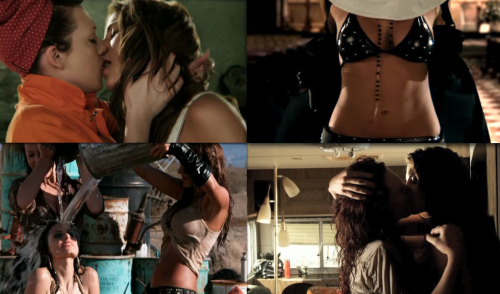 Ok we hope you all had fun, go make out with your girlfriend or find a girl on digiromp and make out with her or whatever it is you kids/adults do these days. We're all chaste b/c we are all nuns, obvs. Get we to a nunnery. La la la.