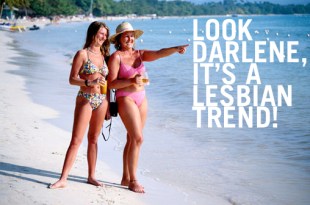 MIDLIFE LEZZIES: Is there such a thing as "the rise of the midlife lesbian?" The Times Online seems to think so, I guess because it's novel when a lesbian isn't a "bolshie 20-year-old with tats and piercings who is declaring she's a dyke and running off to do queer performance art in Dalston," as they put it. Meredith Baxter just came out at age 62, and Susie Orbach, the author of Fat is a Feminist Issue, apparently has a new girlfriend at 63; Ellen was 39 when she came out. Am I the only one who didn't know being a "bolshie dyke" who does queer performance art was a bad thing?
Really — we could do a "2009 in Mid-Life Lesbian Trend Pieces Top Ten" at this point. We began the Trend of the Year in March '09, when thanks to Cynthia Nixon and Judith Halberstam's new love, Oprah discovered lesbians (we are not going to make any Oprah and Gayle jokes here, though we REALLY WOULD LIKE TO) in an O Magazine article which focused on women leaving men for women in "the second part of life." Jezebel noted: "As sensitively as she portrays lesbian couples, [the article's] approach is still pretty conservative." Oprah then followed up her magazine piece with an on-air program on the same topic.
The View then tackled "lesbian love" and Joy Behar attempted to be a voice of reason in a conversation dominated by the unbearable Cacaphony of Ignorance (Sherri & Elisabeth). Where was Whoopi that day? We need Whoopi. A few weeks earlier, Tyra brought on Jackie Warner to ask Jackie why so many middle-aged housewives had crushes on her.
In April '09, following Kelly McGillis coming out (we actually had no idea she wasn't out previously, we clearly have our heads in the sand/les-mafia), ABC News's story "Kelly McGillis is the Latest Late-in-Life Lesbian" subjected us to the worst lesbian graphic/rainbow gradient abuse situation of all time:
We have nothing else to say about the article, as that picture pretty much says it all.
What do you think? Is all this hype a result of journalists desperate for a trend piece (we do it too, we're not judging), actual progress made on the lesbian front or positive increased visibility? If you are a "mid-life lesbian" yourself do you find the term inherently offensive or validating?
So you heard it here fifty-ninth, ladies and gentlemen: lesbians come in all ages, colors, shapes, sizes, species and varying levels of Photoshop Competence. Anyhow Autostraddle CEO Riese's Mom broke this story in 1996 at their kitchen table.
VOTE: It's been a wild weekend, guys! Approximately a million of you shared your homo-holiday feelings on the epic Christmakwanza Open Thread, and Associate Editor Sarah Palmer got into law school! More urgently, the 2009 Autostraddle Televisionary Hot Girl Awards are still happening, and some of you still need to vote! There's some intense campaigning going on for Margaret Cho, Sara Ramirez, and Jennifer Beals – even SheWired is getting in on it ("just saying, Jennifer Beals did nothing wrong to any of you…") Obvs the other ladies need to mobilize if they want to stand a chance against that trifecta of hotness, and obvs you need to get up in there and VOTE — you have until Wednesday 9AM EST!

EMINEM: Controversial rapper Eminem has agreed to drop certain homophobic lyrics when he performs next year at the Wireless Festival. "David Allison of Outrage! explains that they (the organizers, Eminem and Outrage!) have come to an agreement: "We have a condition that he does not use lyrics that encourage or incite hatred against gay people. He is free to express his views on gay people, as long as he stays off the violence and hatred. He has got plenty of other lyrics to choose from." This reminds us of that time when Eminem performed with/hugged Elton John and we were really confused about how to feel! Definitely the coolest part of this story is how effective a variety of queer activist groups have been able to be against homophobic performers. "Outrage! is a UK-based queer-rights group that has protested against other homophobic performers including Beenie Man, Elephant Man and Buju Banton. Rights-based protests in the United States have resulted in concert cancellations for serveral anti-gay artists, including Buju Banton, whose messages promote violence and even murder of gay men." (@carnalnation)
ANGIE: In what appears to be a belated Chrismahanakwanzakah present to all of us, Angelina Jolie has told German magazine Das Neue something vague that may or may not mean she and Brad are in an open relationship. "Jolie said, "Neither Brad nor I have ever claimed that living together means to be chained together. We make sure that we never restrict each other." (@nypost)
QUEER SPORTS: In sad news, It Takes a Team, the pioneering project of the Women's Sports Foundation dedicated to challenging homophobia in sports, has been canceled due to budget cuts. Among the project's basic precepts were that many girls don't play sports because they are afraid someone will call them a lesbian or they are afraid one of their teammates or a coach might be a lesbian, and that lesbian and bisexual women in sport are discriminated against based on stereotypes and homophobia. But director Pat Griffin says that this isn't the last word on LGBT issues in sports! She'll be back! Also, " the outstanding resources put together by It Takes a Team remain accessible, including information for coaches, athletes, parents, and administrators on dealing with LGBT issues in athletics; legal information; discussion guides and teaching tools; stickers and posters; and more." (@bitch)
MARRIAGE: A 74-year-old grandmother from Teaneck is leading the gay marriage push in the state Senate. Democratic state senator Loretta Weinberg wants you to feel good about the future of same-sex marriage in New Jersey. Pessimists are saying that New Jersey isn't going to pass this bill anytime soon, but Weinberg says she's willing to wait. "Her needle-exchange legislation, drafted to prevent the spread of disease among intravenous drug users, took 15 years to become law. A ban on indoor smoking, 10 years. A reduced blood-alcohol limit to define drunken driving, 10 years. "I'm an eternal optimist," she says. "If I weren't, I wouldn't be in this business." (@northjersey.com)
GAGA: If you've been regretting not spending more time checking out Lady Gaga's outfits in 2009, it's not too late! Someone has helpfully compiled Lady Gaga's 12 Most Interesting Outfits of the year for your viewing pleasure. Also, aw, she says such nice things about us! "Above anything, GaGa has her fans to thank. In a recent interview with MTV, she tells, "First and foremost, my favorite artists of 2009 were my fans. They were my favorites because every song I did, they remade on their own, and every photograph that I took, they took their own version of it." (@celebritygossipnet)
PUTTING 'CHRIST' IN CHRISTMAS: Gallup has the results of their annual holiday-season polling regarding Americans' religious views. It's nothing new that the proportion of Americans who identify themselves as Christian has been steadily decreasing over the past few decades: 78% now identify as some form of Christian religion (in 1948 it was 91%), and 13% of Americans claim no religious identity at all. The more interesting result this year is that 29% believe religion "is largely old-fashioned and out of date", up from 19% of the population ten years ago. So maybe religion should take a cue and update some of its teachings for the new millenium, like um, the ones against gay people!