Well, lesbos & allies, it looks like the year is ending, which means Carlytron is throwing together a fairly epic End-of-the-Year Televisionary Post. Yes, every week (or so) Carlytron, Lola, and occasional guest hot-spotters have given one lucky teevee character a Hot Girl Award, and now we all must decide who will be granted a Hot Girl Of 2009 Award.
After many funny but not-productive reply-alls, we came to an agreement to let you guys decide!! We narrowed it down to 14 semi-finalists. You can vote for more than one person, and then we'll announce the winner in the final year-end Televisionary!
Before you yell at us about Wanda Sykes or Rachel Maddow or Ellen — we decided for our own sanity we'd limit the nominees to people on scripted or "reality" teevee, no talk shows or Saturday Night Live or anything like that. READY KIDS, poll is at the bottom!
So, get hot ouch fiar! ROCK THE VOTE
Jennifer Beals (Bette, The L Word)
Margaret Cho (Teri, Drop Dead Diva)
Portia de Rossi (Veronica, Better Off Ted)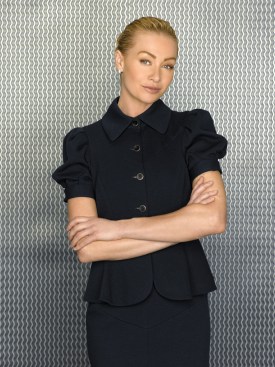 Eliza Dushku (Echo, Dollhouse)
Christina Hendricks (Joan, Mad Men)
Mindy Kaling (Kelly, The Office)
Jayma Mays (Emma, Glee)
Ashley Merriman (Top Chef)
Jasika Nicole (Astrid, Fringe)
Mary Louise Parker (Nancy, Weeds)
Sara Ramirez (Callie, Grey's Anatomy)
Cobie Smulders (Robin, How I Met Your Mother)
Rutina Wesley (Tara, True Blood)
Sofia Vergara (Gloria, Modern Family)
Ready Vote!
Who was the hottest actress on tv this year?