I haven't read these but I'm absolutely dying to. Some are already out. Some are coming out. All look both amazing and also amazingly relevant to your interests.
Essential Spring Reading for Queers and Feminists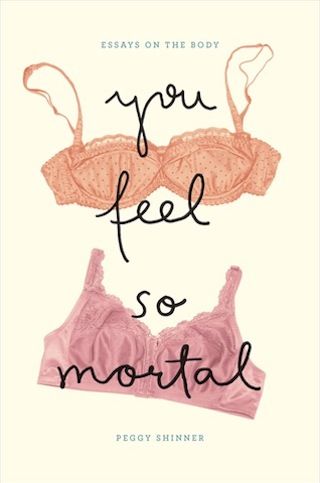 In this collection of twelve essays, Peggy Shinnier examines subjects like autopsies, feet, bras and hair to shed light on individual and collective bodies, the social and political forces behind them, and the intersection of body and identity. Part of the University of Chicago's gay and lesbian studies and Jewish studies series, You Feel So Mortal isn't exactly memoir but is still incredibly personal.
Christine Sneer, author of Little Known Facts, calls it:
"Nearly impossible to put down, and when I was forced to do so, I couldn't stop thinking about it. Shinner's warm and funny voice, along with her immense, enquiring, humane intelligence make the essays in this book — which concern identity, mortality, romantic and filial love, gender — a surpassing intellectual gem that entertains and engages readers with every single word."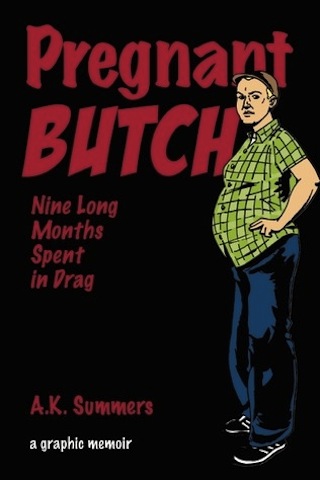 Written and illustrated by A.K. Summers, Pregnant Butch depicts a queer pregnancy with undertones of memoir. Summers investigates reconciling female masculinity with hyper-feminine pregnancy tropes and the intersection of birth and gender. A review at Publisher's Weekly calls it:
"A well-written, fast-moving narrative with many insights into gender roles, expectations about motherhood and femininity, and subtle homophobia. Some of the ground feels familiar, such as the trials of pregnancy and difficulties with birthing classes and unfriendly medical practitioners, but Summers, with her butch experience, definitely has a unique take, and she tells the story with candor, humor, and healthy self-criticism."
This debut collection of thirteen short stories from the co-editor of Asexualities: Feminist and Queer Perspectives mixes genres and feminist and queer theory with neat, sometimes weird and often good results. (The Nervous Breakdown has an excerpt.)
In a review at Lambda Literary, Daphne Sidor writes:
"Kill Marguerite maintains itself as a unified work; tracing the veins that run from piece to piece is part of the fun. The consistently disciplined prose does nearly as much to this end as the shared themes, sometimes calling to mind the similarly wry and precise Lydia Davis. This collection establishes Milks as a writer who can do just about anything but who will, one expects, keep doing the bidding of her macabre but humane imagination."
In the Australian, Sarah Dempster writes, "Alameddine's novel is the story of Aaliyah and her virtuoso interior world; one that sustains her femininity, feminism, strength and intellectual inquiry while the external world hammers at her door." An Unnecessary Woman has been appearing on spring reading lists from the New Yorker to Feminists of Color and you can read an excerpt at NPR.
In a review at Lambda Literary, Viet Dinh writes:
"What Alameddine offers here, most of all, is a window into the lives of Beiruti women. Not only that of Aaliya, but of the women who surround her: the other women in her family; Fadia, her upstairs landlord and her friends; Hannah, Aaliya's best friend. Many of these, like Aaliya herself, have shaken off societal notions of what 'womanhood' means — wifehood, motherhood — and forged identities for themselves. Aaliya, literary devotee, may consider herself 'unnecessary' — but the novel proves very necessary indeed."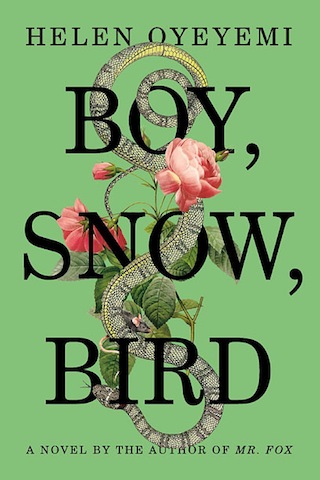 In her fifth novel, Helen Oyeyemi addresses identity, race, ethnicity, gender and family through reimagining Snow White in 1950s America in a postmodern tale reviews call "bewitching" and "jagged and capricious at moments, lush and rippled at others, always singular, like the voice-over of a fever dream." In a review at the Rumpus, Anita Felicelli writes:
"Boy, Snow, Bird presents itself as a mirror of our real world, mixing fairytale and realist techniques, both convincing us and confounding our interpretive capacity. It is Oyeyemi's most stunning novel to date, playfully confronting the racial politics that make Americans uncomfortable when addressed head-on. To mention "racial politics" in connection with a novel suggests something schematic, but Boy, Snow, Bird never preaches; it only reflects and refracts. Oyeyemi's genius lies in her ability to show us our society and its fairytale double, both the truths we have always known and a fantastically weird dream we didn't know we had been having."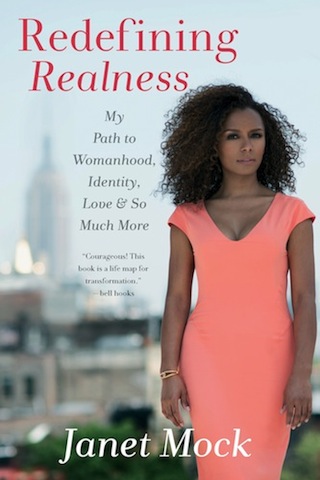 Janet Mock is known for her prolific writing and editing career, #GirlsLikeUs, and her badass discussions of trans women in media. In her new memoir, she discusses coming of age, coming out and the intersection of race, gender and identity. In an interview with Autostraddle, she says:
"I had three goals when I was young. I wanted to be myself, which meant to be a woman, I wanted to write and I wanted to live in New York City. And those three things are kind of coming together in the book that my record of my life so far. And I think that to have that access to tell my story in a mainstream way that's all my words, my filter, no one has filtered it for me, you know, it's my story, my record.

And there's intense privilege there, right? To be that, to have that and to have that dream. And so I'm excited but I'm scared too because also it is probably my first body of work that is unfiltered by someone else. It's not someone else's gaze. It's completely me."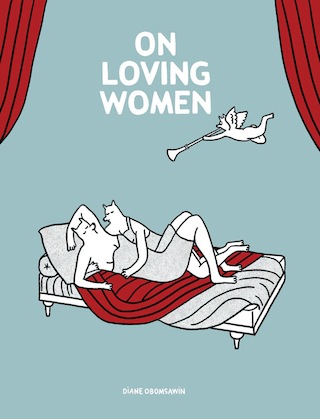 On Loving Women is a graphic novel of mostly romantic coming out vignettes. It features minimalist visuals, straightforward yet sweet stories and comes highly recommended. (MariNaomi even reviewed it in comic form at the Los Angeles Review of Books.) Ellen Forney, author of Marbles, says:
"On Loving Women is in turns wistful, sexy, goofy, bittersweet, frank, and adorable. Diane Obomsawin's deceptively simple lifework and straightforward writing style capture the breathless sweetness of holding another girl's hand for the first time, and the happy, lusty intimacy of a virginity-ending, drunken threesome."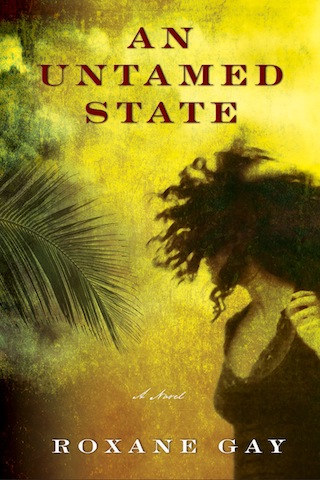 In her first novel, essayist and short story writer Roxane Gay depicts political and economic tensions in Haiti through the story of Mireille, who is visiting her parents in Haiti when a gang abducts her. A starred review at Kirkus, which also calls the novel "cutting and resonant," notes:
"The closing chapters suggest that Mireille is on the path to recovery, but it's also clear that a true recovery is impossible; many of Gay's scenes deliberately undermine traditional novelistic methods of resolution (baking bread, acts of vengeance, acting out sexually). Among the strongest achievements of this novel is that Mireille's story feels complete and whole while emphasizing its essential brokenness."
Gay's third book, Bad Feminist: Essays, is coming out in August.
In Playing the Whore: The Work of Sex Work, Melissa Gira Grant discusses recognizing sex work as actual work, and uses evidence to argue that police action against sex workers merely enables harassment rather than actually accomplishing anything. In an interview in the Awl, Grant says:
"There's a quote in the book about a sex worker who says: 'I don't even like writing about this, because I don't like having any attachment to anything that I do for money. I don't want have to make that such a part of my identity.' But when it's stigmatized work, if you want to defend the value of that work, then you can sound like the Sheryl Sandberg of sex work: 'We all just have to bend over and do our hardest.' I want people, no what their relationship is to sex work, to be able to have access to control over their job, and not feel disenfranchised just because of what they do for a living. That extends so much further than sex work, far beyond the scope of the book. But that is where I'm leading to. We need to have these conversations about how our work defines us.

There's such a through-line from 'Do What You Love' to sex work, and that's part of why this produces so much anxiety. It commodifies the thing you're not supposed to commodify. This is the same time that we're being asked to change our relationship to our jobs. 'Pursue your passion! But not THIS passion!' At a certain point it becomes incoherent. Why is this the one thing we're not allowed to put a price on?"
Another recent book, Sex Workers Unite: A History of the Movement from Stonewall to SlutWalk by Melinda Chateauvert, might also be relevant to your interests.
1. Lumberjanes, by Grace Ellis, Noelle Stevenson and Brooke Allen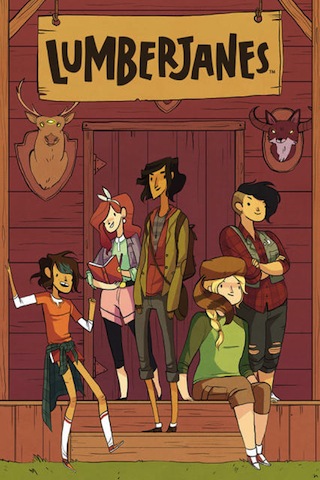 Five girls who are best friends go to camp and fight monsters and are generally amazing. Lumberjanes is less a book-book and is maybe actually a comic book, but it's one of the most important things coming out this spring and I'm not just saying that because I'm blinded by co-creators Forever Intern Grace Ellis's and Shannon Watters's amazing hair. In an interview with Comic Book Resources, Stevenson says:
"One of the biggest issues plaguing female characters is that, because there are relatively few of them, there isn't a lot of diversity, and the conversations around them push very specific traits as being 'more feminist' — typically masculine traits like physical strength, emotional toughness, etc. — and there ends up not being a lot of room left for genuinely nuanced and organic female characters. Because when there's only one woman in the cast, she has to be everything for everyone, and that's not really possible. Every person is both strong and weak at the same time, and if you can't show that weakness and you can't show how there's lots of ways to be strong, you don't really have a real character. The best way I can figure to address that is to have way more female characters. Just, like, so many. Then it's not on one woman's shoulders to represent all women in a positive way. They can be heroes, villains, ambiguously moral, comic relief, femme, butch, strong, weak, etc. and what you've got are — people."
---
And there are so many other amazing books to look for this spring! Emma Donoghue's literary crime novel Frog Music and Lorrie Moore's Bark and Susan Kuklin's Beyond Magenta: Transgender Teens Speak Out and Lenelle Moïse's debut poetry collection Haiti Glass and Kelly Cogswell's memoir Eating Fire: My Life as a Lesbian Avenger and even the latest editions of Best Lesbian Erotica and Best Bondage Erotica. What are you looking forward to?
Feature image by Micahrr.