WELCOME TO BRA WEEK! This week and next, the Autostraddle writers and some special guests will be giving you the scoop on over-the-shoulder-boulder-holders and otherwise-inclined chest-covering situations — fashion, history, feelings and so much more.
---
I am a huge fan of super cute lingerie. Despite my kinda basic and boring leanings in the underwear department, I love to wear pretty bras. Perhaps this is because I have been rocking them all day every day since third grade. THIRD GRADE, people. When did they stop growing? You know, I'm not entirely convinced they have stopped, to be honest.
Certain factors play into my relationship with lingerie, however. I don't like those giant lacy contraptions that look like they are meant for a misogynist porn scene or something I'd find in my mother's underwear drawer. I mostly wear lingerie for myself, because I'm into secret self-care like that, but I definitely want my partner to appreciate what I've got going on as well when she's lucky enough to see it. I'm also embracing my tomboy/blue jean/lazy femme realness more and more each day. This means if I'm going to spend monies on something, it better be perfect for all of my skipping and hopping around the gender presentation spectrum. Can I wear it under a t-shirt? Can I wear it under a dress? Can I wear it with hiking boots? Okay, so the answer to that last one is most likely no, although I'm sure we could find a way to begin making hiking boots with lingerie akin to wearing stilettos with lingerie (that's maybe the queerest sentence I've ever written).
Here are some types of bras I'm especially into right now.
---
Straps on straps on straps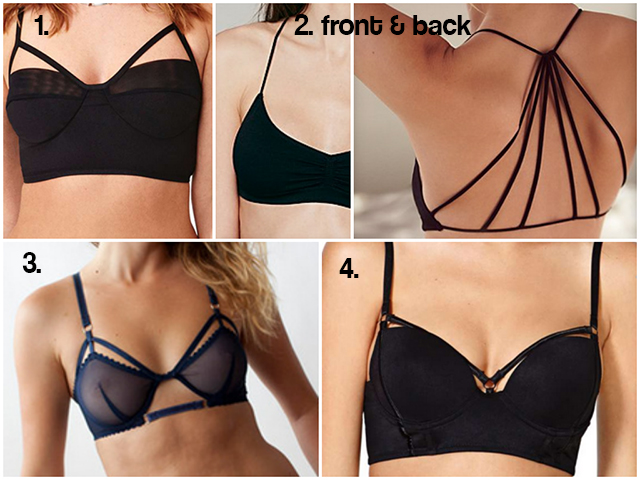 1. LouLou Bustier Bra (from Nasty Gal) / 2. Strappy Back Bra (from Free People) / 3. Lux Underwire Bra (from Lonely Hearts) / 4. Hotwire Bra (from Nasty Gal)
These strappy bras are not super feminine but still detailed and purposeful, making them basically a tomboy femme's dream. Let's all agree that these bras are so damn hot. They're badass sexy. Sexy badass. These strappy bras are meant to be shown off. In fact, when I saw Emily's bra (which I'm pretty sure is a Marlies Dekker's bra) in a recent Pretty Little Liars episode, I was so smitten by it showing that I couldn't stare at anything else. Can you blame me?
I love the idea of them peeking out from under a shirt. What a great detail to any outfit without being too blatant. And for the record, they also just look amazing without a shirt, so.
---
Sheer is the new lace
1. Goddess: Keira Banded Satin Bra (from Bare Necessities) / 2. b.tempt'd by Wacoal: Sheer Delight T-Shirt Bra (from Bare Necessities) / 3. Soft Satin Bra (from Topshop) / 4. Only Hearts Whisper Bralette (from HerRoom) / 5. Cosabella New Soire Push Up Bra (from HerRoom)
Lace is so overrated. For a hint of what's beneath the fabric, cut right to the chase and show it with a little see-through panel of sheer fabric. I like it in small amounts to hint at what you've got going on.  It's gorgeous when it's in a matching color, but it also looks great with a coordinating color, like in that sky blue and white little number up there. Simple and sublime, it's just the right amount of seductive without just being naked.
---
Let's be comfortable AND sultry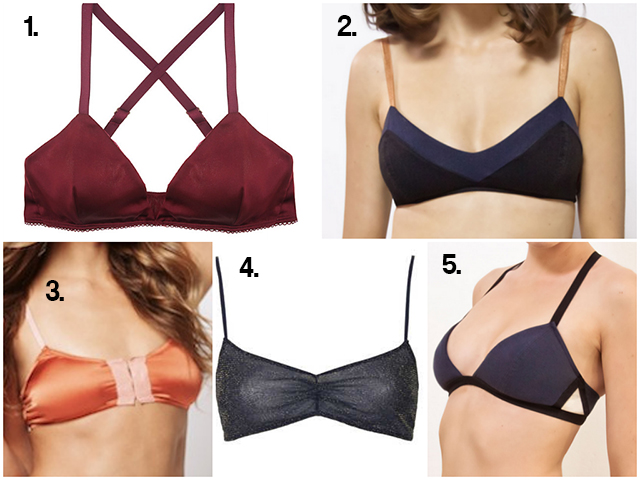 1. Zinkie: Lillie Bralet (from Journelle) / 2. Chevron Bra (from Light Years) / 3. Blake Bralet (from Zinkie) / 4. Sparkly Soft Bra (from Topshop) / 5. Facet Bra (from Light Years)
Wait, you mean we don't have to sacrifice our firstborn child to the gods to have comfortable AND sexy lingerie? I love the simplicity of all of the comfortable bras. The beauty is in the details. The purposeful details of a front closure (no, seriously, let's all take a moment to appreciate number three), a tiny hint of detailed edging, and just straight up sparkles are so charming and keep these bras from being ordinary. They look like you could wear them under your favorite vintage tee and then surprise even yourself with how hot you look once that tee comes off. I won't judge you if you feel the need to peek down the front of your shirt and marvel at how good these bras look and feel.
---
Header by Rory Midhani