So I've lived in NYC for a little over a year and a half now. There are about 5,000,000 things that annoy me about this city, but the redeeming factors are endless. The one constant thing that keeps me in love with New York is the food. I like to think I have quite a few signature spots now, and it's rare that I even want to try hip new places anymore. I thought it would be fun to share some of my favorite New York eats – both long term lovers and new discoveries.* Also, I needed a way out of doing a recipe post because it's been a whole lotta Amy's Organic frozen pizza over here as I try to save money for my Coachella trip in a couple weeks.
1. The Heebster from Russ & Daughters (Lower East Side)
I wrote an ode to this sandwich once. I have never been more obsessed with a food item in my entire life. A Heebster is everything. It is horseradish dill cream cheese with smoked trout and white salad on a bagel (an untoasted everything bagel if you know what's good for you). Every moment I spend not eating a Heebster is a moment of intense pain and suffering. More on what it means to be a Heebster here.
---
2. Brunch at Cafe Mogador (East Village)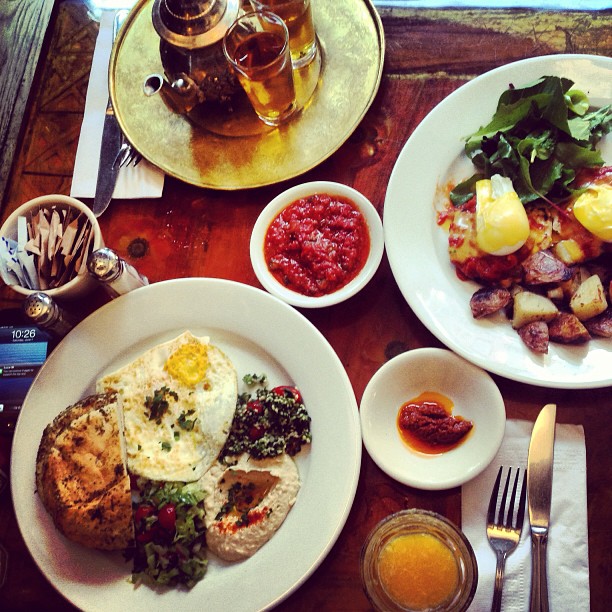 Cafe Mogador is the reason I never want to leave the East Village. This place is so good; it's on nearly everyone's favorite list, and for good reason. I always get the same thing – Middle Eastern Eggs. They come with hummus , tabouli, salad, zahatar pita. ALWAYS get a side of moroccan sauce to dip your homefries in. Oh, and the teas are yummy.
---
3. Mary Ann's (East Village)
The food here is whatever and the drinks are…well, you can see from the picture. This is NOT great Mexican fare. The people watching, however, is excellent, and the guacamole is consistent. I'm also a huge fan of their plain cheese quesadilla and I tend to crave it during all levels of inebriation. Cannot WAIT for it to get warm so I can sit outside and stuff my face with chips and guac while a street person comes so close to me I could put a chip in his mouth.
---
4. Steamed scrambled eggs at Buvette (West Village)
These are the dreamiest eggs you will ever encounter, and all the better when they are topped with salmon and caper berries the size of your eyeballs. Insert 2-3 mimosas on the side and you have my favorite way to spend a Sunday morning. There will be a billion people waiting for a seat when you get there but they actually do a pretty good job of seating people as quickly as possible. Plus, it's worth the wait. LOOK AT THE EGGS.
---
5. Pane Dolce at Bien Cuit (Cobble Hill, Brooklyn)
Really all the bread at Bien Cuit are my favorites. And all the pastries. This gargantuan sweet loaf takes the cake for me though. They make one stuffed with black cherries which is killer as well, but I'm a purist.
---
6. Moon cakes at New Golden Fung Wong Bakery (Chinatown)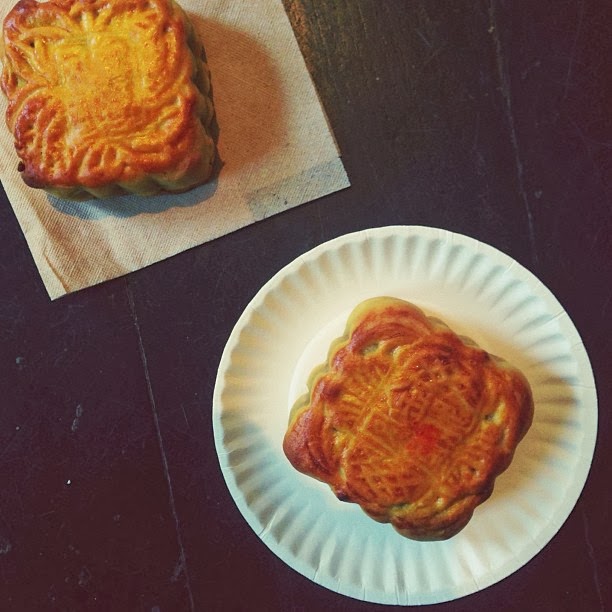 I eat moon cakes all year round. I know they are specific to the Harvest Moon Festival and Chinese New Year, but what am I supposed to do for the 150 other days of the year that I want moon cakes? Simple. I go to in New Golden Fung Wong in Chinatown where they sell them all year long.  The size of your palm. Bless them.
---
7. The Clean Slate from Little Chef @ Gotham West Market (Hell's Kitchen)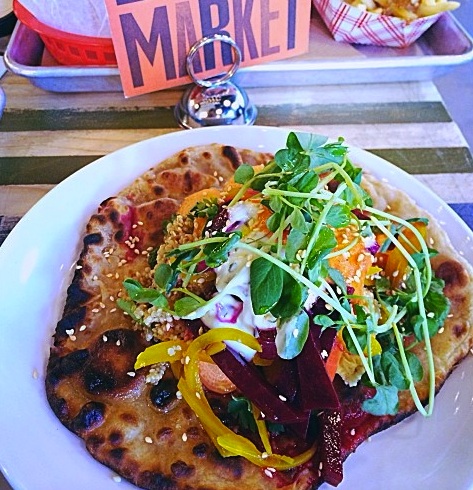 Gotham West Market is one of those places I would like to get trapped inside during the apocalpyse. That way I could eat all the dishes from all the vendors. My current favorite is the Clean Slate from Little Chef. It's basically a crap-load of hummus, yogurt and pickled veg on some nice fluffy naan with a sprinkling of quinoa. Hot sauce to boot. Do it.
---
8. Halo Halo at Engeline's (Woodside, Queens)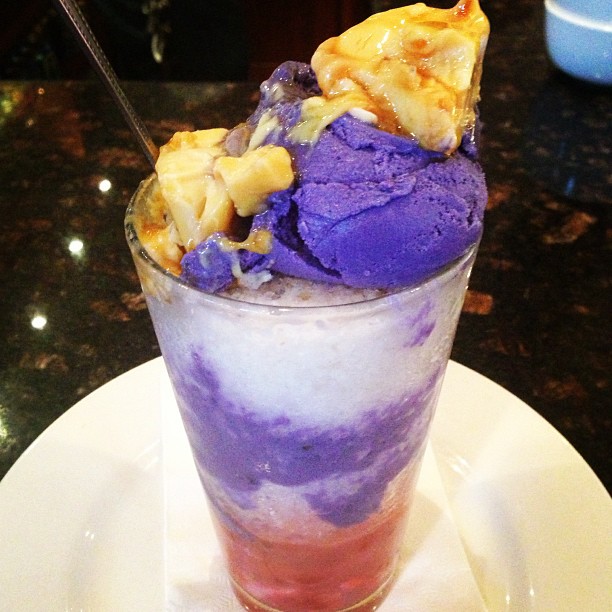 I have a huge sweet tooth and can't go out to dinner without getting dessert. When a place has bad dessert, I go somewhere else for it. Never go home without a cavity; that's my motto. And THAT is how I found this gem, folks. Layers of red beans, fresh fruit, tapioca pearls,  shaved ice and purple taro ice cream. Throw some flan pieces on top and pour some sweetened condensed milk all up in itttt.
---
9. Red bean medetai at Otafuku x Medetai
This was another solo dessert run. I stumbled upon this place on my way home from a dinner where my dessert was delicious, but too small. This place only serves 4 things: takoyaki (octopus stuffed pancake balls), taiyaki (fish shaped pancakes stuffed with red bean paste), okonomiyaki (savory cabbage pancakes with pork or shrimp), and yakisoba noodles. I so far have only had the taiyaki and it was SUPREME. Probs gonna go back this weekend and get another one along with everything on the menu.
---
10. Ground husk cherry tomatoes from the Union Square Greenmarket (Union Square)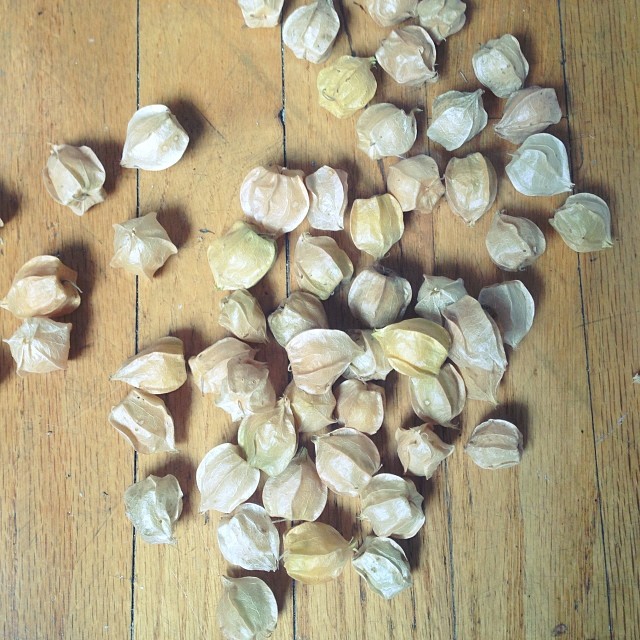 Ok confession, this picture is from last summer. BUT I continue to think about them all the time and still think they are one of the best things I have ever eaten in my life. Cherry tomatoes with paper-thin husks that taste like PINEAPPLE. I'm serious. They taste like a freaking pineapple. I need them back in my life right now, so if anyone spots them at an NYC farmer's market let me know pretty please.
---
Header by Rory Midhani