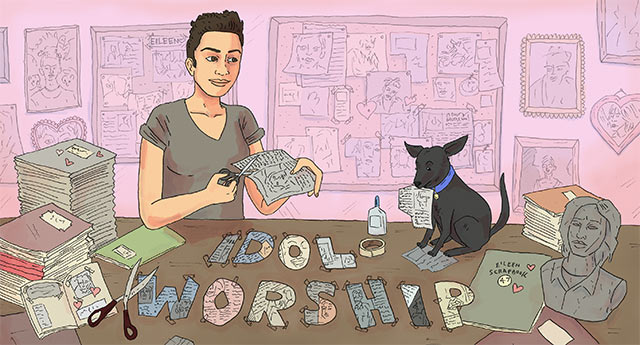 ---
Janet Mock had kept a secret for over 25 years when she wrote the column heard 'round the world: "I was born a boy." Already an established member of the publishing world, she was coming out as a trans woman.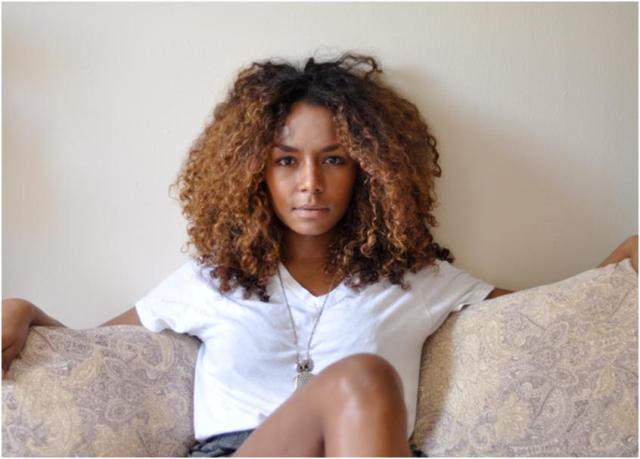 At the time, Mock was known for her work with People magazine, where she served as Online Editor; now, she's known for her advocacy and writing around trans* issues.
There are key moments in a person's life when you just know your destiny is about to change. For me, this moment came when Wendi, whom I remained friends with despite being in different schools, started taking female hormone pills. When she graduated to injections a few months later, she sold me her pills for $1 a pop. The timing was divine, as I'd already begun to detect a hint of an Adam's apple on my throat. The changes in my 15-year-old body horrified me. Sometimes while showering, my thoughts got dark: What if I just cut this thing off? Wendi's pills were my savior. For three months, I took estrogen and watched my body's slow metamorphosis: softer skin, budding breasts, a fuller face.

But I knew that taking them without the supervision of a doctor was risky. I needed someone to monitor my progress. That's when I finally confessed to my mom what I'd been doing. A single, working mother, she didn't have the luxury or will to micromanage my life and allowed me to do what I wanted so long as I continued making honor roll. That was our unspoken deal. But the medical changes were different — she recognized that my desperation to be a woman was not just teen angst or rebellion; it was a matter of life or death. "If that's what you want," she said, looking me straight in the eye, "we're going to do it the right way." So she signed off on a local endocrinologist's regimen of treatments, which involved weekly hormone shots in the butt and daily estrogen pills. For the first time, I could visualize heading off to college as a woman, pursuing a career as a woman. No more dress-up, no more pretending.
The world learned in 2011 that Janet Mock was trans, and also that she was a hell of a writer. Her work was far-reaching, approachable, poignant: she wrote firsthand about coming out to her boyfriend, the murders and violence directed at trans women of color, and what she wants from her community. And we couldn't get enough. Now, Mock is a regular on The Melissa Harris-Perry Show, NPR, Huffington Post, and, of course, Twitter – a rare land where the most intersectional, awe-inspiring, and thought-provoking feminists rise to the top.
#GirlsLikeUs is for ALL trans women, regardless of color, but all who lend their voice to amplify ours knows that intersectionality matters.

— Janet Mock (@janetmock) May 15, 2012
Mock took some time out of her media circuit to pen her so-far memoir, Redefining Realness; in it, she finally gets to tell us the full story. The book, out in February, is sure to sound just like the Mock we know and love: honest, frank, bright. (In her undeniable perfection, she also led a Storygiving campaign to make the book more accessible to trans women of color.)
Janet Mock is an inspiration to anyone attempting to live authentically. She's unabashedly human, insanely dignified, humble and generous with her efforts. She's been helping other women – and particularly other trans women of color – tell their stories, and it's made the world richer and more understanding. When faced with what must have felt like impossibility, she barely showed fear.
Mock came out defiantly into the world as the person she knew she wanted to be, and she accepted and has handled the responsibilities of being both a spokesperson and a mentor with grace. I recently sat down for a phone interview with her to ask ten(ish) questions about stories and what comes after she's done telling this particular one.
I'm really excited to start off the new year with such a great interview! I wanted to sort of start out with your switch to advocacy  – you sort of totally 180-ed from being an editor at People to being this outspoken trans* advocate. Have you ever looked back?
I haven't looked back, ever. I think it was the best choice that I had at the time to tell my story on my own terms and then to hopefully use that story to raise awareness about a very marginalized group of women: young, transgender women. I think the biggest thing for me is the plug-in to this amazing trans* and queer community that's out there that's been doing this work that's, I think, at a point where it's really ready to take the lead from people who live in many multiplicities, right, who have many different identities, not just people who are gay or lesbian, cisgender, but people who tend to be kind of muddied in their identities. And I think that I came around at the right time to be a part of this new kind of "intersectional" blend of the movement.

The next biggest part was just kind of connecting to all kinds of young women who found, I guess, some semblance of reflection in my story and in my writings. And I just want to continue to make them proud and make them proud of themselves and just feel as though they can tap into themselves and tell their stories so they can be heard.
And I know a lot of your activism is sort of tied up in the gay community since queer and trans* issues are so close together. So how do you feel about the relationship that sort of exists there between gay rights and trans* rights and just sort of the LGBT movement as a whole?
You know, I really I wish that we could really talk about gender expectations within the movement. I think that when we're all born we're told that if you're assigned male or female at birth and you're supposed to, you know, like the "opposite sex," that's who you're supposed to be with. I think it's about all of those supposed gender expectations. And I think that if we would have kind of started the movement there in that sense, I think we could have been more cohesive in our journeys forward without excluding people. I think the relationship is exactly what Autostraddle talks about often – you know, telling different stories.

I think that that's what's very important is showing that it's also not a monolith, even though that we are in the movement together moving forward that there's many different little movements within this movement that hopefully pushes forward when the louder part of the movement is heard, you know? We're not going to be silenced, the rest of us. I just hope that young queer, gay, lesbian, trans, bi – whatever – continue to lift up the erased history and they continue to lift marginalized voices.

It's always a tricky question, but obviously it is a community, right? Because that's how the world sees us. Often they see LGBT, they don't see QQIA, you know? But they see LGBT and so they think that it's a brand. And so how do we use that brand to forward the movement, move the movement forward and also hold people within the brand accountable to those who often aren't heard? I think that's the work of a lot of us that we've been doing, a lot of us who actually do a lot of our mobilizing through media, through social media and through the internet. I think that that's what's amazing about YouTube and about Tumblr. You hear the voices that often aren't heard when it goes onto MSNBC or when it goes onto "Modern Family" and "Glee" and all that stuff. And so I'm happy that younger voices and voices of color and marginalized voices are being heard.
You started the #GirlsLikeUs hashtag, which continues to be a really strong and powerful place for trans women to connect or people to even just talk about trans* issues. And prior to your advocacy, you were also doing work online. So how do you feel about a lot of the people out there who doubt the ability of the Internet to connect and inspire and educate people?
I think it's uniquely positioned for marginalized people who have access to the Internet. And I think that for me specifically, when I started #GirlsLikeUs, it was actually for the women who wrote to me and told me that they couldn't come out. Either they couldn't come out as trans* or they could not even start the journey of saying that they're trans*, right? And so I knew that the internet, because of the physical difference of trans women, obviously there's visible difference there for trans women because a lot of it is about body image and self image and self representation determination, sometimes it's hard to leave your apartment where you feel safe and you feel like no one is going to throw slurs at you or say anything ridiculous about you. So the Internet often is the first place of refuge.

And so I knew this and I was like, how can I empower those women by showing women who are living "visibly" out in the world and who can send messages of support and affirmation about their lives and just kind of live their lives very publicly and have a space where we can all tap into this level of visibility. Whatever visibility you're comfortable with, whether it's just at the computer and your little studio apartment or if you're out on the streets and you're taking photos of yourself with your friends. There's different levels of visibilty and all levels of visibilities matter for our movement. Because until trans women specifically are seen in the world beyond someone else's gaze, beyond someone else's gate keeping and lens, we're never going to be seen as who we truly are, which is very, very different kind of woman.

So I think that for me I'd noticed that the most successful "hashtag" or social media movement based activism are the ones that are very targeted towards marginalized voices that tend not to be heard. And so then when we activate those voices and we amplify them and we collect them together, it shows a very strong portrait. And so I think that in this day and age, I think it's the quickest, probably cheapest way of getting people to be heard in media is through web platforms.
And you're also making the switch from web to print with your book that's slated for February. Are you super excited, terrified?
So I'm definitely about the book. It's like a mix of like exhilaration, fear, excitement, obviously a dream being realized is probably the biggest part of it. I had three goals when I was young. I wanted to be myself, which meant to be a woman, I wanted to write and I wanted to live in New York City. And those three things are kind of coming together in the book that my record of my life so far. And I think that to have that access to tell my story in a mainstream way that's all my words, my filter, no one has filtered it for me, you know, it's my story, my record.

And there's intense privilege there, right? To be that, to have that and to have that dream. And so I'm excited but I'm scared too because also it is probably my first body of work that is unfiltered by someone else. It's not someone else's gaze. It's completely me. And so that's the scary part, right? And so criticism or whatever comes. And also being scared of the unknown and all this stuff. So putting myself out there. So yeah, I'm excited. I'm excited though. Mostly I'm excited. I'm very, very excited.
Well, how did it happen? How did the sort of process start and what were some of your favorite parts of the process?
It started I think three years ago right when I was in talks to tell my story in Marie Claire. I had already been writing stories and memories from my life just to myself. I didn't really know that it was memoir yet, it kind of felt more like a journal. And then once I stepped out publicly in my life, I realized that there was a need or a gap within the quote, unquote, "trans* memoirs" and even within women of color memoirs it kind of missed that intersection of transness and woman of colorness. And so I wanted to put that together. I wanted this book to be the bridge between those communities, between the queer and trans* community and women of color communities and say, kind of how Barbara Smith said, kind of how Gloria Anzaldua said in their times. Those women were sticking the claim — and Audre Lorde — they were sticking the claims on their lives and saying, "We exist." And that's kind of what I want this book to be is the same. Young trans women, a lot of them poor, a lot of them of color exist. And I can share their experiences through the lens of my story.

And so that's how the book became a book, those journals became a book. And so now the book has been worked on in the past three years and now it's ready for the world and I'm really excited to share it with a lot of people. And I hope that it's an accessible read for people who may not understand these issues and an uplifting one for those who kind of do understand but they may want to see themselves on the page in some way.
That's awesome. What sort of stuff do you see happening sort of after it's done? Are there any new projects that you're going to start working on or any ventures that you're going to do once the book is out?
Yeah, I have some things lined up for sure. I think this book will be at my side for the next three years. I'll probably be touring intensely for probably the first two years, you know, to be honest. So I'm excited to have deeper conversations about the themes of the book, about authenticity, about trans womanhood, about being a woman of color.

But beyond that, I think I just want to continue storytelling. That's kind of why I studied journalism, that's why I came out with my story, that's why I shared my story. And so I just want to continue to do that on different platforms. I'm thinking about making the transition to television, figure out what that looks like, as a showrunner or either someone who has her own conversation series.

And of course, writing more books. Because at the end of the day I'm a writer and that's what I want to do. I don't know what that next book project is. But I think that really what's important for me is to create the media that I should have had growing up, as Alice Walker said when she wrote The Color Purple. She said she wanted to write the book or the books that she should have been able to read growing up, and that's what I want to do.
What's some of your favorite stuff that you've done thus far, sort of breaking into the whole advocacy queer activism community? And what's some stuff that you're dreaming of that have yet to do?
Oh my God. I think the number one thing, to be honest, was connecting with other trans women. Because I think that the way that I grew up was kind of like, you "transitioned" and then you move on with your life and you move on because you need to survive, right? So you move on away from the community that kind of raised you. Like I was raised with trans women, like a group in Honolulu, Hawaii. It was older trans women. My best friend was a trans woman. You graduate away from that once you can kind of live this "realness" life, right?

And so telling my story connected me to a whole network of women. And that has been the biggest strength for me. I have new friends in my life who are amazing trans women. Writers, artists, activists. And now I can tap into that network of women and really know what community is. It's uplifting one another, it's affirming one another, it's challenging one another, it's caring for one another. That has been the biggest gift in my life so far. And that all came through the act of stepping forward and telling my story and just speaking up. And so my voice connected me to other voices and it only enriches my voice. And so that has been the biggest gift in my life so far, being able to do that.

And I just want to continue storytelling and letting other women see themselves, right? Because when we create media, like I know how Autostraddle has done, you tap into other women. They start creating media and they start doing things. So that's been the most inspiring thing is to see young trans women come to me, or just young women of color, queer women of color, who say that my story has meant this to them and so they created this project or meant this to them or they started telling their story or created a blog. And so I just love how that's the part of the story's sharing process, right? The telling is just step one, but the sharing part, you don't know where that's going to take you and it encourages other people to share their stories. And I think that we need more and more stories, our own stories.
What's your ultimate advice to someone who is trying to live true to themselves or who is struggling with who they are?
I think number one is tap into yourself and take your time. I think that we tend to also see a lot of people — a lot of the stories tend to be people who are not in the process, right? When we're the most vulnerable is when we're in the process of finding ourselves, that process of self discovery. And so we tend to see from I went from scared, bullied child to this amazing person now and this is where I am now and, look, you can do it too. And that's why I do like Tumblr and I do like YouTube because I feel like it's a lot of people in process of self revelation, self determination.

And I think that a lot of those things, when you see people in the messiness of their journeys, that's more empowering. So what I would say to someone is don't look to these big role models that now you hold up on a pedestal. Look to those who are right in process with you. Because you see that they're taking their time, that it takes a long time to find yourself. So take your time finding yourself, take your time finding and honing your voice, if you're a writer or storyteller or an artist, whatever that point of view is, and to really tap into yourself.

And when I say tap into yourself, I mean like really find out who you are. Like beyond the labels that people may have embraced for themselves and find the labels that are you, you know? And specifically when I'm talking to trans and queer women it's like really don't go based on someone's expectation who've said that these labels are fine with me. And so I've noticed that with a lot of people they're like, "Well, I don't really live up to trans*, I don't really live up to queer, I don't really live up to dyke, I don't really live up to this and that. I'm not that because I don't look like this person or I don't seem as self assured as this person." So really tap into yourself. It's really great that you have these around you. They're there to inspire you, not to dictate a path for you. And so tap into yourself and find your own path and take your time journeying on that path.

That would be the best advice I can give anyone, if anyone would ask me.
---
Idol Worship is a biweekly devotional to whoever the fuck I'm into. This is a no-holds-barred lovefest for my favorite celebrities, rebels and biker chicks; women qualify for this column simply by changing my life and/or moving me deeply. Graphic by Rory Midhani.