Hi Straddlers!
Welcome to the "It's been 3 weeks but I still wish I was in California" installment of Wilder Hungers. In this week's post, I will elaborate on my trip to California with my girlfriend that I touched on a couple weeks ago because we are STILL obsessing. As soon as we got back to New York we filled our apartment with air plants, macramé wall hangings, and mementos from our travels. It's sort of helping us swallow the bitter pill that we don't live in a chic beach shack off the Venice boardwalk with perfectly mismatched patio furniture and hammocks! I know I already shared some pictures (mostly of food) but I wanted to circle back and tell you about some of my favorite moments of the trip. FYI the itinerary included 3 days in Palm Springs, a day exploring Joshua Tree, a week in Los Angeles, 1 Night in Vegas (to see the Britney show) and 4 hours getting lost in Death Valley.
Here were the highlights for us:
+ On the last day of Coachella we realized we were grannies and couldn't hang with the cool kids for the closing acts so we went to Denny's around 10 pm and saw (this is not confirmed but we are FAIRLY certain) Abby Mills from Sleepy Hollow alone in a bucket hat. Abby, girl, was that you?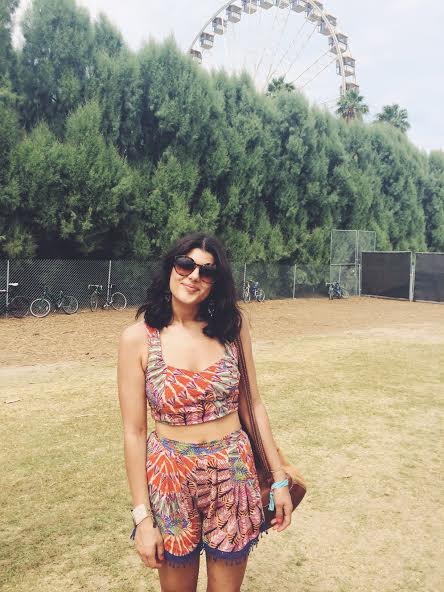 + Every single person who lives in the wonderful accepting community that is Palm Springs, California. Shout out to all you beautiful people.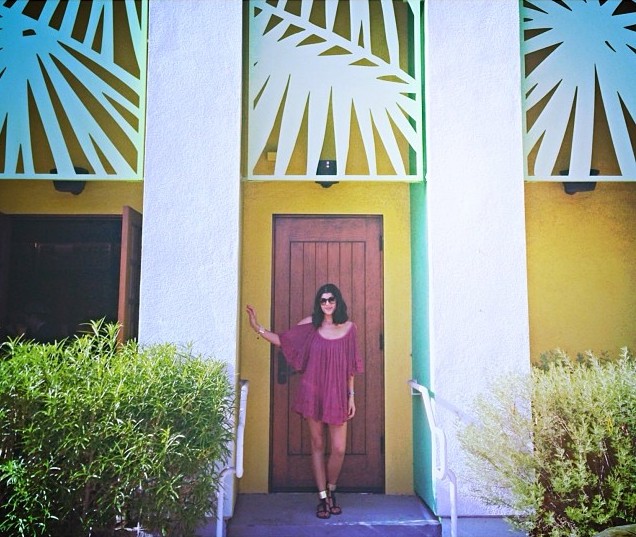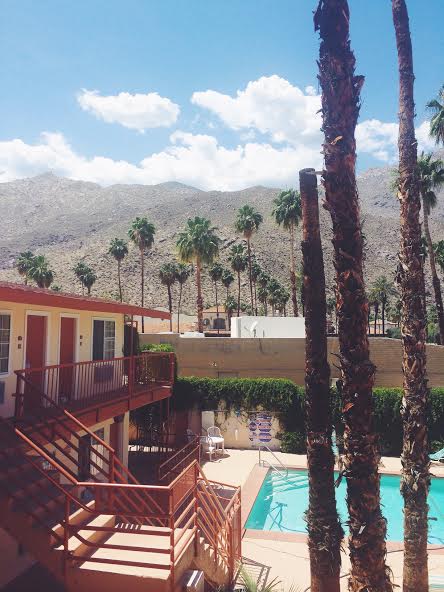 + Joshua Tree and all the antique stores there. Thanks for the mosaic sangria pitcher and my new hat! This was probably our favorite place of the entire trip. Everyone we encountered was inherently cooler than us and we contemplated moving there, running a b&b, and filling our closets with only things that Georgia O'Keeffe would wear.
+ So many '90s celebrities in LA! Shout out to Alex Mack who we saw at the organic grocery store buying some kombucha. Taking a surfing lesson together and feeling totally badass the first time I stood up and wanting to do it over and over again.
+ Obviously going to the Abbey for the first time, taking a zillion pictures inside the free photo booth, and discovering the deliciousness that is vodka cranberries with muddled raspberries. Pulling over on the side of the road in Malibu to walk one of the pretty empty beaches and setting up camp in an abandoned lifeguard house to watch the waves.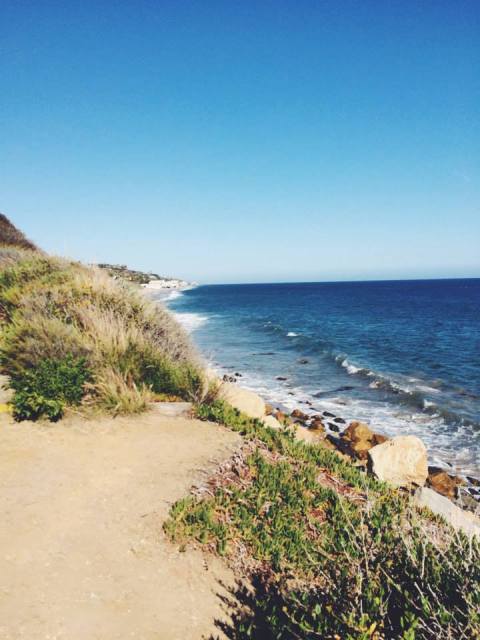 + ALL THE YUMMY SALADS.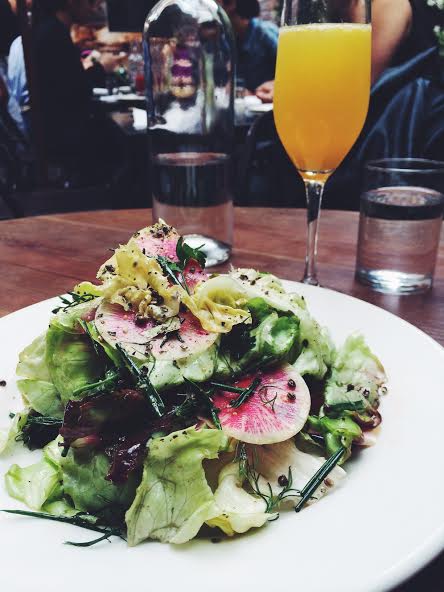 + When our hotel room at the Venetian in Vegas got upgraded for free to the most massive suite I have ever seen – complete with a full kitchen, bar, massive living room, and hers and hers shower! The next morning we ordered room service (Belgian waffle for me and Japanese salmon breakfast for her) and I accidentally poured the soy sauce pitcher all over my waffle and it was kind of good for a couple bites until it was gross.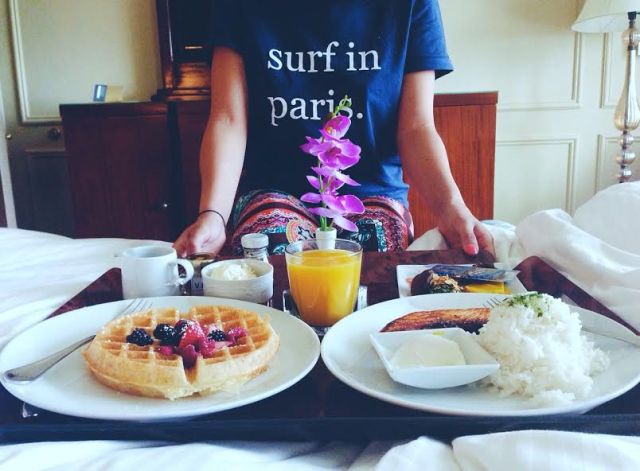 + Winning $300 in 20 minutes playing craps at the hotel casino, freaking out over how easy gambling is, and walking away before we destroyed our lives. We planned on going to the Grand Canyon Skywalk after Vegas, since it was a only a few hours away. Then, thanks to angry Yelpers, we discovered that it's actually a huge ripoff and they don't even let you take pictures. We opted for a drive through Death Valley instead and I'm soooo glad we did. The views were breathtaking and we felt very Thelma and Louise driving around in an area with no cell service and relying on actual maps to get us back to Los Angeles when it was literally sand storming all around us. Of course we got lost and I started to get HANGRY when out of nowhere, in the middle of the dessert we stumbled across the Amargosa Inn and Café. To be honest, not sure if the Inn is still functional, but the café was open and they had pie! All kinds of pie! I had peach pie and Jen had pickled eggs from a jar because when in Rome….
It's been a while since I shared a recipe so I wanted to tell you guys about this pasta I made for dinner the other night (adapted from this recipe). This dish reminds me soooo much of California because we ate burrata wherever we could find it. If you've never had burrata, it's basically an Italian cheese made from mozzarella and cream. The inside is where all the delicious cream lives, and the outside is standard mozzarella. For this recipe, use the inside and save the outside for another recipe (or snacking!). If you're a vegan just omit the cheese altogether because this pasta is still bomb. Also I can't stress enough the goodness that is fresh pasta, if you can find it. It's just doughier and more delicious overall than the boxed stuff.
Orecchiette with Marinated Eggplant, Basil, Chile, and Burrata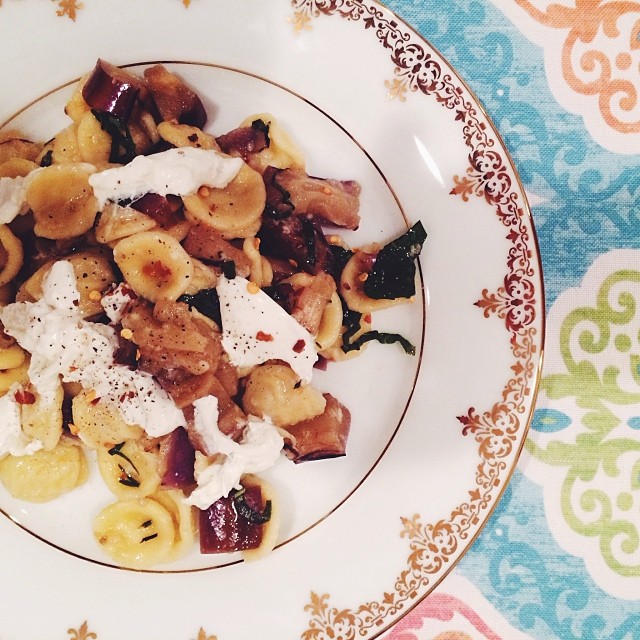 Serves 2 hungry ladies
WHATCHA NEED:
2 large Asian eggplants, halved lengthwise
1/4 cup extra-virgin olive oil, plus more for brushing
Salt
Freshly ground black pepper
1/4 cup red wine vinegar
1 large garlic cloves, grated or minced finely
2 thyme sprigs, plus 1/2 tablespoon thyme leaves
1/2 teaspoon crushed red pepper
1/2 pound fresh orecchiette
2 tablespoons freshly grated pecorino
2 tablespoons basil chiffonnade (sliced into thin ribbons)
1/4 pound burrata cheese, halved, creamy filling scooped out (save the firm exterior for another use!)
Coarsely grated zest of 1/2 a lemon
1 oil-packed red chiles, seeded and cut into thin strips
DIRECTIONS:
RUB: eggplant halves with olive oil and season with salt and pepper.
BROWN: on both sides in a skillet over medium-high heat, 3 to 4 minutes per side.
LET COOL: and dice the eggplant, transferring to a bowl.
POUR: vinegar over the eggplant and toss.
COMBINE: 1/4 cup olive oil, garlic, thyme, crushed red pepper and 2 teaspoons salt in a small saucepan and bring to a boil.
REDUCE HEAT: to a simmer, then pour the mixture over the eggplant and toss.
LET SIT: for 1 hour then remove the thyme sprigs.
COOK: the pasta in heavily salted water until al dente and drain, reserving 3/4 cup of the cooking water.
ADD: eggplant to the pot and and cook until warmed through, about 30 seconds.
ADD: the pasta, 3/4 cup cooking water and toss for 30 seconds.
REMOVE: from heat and stir in pecorino and basil.
SPOON: into bowls and top with gobs of burrata, chile strips, lemon zest, more basil if you like, and a few turns of freshly ground black pepper!