Hello squirrel friends! Back to the old format this week, all your favorite shows in one place! SPECIAL ANNOUNCEMENT: we will be posting a special Autostraddle Fall TV Preview post on Friday, so be sure to check back for our stunning advice on what to watch.
First, a moment of silence, as Reading Rainbow aired its last episode. I used to loooooove Reading Rainbow, I totally wanted to be one of the kids who held up their favorite book and told you all about it. It will be missed.
Ok, moving on. I'm not even going to get into The Real L Word situation, you all obvs already know everything about it, just be sure to enter our super awesome comment contest!
News time! This isn't really TV related but it's extremely newsworthy: Disney bought Marvel for $4 billion. As a total superhero junkie (and major comic book collector in middle school) I have to say that I am appalled. In casting news, Fred Armisen will be reuniting with Amy Poehler on Parks and Recreation for a few episodes this fall, and the charming Deschanel sisters might be teaming up this season on Bones. Want to know when your favorite shows will be back? Check out this handy Fall '09 grid. Oh, and you can check out the track listing for the first Glee soundtrack (it'll be out on November 3rd)! And this just in: AMC renews Mad Men for a fourth season!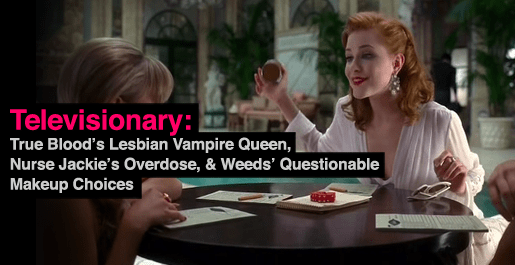 And now…
The Autostraddle TV Awards For the Week Ending August 30, 2009
Jump to:
Sesame Street Wins Lifetime Achievement Emmy, by Carlytron
Nurse Jackie Episode 112: Healthcare & Cinema (Finale!), by Carlytron
True Blood Episode 211: Frenzy, by Laneia
Weeds Episode 512: Glue, by Carlytron
Top Chef Episode 602: Bachelor/Ette Party, by Laneia
Hot Girl of the Week, by Intern Lola
America's Best Dance Crew Episode 404: Bollywood Challenge, by Intern Vashti


The Cutest Thing Ever Award
(by Carlytron)
Sunday night, Sesame Street won the lifetime achievement award at the daytime Emmys:
I learned how to read because of Sesame Street. Obvs I love Muppets in general but Sesame Street will always have a special place in my heart. I can't believe it's been on for 40 years!

The Award For the Best Show on Television
Nurse Jackie Episode 112: Healthcare & Cinema (Finale!)
(by Carlytron)
Ho-kay. So.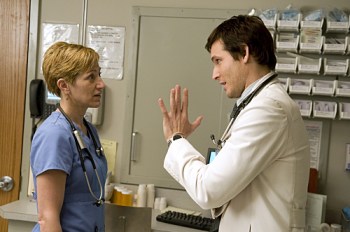 First of all I'm really super sad Nurse Jackie is over. It's seriously the best show ever. I'm not exaggerating. I dare anyone to name a show that is better. That person would be wrong. WRONG.
I watched this episode no less than three times and yet I'm still having trouble writing about it. Everything completely fell apart in this episode, which spans less than a day's time, and Edie Falco is a genius.
Our patient of the week is billed simply as "Intestine Man," and that is a pretty good description. His sutures from a previous surgery burst and he is literally spilling his guts when he arrives at the hospital. It was so, so gross. Coop gets all Nancy Drew and tells Jackie that she broke her finger on purpose so that she could spend alone time with him and now they have chemistry. He's so clueless, it's almost cute. She calls him a moron and kisses him and goes about her business. Coop is sad so he talks to Mo-Mo about relationships. They take a picture where they're kissing on Mo-Mo's phone to make his boyfriend jealous, and Jackie sees.
"Nice rebound, Coop. Oh my God, kidding!" – Jackie
It's at this point that Mo-Mo realizes that Coop is sad because of Jackie.
Akalitus spends most of the episode locked in a broken elevator, which is really funny. Jackie and the rest of the nurses take most of the day to call the repair guy because Victor Garber appears to be awakening from his coma, so she won't be mad at them anymore. So Victor Garber does wake up! And… his brain is totally fried. He has no idea who Kevin Costner is (which is fine) and Zoey runs and hides. Good idea, kiddo.
Eddie, who had followed Jackie to Queens last week, spends most of the episode drinking at Kevin's bar (!!!!!), finding out about Kevin's lovely wife Jackie and their two daughters. I kept waiting for him to blow it and tell Kevin what was up but he didn't (or at least, we never see him do it, who knows how left it). This show is too good for that, that's too easy.
Jackie has a date with Kevin (to get her new fancy ring to replace the one she destroyed because she is a crazy lying junkie) but then she also tells Eleanor that she will help smuggle her sick mother into the hospital as a Jane Doe (Eleanor kidnapped her!). Ruh-roh. Wonder which she'll end up doing!
… neither! Instead, Eddie shows up at the hospital, drunk as all hell and makes a huge scene in front of everyone and when Jackie tries to get him to go outside with her, he tells her how he spent his day:
"Oh, I met Kevin. And that's a very nice bar you got." – Eddie
Oh this show is so good, so suspenseful. What crazy druggy thing is she going to do? She gets three little vials of morphine from the Pill-o-Matix, locks herself in a room, and drinks them all. Then there is hallucinating and singing and suddenly she sees a rat running in the ceiling above. "Did anyone else see that?" she asks us. And that, my friends, is how the first season ends.
There is also a funny running gag about Zoey wearing grey scrubs because she is in mourning over having put Victor Garber in a coma, and then she changes into bunny scrubs when he wakes up. Zoey FTW forever. I will miss you, show.

The Number One Feeling Award
True Blood Episode 211: Frenzy
(by Laneia)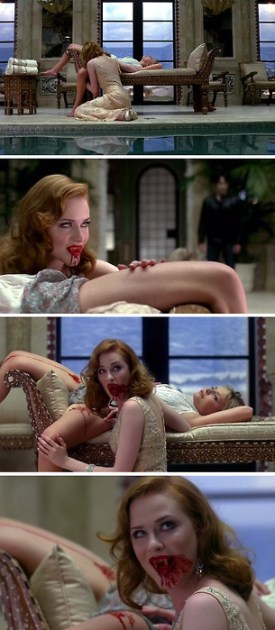 Look what Intern Elizabeth found — True Blood paper dolls! I think it's time that Paper Tara and Paper Sookie got to know each other a little better, don't you?
Oh hello there speaking of LESBIAN VAMPIRE QUEENS! Were your expectations met? Did you swoon? When Evan Rachel Wood's blood-soaked face emerged from Hadley's inner thigh, did you say HELL YES, ALAN BALL, THIS IS EXACTLY WHAT I WANTED FROM YOU!? There was implied oral sex! She made Bill wear a bathing suit and sunglasses and play Yahtzee! We even got a reference to the lesbian phenomenon of inexplicably enjoying gay male porn! ["She also told Bill and Eric to just fuck and get it over with already, at which point everyone in my living room cheered, because: duh." – Carlytron] I don't know what else they could've done to make me love this more. Besides having her and Hadley engage in actual naked lesbian sex, of course. But really, I was pleased. I found Evan Rachel Wood's portrayal of Queen Sophie-Ann to be deliciously mesmerizing.
Sookie: "Have you had any … dreams about him?"
Lafayette: "Now Sook, how would you know dat?"
Sookie: "What kind of dreams?
Lafayette: "It's like he's always in my head. And sex dreams, all kind of nasty and fantastic."
Let's talk about Jason Stackhouse for a moment, shall we? Let's discuss how hard his short life has been — he's got knee problems, his parents are dead, his best friend killed his gran and his girlfriend, he has to workout constantly so he can get a lot of pussy, his sister's a fang-banging weirdo, and now his town has been overrun with half-naked redneck cannibals and he doesn't even get a bullet-proof vest!
"Sometimes you need to destroy something to save it. That's in the Bible. Or the Constitution." –Jason Stackhouse, Winner of Life
Sophie-Ann's history lesson on Maenads was very interesting and long overdue. Maryann isn't technically immortal! And she only needs a supernatural being, not necessarily just Sam. I will make the obvious prediction that Sookie is in serious trouble due to her ability to read thoughts and zwom people's faces. But what I really want to know is: what will the cliffhanger be?!?
Here are some additional notes/thoughts:
1. Vampires dislike children.
2. When the background music sounds like insane violins or flapping insect wings, you will freak the fuck out regardless of what is actually on the screen because that kind of thing is exceptionally creepy.
3. Also exceptionally creepy? Sookie's walk through her own kitchen — chopped off finger, boy in sink holding ??? ["INTESTINES!! AHHH!!" – Carlytron], gross nakedish man in the floor. It was slightly worse than some horror movies I've seen.
4. The outside of Queen Sophie-Ann's house looks just like that challenge in Cycle 7 of America's Next Top Model, when they had to walk on a floating runway. Remember?
5. Oh Hoyt and Jessica! So! Many! Feelings!
6. What the hell is in the egg?
7. OMG LAFAYETTE! YOUR EYES! NOOOO!

The Drugs Are Bad Award
Weeds Episode 512: Glue
(by Carlytron)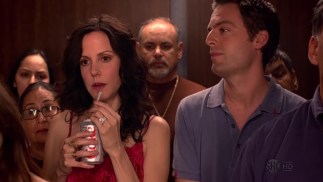 The penultimate episode of Weeds was pretty good. Nancy, Andy and Cesar spent the entire episode trying to bust Esteban from jail. Well, Cesar and Nancy are trying to get Esteban; Andy is just along for the ride, trying to convince Nancy to give him his grandmother's engagement ring (that Judah gave to Nancy) so he can ask Dr. Alanis to marry him. Zuh?! Haven't they been dating for like, 5 minutes?
Anyway, so Nancy and Andy argue the entire episode over who is more in love with their respective significant other, which is cute. Andy + Nancy = awesome (unless it's actually gross and weird, which we experienced a few weeks ago and I'd like to never speak of or have to think about again). What starts as funny, playful banner ends up getting personal:
"Don't sit here and tell me you want to be someone else when you do fuck-all to change what's going on." – Andy
Finally, someone calls her out on her shit. Nancy cries, Andy gets the ring, and a detective finally talks to them… and he's useless. So Nancy does what she does best — she freaks out and beats him up with her purse, so he finally tells her that Esteban has been free for several hours. You don't say! Turns out that Pilar sprung Esteban and convinced him to join her ticket. I'm sure one has nothing to do with the other, right? Riiiight.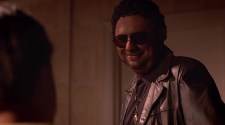 Meanwhile, Celia has gone totally bonkers, has dyed her hair and started dressing like Nancy (well, a caricature of Nancy), she's even drinking iced coffees and trying to deal drugs like Nancy. Isabel, still mad at her mother for jumping on the girl-on-girl bandwagon, has joined forces with the dumbest people alive, Dean and Doug. Celia tries to make her first deal with Ignacio (who awesomely spends most of this episode in his Perro Insano costume) but gets super paranoid when she keeps seeing a cop following her around.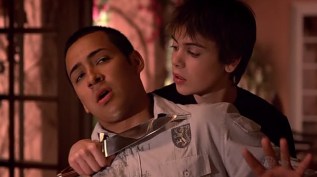 Um, except it's not a cop? It's Dean? In blackface? I don't even know, just when I think this show can't get any more weird/ridiculous/possibly offensive it proves me wrong. Every single time.
So I guess Celia's so freaked out by this "cop" or whatever that she's asking Doug to take the drugs off her hands. Well done, everyone!
And finally we come to the Botwin boys, Shane and Silas. Esteban's daughter Adelita (you remember her, she's too good for Shane) has some total douchebag boys over to the house to smoke heroin. That sounds like a fun afternoon! Shane and Silas drink wine and bond over how fucked up everything is and then the douchebag guys try to rape a passed-out Adelita. Silas tries to kick them out but it's Shane (!!) — who holds a knife to one of the guys' throats and threatens to kill them — who actually gets them to leave. Wow. Please, someone help this kid.

The 'They Haven't Kicked Off My Favorite Chef Yet' Award
Top Chef Episode 602: Bachelor/Ette Party
(by Laneia)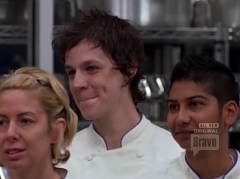 Ashley Merriman is still on the show and therefore, I am still watching. We've already discussed the only interesting thing that happened last week — Ashley taking on the heteronormative world of "reality" television. It's also worth noting that The Shrimp Chef, Eve, was sent home and Mike is still a misogynist asshat of such epic proportions, there are scarcely words left to describe him. Oh, and Kevin? — the man we were all sort of hoping was a furry bear — turns out to be married! Most likely to a woman! Making him at least 20% more heterosexual than I thought he was two weeks ago.
Look! BravoTV.com has a slideshow of everyone's tattoos! Since they were kind enough to place the photos in alphabetical order, you can see Ashley's first [photos 1-9 but who's counting].
I'd like to add that I don't enjoy the chefs getting paid $15,000 for winning the Quickfire Challenges. It feels unsavory and dirty, like professional football. I'd much rather watch college, you know? Where talented young people are paid under the table, with gifts and housing! Um, what were we talking about? Right! Ashley! I've compiled a list of places where Ashley and I, or any same sex couple, can get married.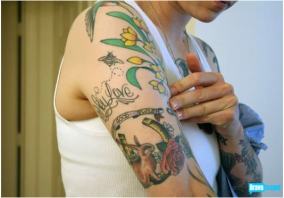 States Where Ashley and I Can Get Married
1. Connecticut
2. Iowa
3. Maine
4. Massachusetts
5. New Hampshire
6. Vermont
Don't you think pairing food with liquor shots is perfectly disgusting? I bet there won't be any of that nonsense going on at Branzino's Sunday Top Chef Dinner! If you're in the Seattle area and somehow manage to attend this "hand-selected seasonal four-course" dinner, please let us know — email green at autostraddle dot com.
I spent about six seconds searching the internet for some respectable drinking game rules and I believe I've found a very promising contender: The All-Inclusive Top Chef Drinking Game [@foodpluspolitics]. If you think of any necessary rule additions/ammendments, tell us in the comments!

The Hot Girl of the Week Award
(by Intern Lola)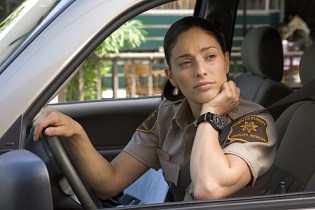 ["I'd like to preface this by saying that had we not already focused so much attention on Queen Sophie-Ann she would have obvs won this award. But it's nice to be able to talk about two lesbian vampires in one post, isn't it? I feel like I should go watch The Hunger or something? – Carlytron]
Is it wrong that I get super excited when I recognize an actress from some obscure lesbian role? ["Of course not! I am like, the master of the 'hey it's that guy!' game." – Carlytron] Perhaps. But Jo Lupo on Eureka is crazy vampire lady Uta Refson from The L Word! OK, in reality, they're both Erica Cerra, yet another hot Canadian actress on TV this summer. [Fun Fact: Erica Cerra also played the dancer seduced by Francesca in The L Word's first season.]
While I enjoyed the sheer ridiculousness that was Uta, Jo is pure badass. Currently finishing up its third season on Syfy (who I still haven't forgiven for randomly changing their name), Eureka is centered on a top-secret town (named Eureka) where the world's geniuses live and work. Jo's not one of the geniuses – she's a former Army Ranger from Jersey who can take anyone. As Eureka's deputy, Jo is always well-armed and gives off such an awesome butch vibe. I'm not a die-hard Eureka fan, but you don't need to watch a single episode to enjoy the press photos!

The Act Like a Lady Award
America's Best Dance Crew Episode 404: Bollywood Challenge
(by Intern Vashti)
This week on ABDC, each crew was given a different style of Bollywood dance to interpret and fuse with their own unique style. It was a major step up from last week's train wreck of a challenge. [Almost] Everyone did so well you guys!
Massive Monkeys
Challenge: Bhangra
As promised, I hereby give up w/r/t Massive Monkeys. I just don't understand how they survived after last week. They must have a Very Dedicated fan base. That said, I actually really liked their performance. #conflicted
Vogue Evolution
Challenge: Rajasthani
Apparently, everyone's favorite dance crew is going through some major drama-rama. The crew's afraid that Leoimy might leave so everything is really on edge. Vogue Evolution's performance was good but nothing spectacular. I really hope they can pull it together by next week.
"If you're gonna become a woman, act like a lady." – Lil' Mama, to Leiomy
Rhythm City
Challenge: Bharato Natyum
Do I even need to say it? I just love Rhythm City so much. They're easily the strongest crew this season. Their performance was amazing as per usual and the judges loved it. I honestly think they'll win the competition. I'm calling it now.
AfroBorike
Challenge: Khatak
I really want to like this crew but I lose a little more faith with each coming week. They're so inconsistent but when they're on, they kill it. I think they redeemed themselves this week. I'm just hoping they take this opportunity and run with it.
We Are Heroes
Challenge: Giddha
This crew really stepped up this week. We Are Heroes tore it up. I don't think they needed to be in the bottom two but at least they survived. Yay! #wonderful ["We Are Heroes FTW!" – Carlytron]
Beat Ya Feet Kings
Challenge: Garba
I wasn't impressed by their performance this week. I think this is the first time I've been 100% okay with the crew that got sent home. Beat Ya Feet Kings had a good run but I'm surprised they made it this far in the first place.