THE REAL L WORD LOS ANGELES: Ilene Chaiken is always scheming new methods for milking the L Word franchise, from the now-defunct website OurChart to the now-derailed spinoff The Farm to the allegedly-in-progress The L Word Movie. This time she's given up on writing and let the fans take over — by letting them star in the show!  Showtime has greenlit nine episodes of The Real L Word: Los Angeles, from L Word creator Ilene Chaiken and reality producers Magical Elves ("Top Chef").  Autostraddle has heard exclusively that Magical Elves was in talks with Bravo until Ilene Chaiken swooped in and brought that baby over to Showtime, where the series is said to have franchise potential, a la "The Real Housewives."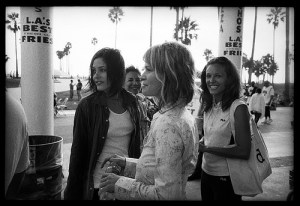 The Real L Word: Los Angeles will follow six lesbians in Los Angeles as they go about their lives and if all goes well, "The Real L Word" will debut sometime next year.
Ilene Chaiken told the press, "Even though we concluded our sixth season of 'The L Word' on Showtime this past March, I believe we are not nearly finished telling our 'L Word' stories. Showtime has yet again come forward to continue with us this mission to entertain and enlighten and bring more 'L' to the world."
Now we can see once and for all if these stories ever involve world-class tennis players degenerating and dying of cancer in three days (Dana Fairbanks), friends conspiring to murder the irritating self-centered writer girl (Jenny Schecter), pregnant transmen on testosterone,  or if anyone in the real world actually talks/acts like Papi. Thoughts? Anyone wanna Gimme, Gimme Sugar?
Autostraddle's Real L Word Comment Contest
We couldn't help ourselves. This is a perfect reason to obsess over our feelings related to L Word. SO! Here's the deal: comment on this post by finishing the sentence "On The Real L Word, there better be some goddamn…." or "On The Real L Word, there will be no …." etc.
E.g.,"On The Real L Word, Jenny will step away from the railing," or, "On The Real L Word, Angelica better get a goddamn babysitter," or "On The Real L Word, there better be some big ol' butch dykes hauling lumber and building sweatlodges."
The best comment will win a new t-shirt from 410 BC's Fall 2009 collection. As you may or may not know, 410 BC is Autostraddle's favorite t-shirt company. Other 410 BC fans include Tegan & Sara, Uh Huh Her, and your Mom.

At The Michigan Womyn's Music Festival, lesbians sing and dance! Take off your shirt, hold on to your pants! Hey look at your fridge, you should put things on it! Like some DIY Magnets, or a bonnet! Where should we go to see lots of gays? Provincetown, hey hey hey!
Where's the Tuesday Televisionary? You'll see it a little later today!

GRACE THE SPOT HAS A BIGGER & BRIGHTER SPOT: It's September, a time for reinvention and rebirth — and Grace the Spot has re-emerged with a kickass new redesign, and even more of the witty lesbian content you know & love! Go check it out right now! Really, it's a big day for lesbians, yeah? Just wait 'til the Relaunch party for Grace the Spot later this month … location and level of redonkulessness TBA!
PEREZ HILTON IS FAT, UGLY: One of the top ten reasons we're offended by the existence of Coco Perez and won't shop at The Gap until they cease sponsoring it (Riese: "As a former Gap Inc employee this is a BIG DEAL") (if we ever go shopping again) is because we can't believe gossip blogger Perez "Get it, SaMANtha Ronson? Because she's a lesbian?" Hilton has the gal to demand a piece of the women's market when he's always been such an asshat to us. Jezebel asks: Everyone from Jezebel contributor Rich Juzwiak to GLAAD is taking Perez Hilton to task for calling Will.I.Am a "faggot" — and well they should. But where has this outrage been over the years that Perez has spent crudely slamming women? Why Does Perez Hilton Get A Pass On Misogyny?
WOMYNIZER: Do Women Self Sabotage at Work? NM, Let's Fix Some Stuff – "I will share some resources and techniques that may help you in the work place." (@jezebel)
TEEVEE: The British are Coming – The BBC is producing a new six-part teevee series centering around a group of lesbian and bisexual women. It's called, wait for it, Lip Service.(@lesbilicious)
YA NOVELS: On "Shelf Discovery: The Teen Classics We Never Stopped Reading" (@newsday)
DEATH OF PRINT, SEXISM: Women's Magazines Selling Poorly – Consumers can now get a wealth of style news and advice from any number of Web sites, blogs and TV programs. A further erosion of the fashion magazine editor's dominance has come from lifestyle and celebrity magazines, which over the years have been busy rolling out their own fashion content. You know what this means: read more Autostraddle. (@jezebel)
#ALTERNATIVELIFESTYLEHAIRCUTS: Home Barbering Grows in Recession – The Wall Street Journal tells us what Interns KC Danger, X and Vashti already know: giving sometimes its just easier to cut your own hair. And as Riese & A;ex will tell you, it's also easier to have A;ex's Mom color & straighten your hair. (@wall street journal)
WOW JUST WOW: Chris Brown Being Articulate –Chris Brown goes on Larry King and reflects upon his February assault on Rihanna: "When I look at it now, it's just like, wow, like, I can't. When I look at the police reports, when I hear about the police reports, I just don't know what to think. It's like wow…It's crazy…Wow." (@huffington post)
LADY GAGA: Michael Bolton to be Gaga's First Lady – Bolton and Gaga join forces for 'Murder My Heart.' So. Terrible/AWESOMEness in the making.(@mtv)

↓ HOW DO YOU LIKE US NOW? NOT MUCH: Somehow this shit keeps getting published, and on top of that we are expressly forbidden to re-print any piece of this piece by the piece itself, which I've honestly never seen before on any written newspaper/magazine article online. I guess they want to be sure to milk all the attention they will get for claiming that people are really against Prop 8 after all, like Valentino. With lots of quotes from Carrie Prejan and Maggie Gallagher: Carrie in Valentino Red (@the national review)
↑ Petition Demands Official Apology: A group of writers and scientists are demanding a posthumous apology from the British government to Alan Turing, a 1950s computer scientist who was prosecuted for his homosexuality and subsequently committed suicide. (@lez get real)
↓ Mary Cheney Donates to Anti-LGBT Candidate-Cheney's politics don't seem to match up with her lifestyle, as she just donated $1000 to Rep. Rob Portman, who voted against marriage equality.(@pam's house blend)
↑  "Houston controller Annise Parker, who is a lesbian, enjoys a marginal lead among likely decided voters in the November mayoral election." (@advocate)
↓  Westboro Is Touring with Adam Lambert and We Aren't, Which is Sad: Members of the Westboro Baptist Church, known for hoisting homophobic signs at major events, seem to be following the [American Idol] tour. We believe they are waiting to see Simon Cowell in his tight black shirt. (@advocate)
↓ Tucker Carlson Defends Bowties, Not Gays (@queerty)
↑ Will Obama Follow Ted Kennedy's Lead on Gay Rights? – Kennedy saw clearly the moral, social, legal and historical connections between the struggles to accord "equal protection of the laws" to African-Americans, women and gays. President Obama is well positioned to fulfill Kennedy's dream of equal rights regardless of sexual orientation."(@huffington post)


Auto-Straddler of the Day
from Intercaine Katrina: There are few things better than teenage angst from young feminists. Jezebel compiled a collection of their readers' old journal entries. After you read these, petition Riese to show us her old livejournal entries.
+
+


from Riese: A new series of personal essays about job loss, mental health, and the undying pursuit of art. At true/slant

+
+
+


from Carly:
If you've got like $3,000 burning a hole in your pocket, why don't you get some really sick custom shoes (for me)? Esquivel Shoes are beautiful handmade shoes made in LA and are all pretty much amazing. (@coolhunting)
+
+
+

from Laneia:
These women rock harder than you/me — Elle's 12 Greatest Female Electric Guitarists. I believe you and I have reached the point in our friendship where I confess my supernatural lust for Kelley Deal. Hold me?
+
+
+