I'm not gonna lie, our powers of observation are very strong over here, especially when the geek species is concerned. You gotta look out for your own.
Somehow this year, at least in the universe of our minds, the opposite of cool started being cool. Revenge of the Nerdettes or some shit. Fake guitars, big dorky glasses, suspenders … totally cool. Someone backed cool into a corner, it had nowhere to go … and so it went geek.
This offers us real geeks an opportunity to infiltrate everything and TAKE OVER, while the fake geeks can be nerdy in an ironic way … and continue to get laid, just as they've been doing all this time those crafty m*therf*ckers. So that's a win/win.
So we're going to take a moment to recognize the trendsetters … smart, talented women with really, really good-looking brains.
Tina Fey, Obvs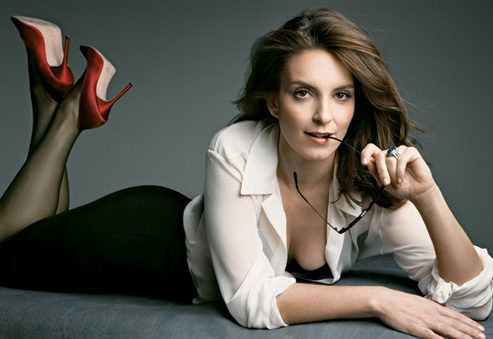 We'll start out easy. You know Tina Fey. She's clearly taking over our lives, littering our speech with extra prepositions (the extra 'to' in "I want to go to there" is a preposition, right?) and constant BLERGHING. She's smokin' hot, obviously, and totally hilarious. She even eclipsed a Vice Presidential candidate singlehandedly with an SNL spoof skit. I think we can all agree that she deserves a purple heart for keeping that crazy aerial huntress out of office.
Since odds are you're already watching 30 Rock, you know this. But it bears repeating that Tina Fey has paved the way to the rise of the geek. She's like our matron saint! And the best part is, she's just being herself. She's clearly a card-carrying nerd- I've seen some pics from her early Second City days, for real. 30 Rock's Liz Lemon is a geek to the max, and I'd say the televisiony apple didn't fall too far from the tree.
Self deprecating humor: check. Sometimes physically falling down, uncoerced by gravity: check. Glasses: check. Well, you don't have to wear glasses to be a hot nerd, but it helps, as Tina demonstrates.
Unfortunately, I have 20/20 vision, so I have to work a little harder to be a nerd hearthrob. Though my hawklike sight does come in handy for posts like this.
To wrap up, Tina Fey is nerdlite. She's accessible (on my teevee!), popular and a socially acceptable object of geek affection.

Felicia Day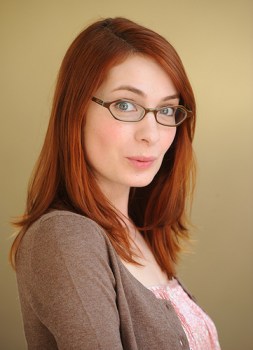 Along with Glee, self described "new media geek" and gamer Felicia Day is ushering in a new era of nerd humor that doesn't need to be cynical to be smart. Felicia's made appearances on House, Buffy the Vampire Slayer, an unaired episode of Dollhouse and viral phenomenon Dr. Horrible's Sing Along Blog. She created and writes a World of Warcraft spoof web series, The Guild. Watch it — even if you don't get all the insider talk and l33t speak, it's still fun! Honestly, I've heard testimonies! What is l33tspeak, you may ask? I'll tell you when you're older. If you make it to the third season of The Guild, you will be semihandsomely rewarded with an almost lesbomoment with actress Michele Boyd.  And later Michelle Boyd does make out with a girl, fyi. Are you watching it yet?
Unabashedly geeky, Felicia Day is mainly a gaming geek –– you'd know if you follow her on twitter. She's so likeable on screen that you want to sit down and grab a controller (or a keyboard) next to her. Now if I can just find her in WoW and befriend her. Only 11 million other subscibers to sort through, totally possible, right? Two million down…
Nominate Felicia Day for "best actress to follow" & the Guild for "best online video web series." And don't forget to nominate Autostraddle for "best online magazine" while you're at it! Even if you aren't familiar with Felicia yet (you will be), knowing her brings you the tiiiniest bit closer to Joss Whedon, and we know you want that. Don't you? Nevermind, screw Joss. Yowza.
BONUS RANDOM GEEK FACTS: She has a BS in mathematics & is a professional-level violinist!
TWITTER EVIDENCE OF NERDDOM:
And finally, her music video "Do You Want to Date My Avatar," which is very clever and spoof spot-on. And, you know, she wears a skirt…and gets spanked. Yeah.

Rachel Maddow
Oh Rachel. How charming you are. How I love your funny black glasses, your nerd voice and your nerd laugh. How I love that I can pretend to watch the news while looking at you. I mean, sometimes I have the volume up (though never at the end, as I think Maddow needs to start foregoing her daily dose of pop culture from that dude). Rachel Maddow is OBVIOUSLY a nerd, perhaps even more obviously than she is a gay lady extraordinaire. It's a toss up.
Things we know about Rachel: She's mainly a smarty kind of geek. She drives a sexy truck. She met her partner when she was her pool boi or yard boi or something HOW HOT IS THAT to turn a buck while finishing her dissertation. Ahem, dissertations are for NERDS. Also, I need to install a yard.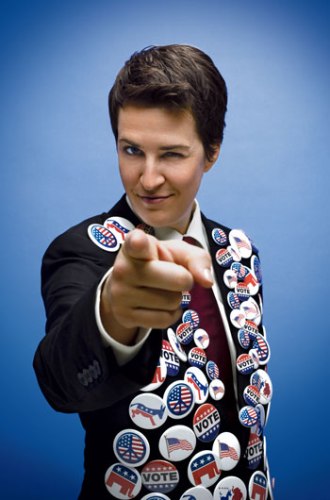 She loves making old-fashioned cocktails like a real leszgentleman. I bartended for a stint and all I learned was what kind of shoes tequila won't stain (very few kinds).
She doesn't even own the vehicle I use to worship her (a TV). She's one of those funny non-tech geeks, because now that the opposite of cool is geeky, sometimes people like to do things the old-fashioned way like shoot 35mm or not have a TV because retro is the opposite of progress and it is opposite day for cool.
Rachel Maddow has secured a well rated news spot on MSNBC with her own show, duh. On this show she wears mascara like featured on the right and gets all gussied up for middle America, but it doesn't matter because she is so gay. She often flirts with political pundit Ana Marie Cox because they are both hot smartynerds and yeah Ana is straight or whatever, but for real there is some chemistry. I love her, even though I don't watch her as often as I should. When she covers assorted national queer disappointments like equality rights heartbreaks, it makes me so goddamn sad because she is so cute and stoic. Sigh.
Also, she's the first openly gay anchor to host a big time news show! Take that, you and your steely blue eyes, Mr. Anderson Cooper! And she was the first openly gay Rhodes Scholar! How hot is that? Do well in school kids, scholarships will get you jobs and most importantly, they will get you laid.


Ana Marie Cox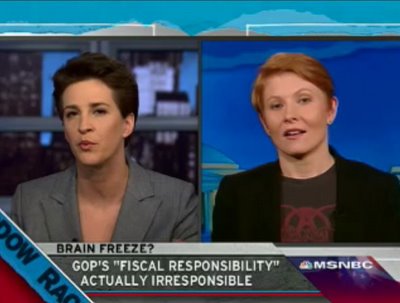 You might know Ana Marie Cox, political powernerd and bedheadaholic, from her sexy bantering about on our dear Mz. Maddow's show, but if you're hardcore you've known about Cox for way longer than that.
See, Ana Marie Cox was a founder of the witty DC insider blog, Wonkette, and currently edits the Time Magazine website from her political perch in Washington.
She's whip-smart and has a snarky, clever biting-her-tongue kind of smirk that'll either knock you right over or drive you wild. Also, as often noted by our friend Dorothy Snarker, Ana Marie Cox and Rachel Maddow have so much sexual tension you could cut it with a knife. Like, seriously. Yeah, she's married to Chris Lehmann, fellow  journonerd, but they must have some kind of arrangement, honestly. And not only does she flirt with Rachel Maddow, but she flirts with us too. Relentlessly! I had to stop following her on Twitter — it was distracting.
Speaking of Twitter, Ana Marie Cox is a serious social media junkie. She is the queen of TMI and we absolutely love her for it, because that is all we could ever aspire to be ourselves.
What other semi-respectable journalist would tweet us this? And sneak silly phone pics from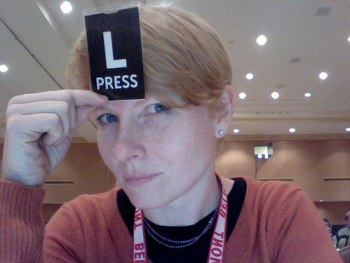 inside press conferences? And those at all familiar with her know that her twitspace has one very popular recurring feature: photos of her messy hair the morning. All bedhead. All the time. Sex hair aside, she's got some seriously sweet puppies. And that is not a weird boob euphemism. They are dogs.
Let's get real here. Only nerds indulge themselves in this level of obsessively self-aware social media abuse. Thank you, Ana Marie Cox, for your endorsement of my lifestyle. Oh yeah, and my gay lifestyle too! Because she cares about the civil liberties of her downtrodden fangirls! Perhaps she will comfort us during these dark days of LGBT legislation?
And, as if she needed more proof that she is a total nerd, here are some bonus facts: 1. She loves Glee (and tweets about it, of course!), just like some other nerds around here. And 2. (This is the kicker) She's friends with John Hodgman. Yeah the perfect nerd specimen who plays the PC in the Mac commercials. I think if Ana Marie, John and Rachel were in the same room it might create a rift in the fabric of the nerdiverse as we know it. Oh wait, that happened! And here we are. Hm, something to ponder. Maybe one of them could explain how we're all still here.

Miranda July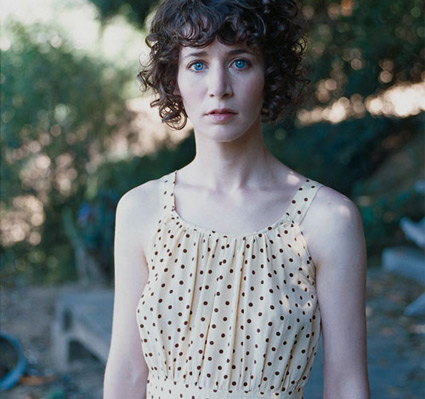 Have you heard of Miranda July? Good lord, I hope so. If not, you have some homework, young lady. Yeah the real kind WITH BOOKS AND SHIT.
Miranda July is…well, she's a lot of things. She's kind of more like a whimsical sprite or some kind of otherworldly creature than your regular ol' geek. You might know her. She's the author of No One Belongs Here More Than You and she wrote, directed and starred in the pitch-perfect indie comedy Me and You and Everyone We Know (2005). She's also produced all manner of totally quirky art, music and what have you for a long time.
She also has the most badass lineup of friends ever: she put out a zine called "Snarla" with Kathleen Hanna from Le Tigre, directed — moment of silence for their break up — Sleater-Kinney's "Get Up" video, sold retro home movies of her and Carrie Brownstein wrestling around to benefit the Obama campaign (what?!) and pals around with Khaela Maricich of The Blow. That's like an unbelievable all-star, queer, feminist gifted and talented class for hotties! And she's about as queer as you can get without being queer. Who knows — with friends like that I don't know how you'd stay straight.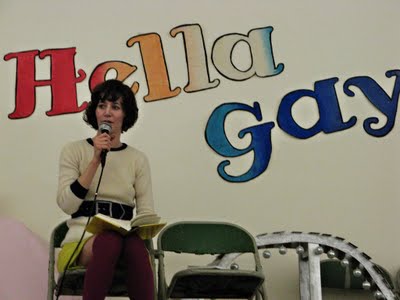 She is honestly one of the most delightful, bizarre and lovely nerds out there. And I do mean bizarre! She's a different sort- a total weirdo, really, in absolutely the most complimentary sense of the word. If you've seen anything she's laid hands on, you know what I mean. I can't even imagine what the world looks like through her eyes. It's like those people who can see colors when they hear music. I mean, like literally. It's called synesthesia– look it up, it's the coolest shit ever. If you are a synesthete, omg, you have to tell me! I digress!
What I mean by that whole synesthesia parallel is that Miranda July's style and art comes off like she's a bookworm tripping on acid. And it is AMAZING. Check out this video where she explains to us how buttons are made. Seriously, buttons are a lot different than you might be thinking.
Another of her charms (there are so many! I'll stop soon!) is her sexy schoolmarm style. Put her on your short list, for real. And after getting to know her art, you feel like you know her. She brings an amazing warmth and intimacy to what she does that verges on complete oversharing without ever being self-indulgent. Her humor is at once razor sharp, intoxicatingly odd and totally, totally heartbreaking. In her work, her characters are always a little weird, a little nerdy, a little off. And they may all be a piece of her, and I want all of those pieces. Let me sum up: Miranda July= a totally rad alien ambassador from some fucking cool far out nerdplanet. That's lucid, right? Take me to your leader, immediately.
But I want more!
Yeah, I know- you can't get enough! But these aren't they only nerds in town. This is just a starter course — It's Hot Geek Women 101 and I bet you can't wait for the accompanying lab class. Where presumably you get to do experiments on these lovely ladies. Sign me up!