6:03 PM: Riese, via SuperMegaReplyAllAutoEmail and Twitter: THIS IS ONE MORE THING WE LOST AND ONE MORE REASON WHY WE MUST WIN THE MASHABLE AWARDS
Are you sick and tired of the gays never winning anything? Then vote for Autostraddle in the Open Web Awards! Just go here and hit vote. You can do that once a day (using Facebook, Twitter, or BOTH) until Dec. 13. We've got some heavy competition, so we would really appreciate the support! Yaygay!
5:40 PM: After much deliberation ["do we need a gay recipe? or an oppressed recipe?"] and searching ["my google efforts for 'oppression cocktail recipe' have come up fruitless"] Sarah and I have decided that we don't have time to mix drinks. Drink it if you've got it! Shots all around!
Also, I've added a link to the New York Senate's YouTube channel down there under the video of Senator Diane Savino, in case you'd like to see what the debate looked like in its entirety.
Oh look, here's a picture of an angel or a half-naked lady OR SOMETHING!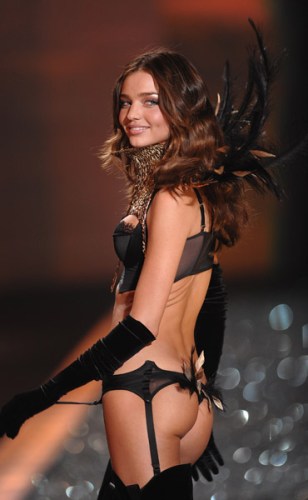 5:26 PM: Here are two quotes I think you will especially appreciate. Brb with a cocktail recipe.
Intern Rachel: "dear new york, we had this shit figured out in 2003, love massachusetts"
bcw [from the comments]: "i would just like to say that marrying your FIRST COUSIN is legal in 25 states, oh opponents of gay marriage who say it will lead to incest. INCEST IS CURRENTLY WAY MORE LEGAL THAN GAY MARRIAGE JUST SAYING."
5:08 PM: Senator Diane Savino's speech in favor of the bill. Do you love a good compelling speech? Ah, then you should enjoy this very much. If you happen to see Ms. Savino on the street, perhaps you'd like to buy her a cupcake or maybe a drink because SHE TOTALLY GETS IT.
Watch the entire uncut debate here on the New York Senate YouTube channel.
5:00 PM:
STATEMENT BY AUTOSTRADDLE CEO OF IDEAS
MARIE "RIESE" L. BERNARD
"also we have no heat or hot water and coincidentally, i am gay and i live with a lesbian, a bisexual man, and a girl who made out with another girl once. just saying."
4:58 PM:
STATEMENT BY MANHATTAN BOROUGH PRESIDENT SCOTT M. STRINGER ON NY SENATE'S REJECTION OF MARRIAGE EQUALITY
Only the State Senate could snatch defeat from the jaws of pride and progress.  Millions of New Yorkers, regardless of their sexual orientation, looked to Albany today hoping our State would once again take its place at the forefront of America's long struggle for human rights.  Instead we were treated again to the last minute disappointment that has become all too familiar from the State Senate.  I was a proud original co-sponsor of the first marriage equality bill introduced in the Assembly.  Along with countless New Yorkers who have been fighting this fight for many years, I am saddened by the Senate vote.  We will keep fighting.  And in the end, equal justice will prevail.
I want to commend State Senator Tom Duane, Assemblymember Daniel O'Donnell, Senator John Sampson and all the Senate members whose tireless leadership has been indispensable in this debate.
4:25 PM: Maggie Gallagher of NOM has already made a gloating statement about the vote today. But we aren't linking to it because they suck and no one likes them. This is our definition of NOM: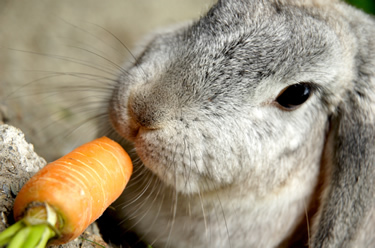 Laneia and I tried to find a photo of an otter eating a leaf. But then we realized they only eat shellfish. Which coincidentally is also against the Bible. GAYS AND OTTERS, PEOPLE. WE'RE ON THE SAME SIDE.
4:21 PM: There will be a rally in New York City tonight at 6 PM. New Yorkers for Marriage Equality are telling people to meet in Times Square by the TKTS stairs.
4:16 PM: Queerty has the full list of which senators voted for/against. And here's a list of the senators' twitter accounts. Tweet at them and tell them what you think about today's vote.
4:00 PM: Would you like some good news? I BET YOU WOULD. Well, the DC City Council voted to pass the gay marriage bill. That doesn't mean it's law, there's still another council vote, then the mayor has to sign it, and then Congress has to approve it. But the bill is expected to make it through all of that. This continues the trend of the world letting me get married in places I don't actually want to live.
3:45 PM: Team Autostraddle has feelings and words and some ALL-CAPSING for you.
Carly, via Facebook: "there's nothing I like more than watching people I don't know vote against my basic civil rights. thanks for nothing, NY."
Brooke, via SuperMegaReplyAllAutoMail: "I'm pissed.  And I would like to attend Carly and Robin's NY wedding."
Robin: "I want to attend my gay wedding too!
I got something to say!!
Doesn't matter how many times you TELL people this is not an issue of religion.  People who view something as a challenge to their religion/their god will rarely change their opinions.  Fear can paralyze progress in a major way.  No matter how wrong they are.  I'm not surprised NY voted down this bill, but I am still extremely disappointed. Personally, I wish New York City was its own state."
Rachel, via SuperMegaREplyAllAutoMail: this can't keep happening. it is killing me. i am literally about to go drink at 3:30 pm on a Wednesday. thanks for nothing, new york/straight people/america/ihateyou.
3:40 PM: Way back in May, Autostraddle interviewed Dan Choi at the NY Anti-Gay-Marriage-Evangelical-Circle-Jerk-Rally. Here's what he had to say today.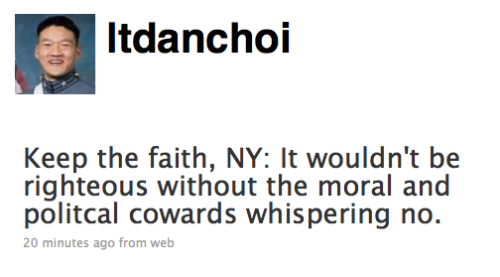 3:29 PM: We can always count on Tegan and Sara to say what we're thinking.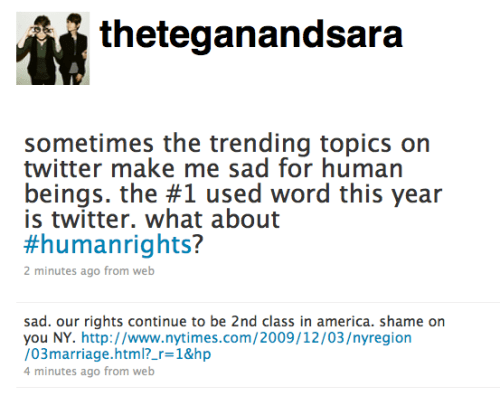 3:26 PM: Look! Look at teh sweeeet puppy! Someone once told me I was probably made of puppy kisses. ISN'T THAT F*CKING ADORABLE?? I KNOW.
3:22 PM: Laneia learns how to live-blog in the correct order. Hello, world! What's an "Associate Editor"? HAHA
3:15 PM: From Carlytron, via SuperMegaReplyAllAutoMail:
"fucking disheartening.
hope no one out there still thinks it's a choice anymore."
Hey! I think it's time for a happy picture!
3:09 PM: Christinne Quinn released this statement.
"This is a loss for every Lesbian, Gay, Bisexual, and Transgender New Yorker."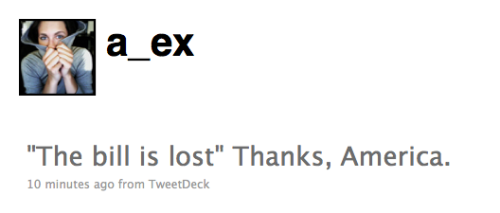 2:56 PM: Sorry, babies. The bill has died with a vote of 24 – 38. DIED ON THE FLOOR OF THE SENATE along with my respect for humanity, etc.
I'll be back with more fun stuff! STANDBY.
[additionally, damn that was fast. don't they know i'm trying to format a post here?? j/k there are bigger problems in this world than me trying to format a post — LIKE THE FACT THAT QUEERS IN LOVE ARE BEING POLITICALLY AND EMOTIONALLY AND ACTUALLY ASSAULTED BY THIS COUNTRY]
2:50 PM: The New York Senate has us on THE EDGE OF OUR SEATS with this vote on same-sex marriage! Are you watching? Did you watch? Autostraddle's watching because that's what we do — we watch all the gay stuff for you. We feel your feelings for you, too, so if this turns sour, I'll pop in with a quick cocktail recipe or picture of a puppy kissing a dinosaur.
Here's where we're watching it: Live Stream of Vote! But by the time I get this published it's already going to be over. So.
Let me begin by saying there are an awful lot of NOs. How does that make you feel? Nervous? Angry? Oh hey, me too.
I think they're counting the votes now? SIGH.