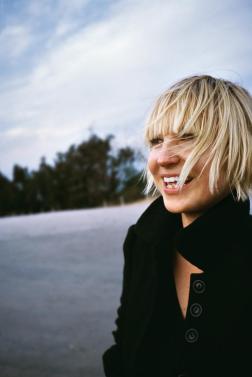 The first time I had ever heard of the quirky Australian-born, NY-based singer/songwriter Sia was back in March, 2008. I had been camping out at Autostraddle Editor-in-Chief Riese's place in New York City, and stumbled across Sia's website while researching gig schedules in preparation for my then-annual pilgrimage to South By Southwest in Austin, TX. Also "Sia" is a weird word, which is perhaps why I hadn't noticed Riese freaking out about how much she wanted to "see Sia" at SXSW at first.
But then I saw the website and I asked my American friends and they began to rave about a record called Some People Have Real Problems that I'd never heard of before [Riese sidenote: also Sia provided the song Breathe Me to the best series finale of all time, Six Feet Under] – weird, given that Sia is a) Australian and b) openly bisexual. I guess what I'm saying is that Sia and I are basically the same person, and so I couldn't help feeling like I should have been familiar with her work.
Unfortunately for all of us, Sia's South By Southwest showcase conflicted with Riese's intense Uh Huh Her stalking schedule, and I missed out. So 18 months later when I heard that Sia was doing a tour of her homeland, I snapped up some front-row tickets.
And in short, it was everything I'd imagined and a whole lot more.
I didn't just love her, I la-la-la-la-LOVE HER.

Sia is fun, energetic, charming, entertaining and just plain goofy. And that voice! I was born to listen to that voice!
I initially planned to write a concert review – howevs as I am concurrently reviewing the Britney Spears Lipsynching Spectacular, I thought I'd mix things up by delivering this instead:
10 Reasons Why I Love Sia, and You Should Too.
+
1. Sia is an under-appreciated tweeter.
Following musicians or celebrities on Twitter isn't for everyone, but if you happen to follow @mrskutcher or @perezhilton but not @siamusic, it's time to re-evaluate. Sia tweets like a champ, winning my heart daily with childlike humour and feelings and bizarre observations and nonsensical musings and general randomness that – if you can dicipher their meaning – are totally endearing. And not only does she do spontaneous tweet-interviews with fans, she also exchanges tweets with all your favourite tweeps like Tegan and Sara, SamRon, Ladyhawke and even someone from BETTY.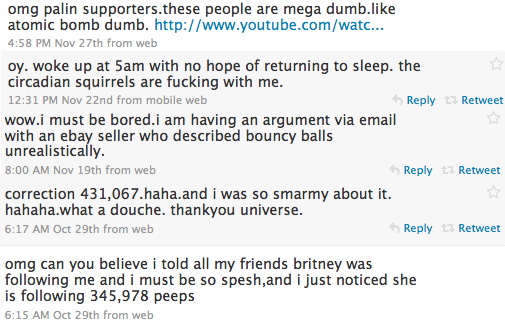 But my favourite thing about Sia's tweets? She is blatantly honest, meaning that any asshat who says something negative to her gets served.
2. Her video clips are AMAZING.
If you have never seen a Sia video clip before, you've missed out. Check out the crazy that is the video clip for her single 'Buttons'. Go on!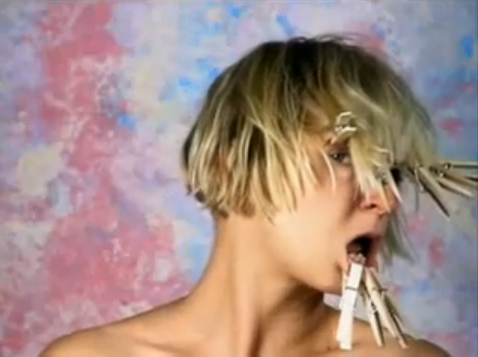 3. Those costumes.
Anyone who has seen Sia perform on TV or in concert is probably aware of the costume her and the band don to open each set: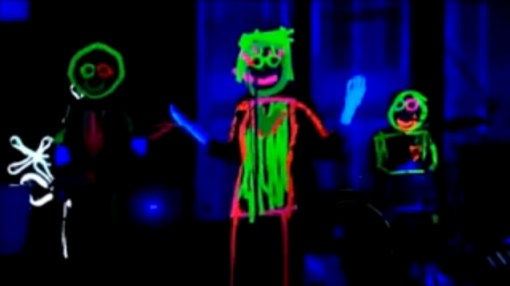 These neon gingerbreadman-esq character outfits never get old. Even though I was 100% expecting her and the band to walk out on stage in this get-up, my eyes still lit up as brightly as those neon stripes. After the opening number, her band stripped down into bright white while Sia strips down into a dress she bought "at a sample sale for 10% of the ticket price." Girlfriend's got thrift and style.
4. She keeps her promises.
At the beginning of the Sydney concert, Sia promised us that every item we threw on stage during her set would be tucked into her underwear. It was a little weird and unusual, sure, but we went with it. And true to her word, items were added and added to the stage – and subsequently her pants – until she was sporting a huge fake baby bump that she performed with the entire night. Inventory included:
i) Several pairs of underwear
ii) A full-length pair of denim jeans
iii) Multiple letters
iv) A pearl necklace *insert your own joke here*
I mean, that couldn't have been comfortable. But she did it for us, and not many girls would.
5. Concert banter.
Sia engages her audience from the second she steps on stage to the moment she walks off, communicating with the same frequency and enthusiasm as those pop acts that want pre-teens to put their hands in the air like they just don't care. Sia had me entertained the whole night and while her banter wasn't ROTFL-hilarious, it was super cute and elicited more gaffaws from me than any other artist I've seen before. It's not easy: I'm a tough crowd.
On the fan letters that were being thrown on stage: "Do you think it's too self-indulgent to read these out loud? No? I'm going to read it… Dear Sia, I think you're one of the only artists who… [laughs] um, let's just say it's nice. This is too self-congratulatory."
On the encore: "Okay I'm going to play another song, then we're going to leave – but don't worry, we're just pretending. Then we'll come back out on stage a few minutes later to play the only song that you actually came here to hear."
On winning the Best DVD Release at the recent ARIA Awards [Australia's music awards] and finding that none of the photographers were interested in taking her photo: "Whatever. I've been on Letterman."
6. Six Feet Under
Do you remember the final six minutes of Six Feet Under? Where Claire was driving along the freeway towards NYC, heaving as she flashed forward to significant moments in your favourite character's future and then ultimately their deaths? Remember when your heart ached and your lip started to quiver and your eyes welled up and you reached for the Kleenex? I sure do. A lot of that emotion was fuelled by Sia, whose song "Breathe Me" soundtracked that entire scene. Everything about that scene was perfect.
7. Sia dates JD Samson from Le Tigre and MEN.
I think? I don't usually keep up with who is dating who, but I know that JD Samson is cool and Sia is cool and together they are pretty cool. As fellow concert-goer Kate observed, it's science.
8. She is BFFs with X-tina
How a slightly eccentric indie singer from Adelaide came to write four songs on Christina's upcoming album, I'm no so sure. But I am counting down the days until I can get my hands on it. On stage, Sia joking called Christina a "vampire" and told a lot of BFF anecdotes that I don't recall, but probably wouldn't translate here anyway.
9. Some People Have Real Problems
The aforementioned Some People Have Real Problems is Sia's fourth studio album, as well as the title that originally piqued my curiosity in this artist. I'm a captive audience for anything that is uniquely named – if I find your band name clever or unique or hilarious, I will listen to you and love you no matter what you sound like. Here's lookin' at you, An Horse. And obvs you, TYRA MAIL!

This album doesn't just have an awesome name, it is awesome. My favourite tracks: "Buttons", and "The Girl You Lost To Cocaine". So this record didn't quite find Sia mainstream commercial success, but if you haven't yet heard it then it's worthy of your time. Rolling Stone can stick their two star review. Srsly.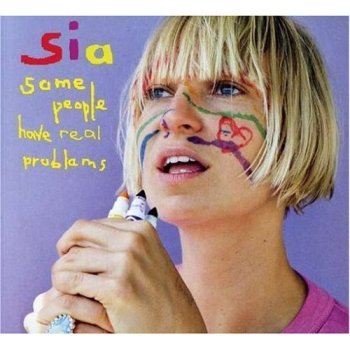 10. Sis is going to become Ruler of the Future
A few weeks ago Sia leaked the track 'You've Changed' from her upcoming record We Are Born, which is for release in April 2010. It's far more uptempo than her current record and I love it! You can download the track here.