Earlier Isabelle gave us her Top 10 records of 2009, and even though it's now technically 2010, before we start looking too far into the future we're gonna take a moment to find some closure for the music, musicians and moments that had us all talking this past year. Also we didn't finish this article until 2010.
2009 was an epic year for music. We got excited by a lot of things, from The Gossip's rise to great(er) heights and Tegan & Sara's Sainthood, to anything and everything achieved by Adam Lambert and Lady Gaga, both truly solidifying their place as major players on our pop scene.
But was 2009 a great year for music? Because I feel like we've had way better. The biggest and best moments of 2009 were eclipsed by the not-so-pleasant. Not only did Billy Corgan and Jessica Simpson (allegedly) start dating, but two of the most significant and innovative contributors to music passed: Michael Jackson and Les Paul.
But now it's the new year! I rounded up some of the team and interns, and together we cast a nostalgic gaze back over the last 12 months of music and discussed who the winners were. And weren't. Then we promised each other that 2010 is gonna be way better.
+
The 'They Play Me On The Radio
And That's The Way I Like It' Award
for Best Breakthrough Artist of 2009:
Florence & The Machine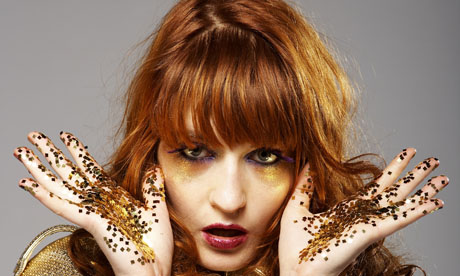 ISABELLE: In terms of people proverbially breaking through things this year, it seems like it's been a really big year for British artists. There's La Roux with her pseudo-80's synth pop and enviable, gravity defying orange quiff that I may have tried to imitate once and failed hard at. Then there's everyone's favourite lower-case letters, The xx, a band that if they were any cooler wouldn't have a pulse. Of course this has also been the year that Lady Gaga really dominated pop music, but she's winning at everything, and my mother always taught me to let the other children have a go.
I am awarding biggest breakthrough of 2009 to Florence and The Machine, purely due to the sheer number of people who have accosted me this year with "OmGz!!! isn't Florence + The Machine the most talented/pretty/my-future-wife person evarr?!". Also, I really like the fact that there is someone called 'Florence Welch' making pop music. If anything, this is a breakthrough (or is that comeback?) for names reminiscent of grandmas who knit lace doilies and live with 36 cats. Now, I'm off to change my name to Ethyl Greenleaf, or something.
+
2009's Cutest in Nerd Glasses:
Taylor Swift
KATRINA: Be still, my heart, for I know that it just can't contain its excitement at the sight of Taylor Swift and her periodic table T-shirt in her video for "You Belong With Me." I didn't need to like this song any more than I already do. Besides the fact that it is TOTALLY secretly written for lesbians about how every girl ever worth dating is already nesting with her girlfriend in preparation for a long-term relationship,  TSwift is also completely nerdorable in the video. And although she may sometimes wear a silly brown wig that make her look like Avril Lavigne and talk about wearing T-shirts and sitting in the bleachers, it is her non-ironic nerd glasses that make me wanna say this: Taylor Swift, you belong with me.
RIESE: I just want to add that I am still on Team Kanye.
+
2009's 'I Can't Get You Out Of My Head' Award:
"TiK ToK" by Ke$ha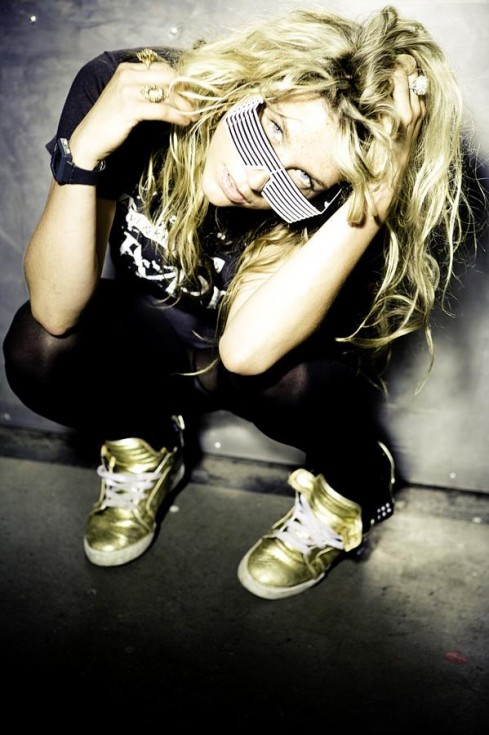 CRYSTAL: There are so many reasons why I shouldn't, and don't want to, love this song and this artist. From the unconventional capitalisation in the song title and the dollar sign in the girl's name, to the trashy music video and clothes and claim that she brushes her teeth with a bottle of Jack. But as soon as that chorus kicks in it owns me, I have it in my head for the whole day and honestly? I'm not complaining. Everything about this girl is so damn ridiculous and yet remarkably I LOVE HER SO MUCH. I dare you to put "TiK ToK" on your iPod and not get sucked in by its hook, or Ke$ha's trashbag charm. I have.
+
The Fastest Rise to Gay Fame in 2009:
Lady Gaga
+
KARMEN: While 2009 saw Tegan and Sara held their long-standing rank as #1 Artist Loved By The Ladies Who Love Ladies without so much as breaking a sweat, there's no overlooking that this is the year Lady Gaga made her grand, flamboyant entrance into every homo's heart. And made us believe she's not going anywhere. From her outrageously fierce wardrobe and equally fierce beats, to her strong support of gay rights and music videos like "Bad Romance" that are designed to blow your mind, bend you over and make you call them "daddy" — Lady Gaga has taken her rightful place in gay fame. As my one of my gay boys once said: "Gaga? She is goddess."
+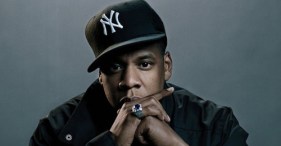 +
RIESE: My favorite part is how Brooke, our Chief Operating Officer of Business Matters, volunteered to write this review and then asked everyone else to write it for her, my second favorite part is that it made me laugh a lot.
+
The 2009 'Really Papi? Really?' Award:
Kanye West
+
KARMEN: Oh Kanye, we tried to love you. Despite your many obvious flaws, we so desperately wanted to take you into our hearts. But you tried our patience, Kanye. There's only so many times you can leave a girl scratching her head asking "Really Papi? Really?" before she has to wash her hands of you. And you filled that quota in 2008. This year, 2009, was an even more productive year for Kanye West, who in just 12 short months called himself "the new king of pop" (too soon), the "voice of our generation" and a "motherfuckin' wordsmith". Not to mention that time he made Baby Jesus, Taylor Swift and the pre-teen community cry by storming the VMAs and declaring Beyonce the true winner of Swift's Best Female Video award. Kanye West may be a brilliant hip hop artist who can be credited for reviving the genre. But in the words of President Obama: "What a jackass."
+
The Artists We Talked About Most in 2009
and as Long as Lesbians Exist We Probably
Will Never Stop Talking About Award:
Tegan and Sara
+
INTERN EMILY: For most of us, 2009 has been all about Tegan and Sara. And a big year for Tegan and Sara equates to a HUGE year for Audiostraddle! Tegan and Sara released their new album Sainthood in October 2009, prompting us to do the album review, the track by track review, the Sainthood competition and not one but TWO interviews with Tegan. Robin did a quick yet amazing photoshoot with them at MTV for Autofocus, and our LA correspondent Karmen reported from their Spinner takeover. On top of that, we created that massive Tegan and Sara gallery for you to enjoy. Obvs we love T&S to an obsessive extent, as most of you do.
+
The Little Boy You Wouldn't
Mind Having As Your Girlfriend:
Justin Bieber
+
INTERN HOT LAURA: JBiebs, could you get any dreamier if you tried? You've got shinny shiny hair, you can sing, you're young enough to have that whole androgyny thing working for you, you dress nicely, you dance, and Ellen loves you. So maybe you secretly sing along to his songs in your car. Maybe you shamelessly make all your friends dance to him before you go out. Or maybe you've heard his name and cringed at the thought of a 15-year-old singing about love. But really, give him 5 minutes; I dare you not to like him. Boy's got pipes! (And please note how gigantically cute the guitar looks on him.)
+
The 'Sid and Nancy' Award for
Best Musical Couple of 2009:
Sia and JD Samson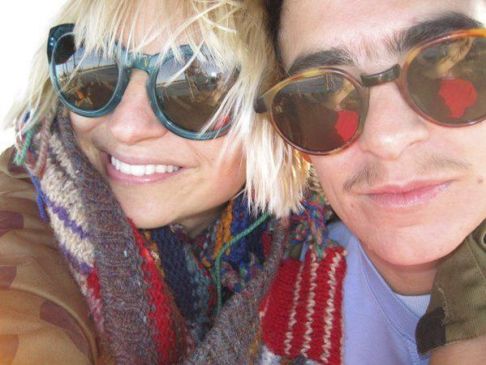 ISABELLE: Sia and JD Samson are the most awesome couple in the history of ever and I really wish they would adopt me. We've documented their awesomeness before but if you still don't believe us and need more evidence, go stalk their relationship on twitter – they refer to each other as "Mr and Mrs Boop" and tweet the cutest things to each other and they melt my icy heart. I am totally serious about my desire to be adopted by them. I know I'm not exactly an orphan child who needs to be rescued from some poverty-stricken developing country. And I guess I am technically an adult. But I still think I could present a fairly good case for adoption, which would mainly consist of the fact that Sia and JD Samson would be the coolest parents ever. Do you think they would be too freaked out if I turned up on their doorstep with adoption papers and a pen?
+
Most Popular DJ For Everything
But DJ'ing in 2009: Samantha Ronson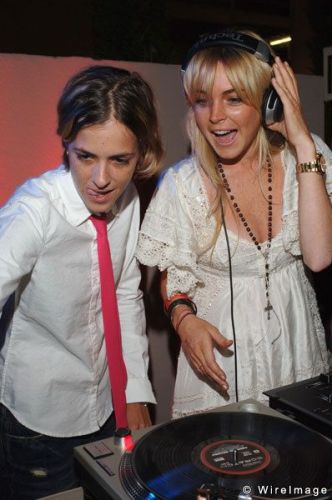 KARMEN: What is it about DJ Sam Ronson that we really love? Is it her sleep-deprived junkie appearance? Her devil-may-care demeanor? The way she can pull off a fedora in absolutely any setting? The rise and fall and rise and fall of her relationship with LiLo? The answer is: Everything. We have spent 2009 obsessing over everything there is to obsess about in relation to DJ Samantha Ronson and her rockstar life. Except for her music. Samantha Ronson has spent years playing all the big clubs, all the coolest parties, and we know this because we've seen promo posters, and the pictures of her hiding behind her decks and her Ray-Bans, looking bored and mysterious all at once. But who has ever really heard Samantha Ronson DJ? In 2009, Samantha Ronson became our real-life Shane McCutcheon. We had no idea if Shane was any good at her job(s), either. All we know is that she looks good doing it.
+
The 2009 'We So Wanted To Hate It
But We Can't Because It's Actually Really Good' Award:
The Twilight New Moon Soundtrack
+
INTERN EMILY: For some reason, our music editor Crystal loves Twilight the movie. Most of the Autostraddle team don't share her feelings, and so some of us were a little apprehensive when we heard that she was going to review the Twilight New Moon soundtrack. Because given the quality and reputation of the Twilight novels and movies, how many of us [over 16] genuinely believed that the Twilight movie soundtrack could be any good? Well, it was. It is. The Twilight soundtrack features my personal favorites Death Cab For Cutie and Bon Iver, as well as artists like Muse, Thom Yorke and OK Go and a bunch of indie bands I've never heard of before but now love. Some cynics would call this "selling out" and maybe it is or maybe it isn't, but at least the songs are good. Really, really good.
+
The Fastest and Most Tragic Return
to Pop Cultural Relevancy in 2009: Michael Jackson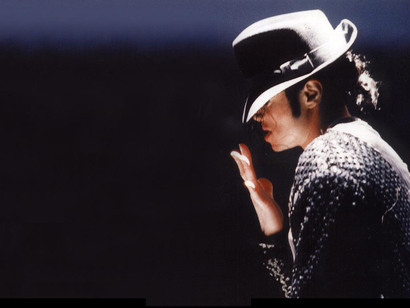 INTERN VASHTI: Remember when it got to the point where the first thing you thought of when you heard the name Michael Jackson was something defaming and scandalous? Then the unthinkable happened and the world lost a legend. All of a sudden, his albums were once again topping the charts and his name was plastered on every news channel, media site, and social networking site imaginable. HE EVEN BROKE THE INTERNET! Most people who saw "This Is It" will tell you that MJ's world tour seemed as if it could have given him a genuine comeback, however it's hard to deny that it was his unexpected death that in the end rocketed him back into the spotlight.
+
The Mark Ronson Award for the
Best Coiffure in Music for 2009: Kate Cooper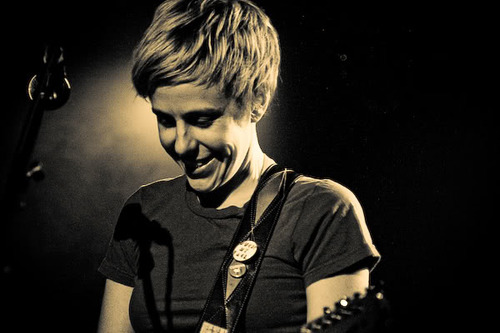 CRYSTAL: I know I'm not alone in saying that Kate Cooper from An Horse hands-down wins what is clearly the most important category in the end-of-year music roundup. Not a week goes by without hearing girls on the internet or in real life lust after Kate's boyish, shortly cropped golden locks. While last week's interview with Kate was the perfect opportunity to inquire about how one achieves such mad hair, I forgot. Next time I will ask her what her secret is. Until then, check out this action shot or katecoopershair.tumblr.com. JK, that tumblr site doesn't actually exist. Somebody please fix that. Seriously.
+
Hipster Song of the Year
That Is Actually Surprisingly Wonderful:
"Home" by Edward Sharpe and the Magnetic Zeros
+
INTERN HOT LAURA: Don't be surprised if you walk into Urban Outfitters in the next few weeks and hear something other than MGMT. It's weird, I know, but there's a new kid on the block. The usual suspects–Pitchfork, NPR, and Under the Radar–are all over this shit, but so are Gossip Girl and Ugly Betty! That's because far from being postmodern hyphenated-adjective nonsense, these guys are really happy and this song is just plain good. It's a little Johnny and June Carter Cash-y and it'll probably make you want to drive really far with someone nice and sing along. If you haven't been hit with the newest wave of trendy, check it out.
+
The Wolfmother Award for
Most Over-hyped Act of 2009: Sufjan Stevens
+
CRYSTAL: There were so many contenders for this award. But for me, 2009 has mostly been about hipsters in corduroy jackets mumbling about how I MUST listen to Sufjan Stevens, the indie darling whose soulful music is going to change my life. It's not that the man isn't talented – I'm just not certain why he's still a hype act in 2009 when the last record he released was in 2006. And while I can think of at least 3 real-life friends who will de-friend me for saying this, I think it has to be said: 50 albums about 50 states? Really? I hope he was joking. Maybe he was. Either way, he's done this to himself.
+
The Best Song You're Too
Embarrassed to Let Anyone Know
You've Had on Repeat for the Past Hour:
"Party In The USA" by Miley Cyrus
INTERN VASHTI: Admit it, you secretly love "Party in the USA". Maybe you have an affinity for Disney tween pop. Maybe you work in retail or food service and this song somehow made it on to the company's music mix. Maybe you saw that video of the cute gay boys at Fire Island. Whatever the case may be, you've heard this song and whether you like it or not once you hear that country rock guitar intro, you know it's going to be stuck in your head for the rest of the day. It's okay, as long as you don't have the lyrics memorized and a choreographed dance routine like I do, you don't need to be too embarrassed.
+
2009's Biggest Let Down: Chris Brown
+
CRYSTAL: 2009 was supposed to be a good year for Chris Brown. He started off the year with the world was at his feet – off the back of releasing a successful album "Exclusive" and having done some not-so-bad acting in that college slash gangsta movie about stomping that I secretly loved. And to top it all off, he was even dating Rihanna. But then in 2009 he did the unthinkable, he hit her and he threw it all away. Did you even know he released an album this month? No one bought it. I'll be surprised if Chris Brown can bounce back from 2009, or if we'd even let him.
+
2009's Hot Summer Jams, according to Alex:
+
Black Eyed Peas "Boom Boom Pow"
Without a doubt the #1 jam of 2009. I love the Black Eyed Peas, they can do no wrong. Even "A Gotta Feeling" was a song that eventually grew on me. Hey, did you see the flash mob they did for Oprah's first show of her new season?! It was so awesome.

+
Kelly Rowland (with David Guetta) "When Love Takes Over"
I'm not gonna lie, I can sing the chorus of this song gloriously. Actually, I think everyone can/does, and that's why we loved it so much this past year.
Flo Rida "Right Round"
Just a little trivia for you: I was once told by a certain DJ Carlytron that Kesha (of that hot new "Tik Tok" song) is the girl singing on this track. Obviously you don't need me to tell you how hot it is, "Right Round" is Flo Rida's most successful single yet. (Sidenote: I also very much enjoy "Sugar (feat. Wynter)".)
Kings of Leon "Use Somebody"
Oh Mr. Caleb Followill, what I wouldn't give to have a voice like yours. It's perfect. After Kings of Leon came out with this song this summer, I did a little research and and discovered "Sex on Fire", the first single released off their album "Only By The Night" ('Use Somebody' came after this.) I might've been the last person on earth to hear/discover this song.
+
The Bad Romance Award for
Best Music Video of 2009
INTERN VASHTI: Yeah that's right, I've just named the award after its winner, that's how serious this is. The best music video of 2009 is hands-down without a doubt Lady Gaga's "Bad Romance". We all saw this coming, I mean we had SO. MANY. FEELINGS. So did you. "Bad Romance" was the video that turned naysayers and fence-sitters into wonderful little monsters and let the world know that Lady Gaga won't be leaving anytime soon.
+
Best Music Video Cover:
"Bad Romance" by Autostraddle's Alex and Stef
+
INTERN EMILY: Since Lady Gaga's "Bad Romance" was released, there have since been a bunch of weird covers and not one has been as good as the one by Alex and Stef. For a minute and a half Stef sings and plays the ukelele, and Alex enters and does this thing where she moves her legs and arms and body and smiles and it's basically amazing. I mean, seriously guys, you should watch it. Oh what do you know here it is: