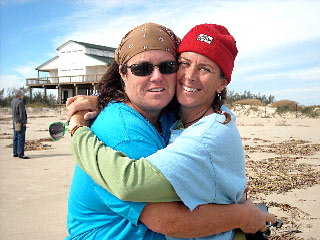 ROSIE O'DONNELL: Rosie O'Donnell is officially dating Tracy Kachtick-Anders, a Texas-based artist she was photographed with in Miami Beach. Kachtick-Anders founded Open Arms Campaign, a non-profit organization to promotes adoptions and targets the LGBT community. She has six children, five of whom are adopted. She's also a doula and an artist. (@people)
Tracy seems like a great fit for Rosie because they have all the same interests, like making art, activism, kids, walking on the beach, and wearing oversized t-shirts.
Rosie met Tracy through her blog (according to Perez Hilton) and in her Ask Ro section she answers all her fans' questions about her new love. (@huffpo)
GLAMBERT: "Adam Lambert may be too controversial for live television, but the L.A. freaks couldn't be more thrilled to have the American Idol runner up pushing the envelope at the Gridlock 2009 New Year's Eve bash at Paramount Studios. Unfortunately, you won't be able to see the singer on television and his performance won't be streaming live on the web."
90210: Jessica Lowndes is excited about her lesbian storyline. So are we because we keep turning that show on wondering if this is going to be the time where they have the lesbian part:
"[Adriana] never thought about being a lesbian but then when she finds out she has feelings for her, she really starts to think about it. Gia knew her whole life, but for Adrianna, she's questioning her sexuality. She likes the closeness she feels with Gia and it doesn't matter what gender that person is – Gia makes her feel good."
MARGARET CHO / TEGAN & SARA: What's this about a Margaret Cho and Tegan & Sara collabo? (@twitter)
LOHAN: Lindsay Lohan celebrated New Year's Eve in St. Bart's, while Samantha Ronson was in Sydney, allegedly playing a not-so-good set. (@celebrity gossip)
BEST LESBIAN DECADE: AfterEllen has published their year-end round up of the Best Lesbian Decade Ever. (@afterellen) Also check out Autostraddle's The Gay 2000s: Twenty Decade-Defining Lesbian Happenings! (@autostraddle)
KATHY GRIFFIN: It wasn't as fun as last year's "I don't come to your job and knock the dicks out of your mouth" but Kathy G. did drop the "f bomb" live on CNN last night during the New Year's Eve telecast. (@popeater)
GOLDFRAPP: Is it news that Alison Goldfrapp is gay? Did she come out? What is going on here? Either way, go purchase Supernature, one of the most gorgeous albums of all time.(@queerty)
REAL WORLD D.C.: The entire  bisexual history of Real World D.C.'s Mike  Manning: "Girls: 15. Guys: 5. But: "Not sex, we're talking everything, right?" (Scroll to 25:35 for the relevant dinner scene.) So we still don't know whether Mike has had The Sex with The Mens." Also, check out the Autostraddle recap of the premiere episode of "The Real Worldwp_postsRecap: Washington DC. (@queerty)
THREE MEN & A BABY: Twenty-two years after the smash hit Three Men and a Baby, Disney has plans for another sequel. Um … didn't they already do that and wasn't it called Three Men and a Little Lady? Are we going to forget about that? In any event it'll be called Three Men and a Bride, which is lovely. (@ew)
LADY GAGA: A never-before seen video with The Midway State Featuring Lady GaGa, "Don't Give Up":
Don't Give Up – Happy New Years! from Alejandro Mexico on Vimeo.
GAY SEX ON DAYTIME TV: Yesterday, television history was made as  One Life to Live aired the first ever gay sex scene on daytime TV. Interesting that this aired on ABC, the same network that flipped their shit with the Adam Lambert debacle in November.
Also Adam Lambert's New Year's Resolution is "To keep being positive and try to live in the moment and enjoy this." You too, kids!