Hi! Brooke, your resident Chief Operating Officer here to review Jay-Z's newest single, "Empire State of Mind" featuring Alicia Keys for you and the world. This is my first piece of writing for Autostraddle/Audiostraddle. Exciting, right?
Before I start on the actual song, there are a few points I'd like to make:
1.  The single most important fact about Jay-Z is that he's married to Beyonce Knowles. I enjoy her music as can be seen by my citing her song "Ego" in our That's My Jam Roundtable.
2.  I'm not a music expert. In all honesty, I'm made fun of on the reg for not knowing anything about various aspects of the entertainment industry. I don't think I've ever fully read a review of an album outside of scanning the ones on Autostraddle, let alone a review of a single song.
3.  I don't know a whole lot about Jay-Z but I do love his Collision Course collaboration with Linkin Park.
4.  After this review, Crystal is never going to ask me to write for Audiostraddle again.
With that in mind, let's move forward.
When I first heard this love song to New York, I thought it had a chill beat and it made me slightly nostalgic for NYC. And because I was like "how in the world does one review a song?", I played it on repeat about 30 times straight… this got me nowhere. Probably because I was doing other things and am capable of completely zoning out outside noises when I'm busy. But I did pick up on one interesting item! By not paying attention to the song, I suddenly swore I heard him say "Anna Wintour" (name of the Editor in Chief of Vogue) and googled the lyrics to find: "End of the winter gets cold, en vogue, with your skin out". Total reference! So slick!
How did this help me with my review? It didn't. Regardless, I was extremely proud of myself for figuring this out so I mentioned it to almost a dozen people. Their responses ranged from "So what?" to "That's great!" with the former being the more popular reply.
So, like any good writer looking to give their original and unbiased opinion on something, I did the logical thing and asked other people. And by asking other people I mean pester them via facebook chat, gchat, AIM, and email.
I believed the easiest route to get someone else to review this song for me would be to ask my interns. I assumed (though I try not to make assumptions) that they would be on their pop culture game and have an opinion about a song currently hanging out on the billboard charts.

Me: Vashti, in a few sentences, what are your thoughts on Jay-Z's "Empire State of Mind"?
Vashti: Brooke, I cannot provide a summary of my thoughts on this because I have no idea what you're talking about.
Me: Had you ever heard of the song before now?
Vashti: I don't think I have. The only rapper I actually listen to is Lil Wayne. But Jay-Z is his hero. So there's that.
Strike 1

Me: Have you heard the song "Empire State of Mind" by Jay-Z
Tirna: Is that the one with Alicia Keys?
Me: Yes!
Tirna: Ohh okay…the only time I've heard it was when I watched the MTV VMA's. I don't really remember how it goes so I don't think I'd be much help.
Strike 2

Me: Can you send me your thoughts on "Empire State of Mind" in a few sentences?
Laura: As I don't know what "Empire State of Mind" actually is, I will give you my thoughts about what I think it is: "Empire State of Mind" is an answer to a "Wheel of Fortune" game where the category is "before and after." If they were to give clues, they would be something about New York and mood. I don't know why I used so many "quotes" in this email.
Strike 3
Fortunately, this was not a complete waste of time as I was able to assist two of our interns in selecting their Halloween costumes. Vashti chose to be a trending topic and Tirna decided on Rosie the Riveter.*
My next effort involved asking friends and business associates in the middle of their Friday workdays. I was only able to successfully get any sort of response from a few of them and wasn't able to stimulate those conversations past a couple of sentences.
I first tried asking a friend whom I forgot to ask if I could quote so he will now be known as "K". I met him freshman year of college when he tried to convince me (you didn't) that he took shots of water instead of shots of alcohol and we've been friends ever since. He has also told me I can't dance. K would have heard of the song. Unfortunately, I forgot he often likes to answer questions with questions.
Me: Hey, I have to write a review of the song Empire State of Mind. Do you have any thoughts on it?
K: lol, have you heard of it?
Me: Yeah!
K: What do you think? What about the lyrics? He talks about being the new Sinatra of our generation, do you agree?
Me: I don't know! I barely know who Frank Sinatra is.
K: Omg. Wiki that. I would love to help right now, but I'm in the middle of meeting a deadline.
SO AM I!
The next person I asked, Courtney Jackson, Partner at Wink Marketing and an avid consumer of Hip-Hop/R&B not only answered my question, but also gave me the answer to the Sinatra question without any pressing on my end.
Me: Have you heard the Jay-Z song "Empire State of Mind"?
(Sometime later)
Me: Courtney, as a music connoisseur, I am trying to quote you in my review of this song for Autostraddle and you are not being cooperative.
Courtney: Sorry! Duh, of course I've heard of "Empire State Of Mind". My thoughts are that Alicia Keys and Jay-Z came together and make a very sexy, sultry New York Anthem. Their dynamic performance at the MTV music awards make me love this great tune that much more.  And yes, Jay-Z is definitely the new Sinatra.
I was finally getting somewhere but then I started rambling about the Yankees and how that upped playtime for the song and she had to get back to work.
Sidenote: I then got a ping to my inbox alerting me to the arrival of Laura's helpful response re: my clarification that "Empire State of Mind" is the Jay-Z song.
Laura: Oooooh. My feelings about that are that Alicia Keys has legs for days and a bangin' voice.
Great.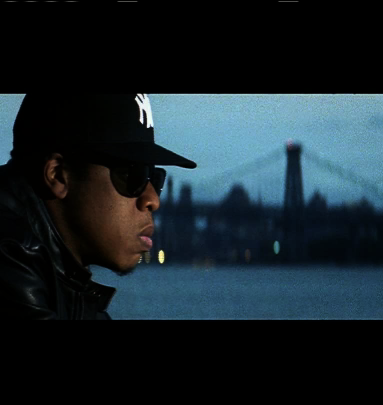 At this point I was getting desperate and had spent a lot more time than I'd initially planned trying to get other people to do my work for me. Then a miracle happened in the form of Bailey, Carly's sister who just so happens to work in the music industry.
Me: Bailey, you are a music person. I'm writing a review for Autostraddle on "Empire State of Mind" by Jay-Z. Do you have any thoughts on this song you'd like to share?
Bailey: Hellooo
Me: Hi!
Bailey: He's [Jay-Z] definitely an icon here. And it's Jay-Z and Alicia, two huge forces in music. I think the song has become the pinnacle anthem of New York.
Me: Do you feel the Yankees being in the playoffs have contributed to some or even all of this?
Bailey: Honestly, I think the song was there before. And that it just worked and Jay is such a force, especially in NY. It was like a puzzle piece. Probably also because I'm not a big baseball fan.
Me: Check out the comments here.
Bailey: I think that people can be oblivious to something and once that something is tagged to something that's important to us it becomes a stigma. Suddenly it's now about the Yankees, when it was all about Jay when the album came out. And in general, this song is about New York.
Me: Agreed!  But the timing with this and the World Series. Do you think the song is going to be attached to the Yankees for the mainstream from this point forward?
Bailey: Probably. I wouldn't be surprised if they licensed it for tv/commercial spots, etc…Also, Jay has a line in the track about how he made the Yankee cap more famous than a Yankee can.
Me: Actually saying he made the Yankee cap more famous than any Yankee can may even be offensive to the Yankees.
Bailey: Very true.
Another interesting tidbit from Bailey: Jay-Z was such a huge deal this year, his first week was 475K which was fantastic for what the economy and industry have been dealing with.
I've probably spent about 3 weeks attempting to write a review of this song and don't have a whole lot to show for it. I considered writing an in-depth analysis of the lyrics or learning enough about Jay-Z to be able to write about how this fits into the rest of his body of work and/or reflects on his life. I even did some minor research on both of those fronts. Neither happened. However, on a personal note, I do recognize the song on the radio when I'm driving and know almost every word to it. I also got excited when they released the official music video on Halloween.
Since you haven't asked, the Rap/R&B artist I have in my current music rotation is Drake. Oh, and also the song "Body Language" by Jesse McCartney ft. T-Pain.
*Post October 31st, I have confirmation that neither of them wore these costumes.