Hello little monsters! As you are probably well aware, Lady Gaga's video for her latest single Bad Romance premiered Tuesday. After watching it approximately INFINITE times, I have a lot of feelings that I would like to share with all of you about why Bad Romance is the greatest music video I have ever seen ever the end. If you haven't seen it yet, WATCH NOW:
OK LET'S GET TO IT!

Top Ten Reasons I Want Lady Gaga's
Bad Romance
10. Bat Skull
At first I thought this headdress thing was the skeleton of the creepy sphinx cat that appeared earlier in the video. BUT NO! it's actually a bat skull. Honestly, I don't know which one I prefer.
9. Eyes
I have been trying my hardest to think of something to write about her giant eyes but I think the caption pretty much sums it up.
8. Crown Masks
The crown masks are so great. I wonder if they are made of latex like the rest of the outfit. If so, then I change my mind. They are not great and probably very uncomfortable.
7. Fire Bra and
6. MOTHERF*CKING CORPSE WTF
She's had fire-shooting bras before so this is nothing new. I mean, except for the fact that there is also a BURNT CORPSE right next to her.
5. Gaga Freakout
In the beginning of the video, after the creepy carnival music stops, there is a moment of silence. THEN THE SONG STARTS AND LADY GAGA FREAKS THE F*CK OUT. I like to think she's freaking out because she has no idea what to expect from this music video but that's just me projecting.
4. THIS SCENE
I can't really explain why this scene is so great to me. Maybe it's the intense pounding of the ground accompanying the most intense part of the song. Maybe it's Lady Gaga's RED HOT outfit. Maybe it's all of that and more. WHO KNOWS. All I know is that I love it.
3. Fire Goddess
Every time I watch this part I try to figure out what Lady Gaga is thinking. Probs something along the lines of "Look at this fire behind me and this bear head at my feet. I am invincible."
2. Monster Moves
I will be spending the next few weeks learning all of these monster dance moves. That is all.
1. BEAR DRESS
PS : E.P. stands for exclamation point.
Special Comment: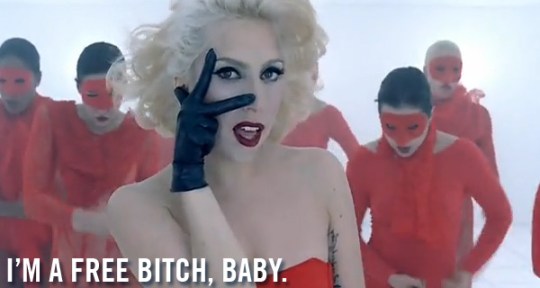 I've always thought that Lady Gaga is a beautiful human being. She has an amazing body, her legs are wonderful, her eyes are gorgeous, etc. BUT GUYS! Really! In this video, she is stunning. We are shown a more "natural" version of the queen of glamor and excess. For a majority of the video, her face is left uncovered. There's no lightning bolt or ridiculous make up distracting us. It's just Gaga, in all her glory, taking my breath away.