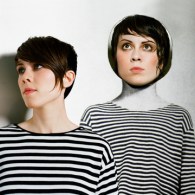 Hello Autostraddle, this is Intern Emily! If you're among those eagerly anticipating October 27th's arrival (or Oct 23 if you live in Australia), the good news is that Tegan & Sara recognize our impatience and have decided to stream the entire Sainthood album on the internet RIGHT NOW! Coincidentally, I've prepared a track-by-track breakdown so that as you listen to the album, we can obsess together in the comments section. Crystal will be joining me for parts of this conversation because she has some residual feelings from writing the album review, but also because I have an epic Sara bias and someone around here has to be the voice of reason. Crystal has clearly edited this part in.
Isn't this great!? If you're not already jumping at the thought of hearing new Tegan & Sara songs then I'm not sure what else I can do for you. Seriously though, this is a very exciting time in our lives. Not only am I about to analyse each track in great detail, but you also have an opportunity to win a copy of Sainthood and have your name drawn out of Laneia's fedora. And there's still something that's going to be better than all of these things combined showing up here really soon. I know, right? What could it be!
But for now, turn the volume up and GET READY.
1. Arrow [Sara]
Emily: Tegan & Sara begin Sainthood with a risky track. To be honest, the first 30 seconds of Arrow scared me – "what the hell is this? Is the whole album like this?". Comfort came when the chorus went back to the usual Tegan & Sara style.
Sara displays her strong vocals a lot on this album and especially on this track.  Arrow may be overlooked 'cause of the stronger tracks which follow it. But the more I listen to it the further up the favourite list it climbs.
Crystal: I was a little nervous when I heard the beginning of this track, but I was also excited. It was different, and not having a super strong attachment to The Con, I was ready for it to take me somewhere new. It did, too. There's beauty in this track's simplicity and the switchup to the upbeat chorus keeps things interesting. But I don't understand the lyrics, I mean sugar spell it out.
Emily: I don't know what this song is about, but I'd never claim to know what any Tegan & Sara song is about unless they explain it, especially Sara's. She often rocks strange & cryptic lyrics.  I can't tell if she's the arrow or the target, can you?
Sometimes I feel like all of Sara's lyrics are about sex, but very cleverly disguised.
I feel the breeze, your feathers of an arrow
Out in my yard, feathers of an arrow
I take my aim, you feel me coming close
2. Don't Rush [Tegan]
Emily: Don't Rush is unmistakably Tegan & Sara, yet it wouldn't have fit any prior albums because it's definitely a point they've grown to. With heavy, metronomic synths pulsating under a hooky verse and even hookier chorus, Don't Rush makes me want to dance like a crazy person. This is definitely as a pump up song. You know who's pumped? Crystal. Srsly, she has not shut up about this song.
Crystal: This song has been stuck on high rotation in my head for WEEKS. I've been singing it out loud, non-stop, and this has attracted a lot of curious and also frustrated stares because it's not released and so no-one knows it's an actual song yet. And to be fair my rendition is also a little pitchy. I think the bass line on this track makes the strongest first impression on this album, it's killer.
Emily: Though the tune is "less emotional" than others, Tegan still successfully breaks my heart: I'd love to find my other, love to find you… Or maybe I'm just single? Sigh.
Although Tegan hates Superstar, this track says still continues to enjoy spoken word. I don't really like Superstar either and I'm not that huge a fan of the spoken word they used in Are You Ten Years Ago?, but I love the way she uses it here, especially in the bridge.
One way to erase bad ideas
I won't see you when you arrive
One way to escape bad ideas well
I won't cry to you
Not that you will mind
Sidenote: Riese and Alex love Are You Ten Years Ago?

3. Hell [Tegan]
Emily: Sainthood's first single, Hell, is a catchy, crowd-pleasing pop-rock song about an article Tegan read about her neighbourhood that described the four blocks as "hell". Even though I have a hard time discerning what Tegan is singing in the verses, I can't stop singing along with the chorus.
As stated in the press release, "Inspired by emotional longing and the quiet actions we hope may be noticed by the objects of our affection, Sainthood is about obsession with romantic ideals." Tegan & Sara can try as they might to write about other things, but they always seem to come back to love and relationships – not just the sexual,  but all of it. That's how I relate to Tegan & Sara the most – no matter how hard I try, everything seems to be about love even when it's not about relationships.
This track is probably about Tegan's relationship with herself, living in a place that someone else has described as hell. Described by Tegan here, "I wrote these songs [Hell and The Cure] about the neighborhood, but they're really just metaphors for love."
I know you feel it too, these words get overused
When we get up and over it and over them, up and over it and over them
4. On Directing [Sara]
Emily: I love Sara Quin. Let that be known. Why do I love Sara Quin? Because she wrote Back in Your Head and THIS. This is perfect, this is Sara, this is the kind of amazingness I expect and she's delivered, she always does. She sings "Go steady with me. I know it turns you off when I get talking like a teen," and I think everyone, everywhere – except maybe Crystal – knows what she's talking about. How many times have you tried to talk to someone and ended up sounding like an idiot? Like a high school kid? All you want to say is "go steady with me".
Crystal: I guess I am the exception because while I like this song fine, I don't really relate to it. The only response it evoked from me was: 'Yeah, you're right – sometimes it is a turn off when people talk like a teen.' But to be fair, I didn't really relate to Back In Your Head either and so these tracks are probably not written for me, only for people with hearts.
This song makes me think of a high school science class, when you're supposed to be looking through a microscope but you keep glancing sideways at the cute girl over there.
Emily: While I appreciate our differences, I just need to say OH MY GOD I CAN'T BELIEVE YOU DON'T RELATE TO BACK IN YOUR HEAD. Moving on.
There are topics that are clichéd, y'know. Like love, for example. But I think what distinguishes a good writer from a great writer is their ability to write about common topics but make them sound new, different, exciting, profound – those who make you think, 'wow I never thought of it like that before'. Tegan & Sara do it time and time again, see: Dark Come Soon, Back In Your Head, etc. Now I'm adding On Directing to the list.
This song makes me think of a high school science class, when you're supposed to be looking through a microscope but you keep glancing sideways at the cute girl over there. Unrequited love hurts. Also, the drums on this song are amazing.
You directing me, you dressed up I lose my grip, I lose my focus
Make those eyes at me, I lose my grip, I lose my focus
5. Red Belt  [Sara]
Emily: What is this song about? I have no idea, Sara won't tell us.
Red Belt is a real gem that could easily be overlooked because it's right after On Directing and is a little slower and could get lost in the mid-tracklist vortex. Like I said in our Sainthood album review, if you listen to Tegan & Sara as background music then you'll probably never fully appreciate them. I urge everyone to listen to Red Belt carefully, because it has become better every time I've heard it. Sara's voice is so soothing. Also, I love the weird keyboard thing in the background. Crystal says that's not a technical term but whatevs.
If you didn't believe me when I said Sara is a lyrical genius/weirdo, maybe you'll catch on when she sings "I've got a red belt around my mind. Hands tied, around these words. I wish you'd call but I know that you're out tonight." Do you hear that? That's the sound of my heart breaking.
Crystal: I still don't get it, lyrically. However this is one of my preferred 'Sara songs' on the album, it's very well written and I particularly love the electro in it. I continue to have no idea what she's singing about, however I am starting to form the opinion that maybe Sara's songs are impervious to interpretation, that she is far more clever than I and that I should just accept this.
Slow down, you have a tendency to rush back into your past
Slow down, you transfer all your weight and disappear
You kneel, to condition all the feelings that you feel
6. The Cure  [Tegan]

Emily: Like Hell, The Cure is also written about Tegan's neighborhood in Vancouver. I'm guessing instead of "making the changes" she wanted to, she wrote this song, which is fine, 'cause, like, obvs, Sainthood.
The Cure isn't risky or "out there". It's fairly predictable for most of the song, except for the bridge which builds up into awesomeness. Tegan always has a sort of pleading desperation in her voice which I love and can really be evidenced in her demo of Hop a Plane.
Oh, I must keep going so you must too.
Personally, I like Hell better.
Crystal: Personally I like The Cure better. I like the clipped words in the verses, the immediacy and the way she sounds like she's rushing the lyrics to fit them all in. And I'm glad Emily mentioned the bridge because it is hands-down my favourite moment of this entire album. I don't know how it's possible for a few bars to make me feel this good.
I know the world's been mean to you, I've got a cure, hold tight
I know the world's been cruel to you, I've got a cure for its crimes
Pages: 1 2See entire article on one page