I'll Watch Anything is an Autostraddle TV Team series in which we tell you what type of movies and TV shows we'll watch, no matter what. This week, Carmen Phillips is here to explain why she'll watch anything where the Black girls kiss.
---
It's not only about when the Black girls kiss.
I mean, don't get me wrong, it is a little about that. There's this meme I once saw of Raven Symoné talking on pink razr phone (remember the 00s?) that says "This is how queer people
recommend shows to each other: 'There's a Lesbian, couple on season 4!'" Famously, as a people, I do think we will put up with a lot just to watch two women characters.. well.. smash their faces together in a passionate, loving, manner. It's not a common practice that I see happening in cis gay men's communities, so it does feel unique to us in some respects. But I don't think it's about the kissing. Not really. I think it's about the story that got us there.
I've found recently that it's hard for me to write about representation. #RepresentationMatters can feel clunky and quaint, if not out of date, as a rubric. Some version of late aughts and 2010s nostalgia, like a Shepard Fairey Obama Hope poster or wearing a skinny tie and fedora and calling it "fashion". We already saw first hand that having representation in name alone did not get us to the places we had hoped, most often leaving us parched and unsatisfied. That having a Black President without also doing the work to change the white supremacist ideologies that are threaded into the fabrics of the United States, in so many ways, unearthed a backlash that lead to Trump and our current rises in hate crimes and hate-filled, state-sanctioned legislations. These are the lessons that the 2010s left us. And I think it's ok to learn from those lessons, to pivot and become smarter, more sleek, in how we move next to accomplish our goals.
At the same time, yes, we are currently directly in the middle of those aforementioned rises public-sanctioned hate. There's also seismic shifts in television right now, with streaming companies changing they way they do business and the quickness with which they cancel new shows before they've found an audience, the eve of the potential writer's strike, and pulling content from streaming platforms in a fashion that seems to be hitting queer and POC content in uniquely difficult and proportionally uneven ways compared to their white straight peers. All of which rain down together to make "representationwp_postsfeel more rare, vulnerable, and treasured than probably any other time in the last 15 years.
More than anything, I have found myself making a small mental adjustment, a shift in focus from writing about "representationwp_poststo asking about "storytelling.wp_postsIt moves a passive noun into an action verb. In truth, all of the stories that those of us who love stories on screen love so much, they're not created in a vacuum. There are so many intricate and nuanced layers of systems at play between a writer's draft, an executive C-suite at some network, standards and practices, focus groups, a director's chair, a production team, an actor's performance, and what eventually we get to see. And none of those systems are designed for Black women or queer people to win, which is not new information but often thrives on being hidden. Interrogating "storytellingwp_postsreminds us that everything we're watching was someone's active choice.
It's not that I simply want more Black roles, not if those roles are going to be written and directed by people who have no understanding of a Black experience, or if a Black character is going to be an auxiliary best friend in some other white woman's story and never live a life of their own apart from a white gaze. I don't want to watch queer characters with no other queer or trans peers to live their life with, forced into isolation and loneliness. I want explorations of queerness that challenge norms, even the norms from within our own community. And one of those norms is clearly an evaluation of whiteness, cisness, and thinness as romantic ideals.
According Autostraddle's research, out of 169 queer Black characters in romantic relationships, in the history of television, they've been in relationships with white partners 85 times. They've been in relationships with people of color who aren't Black an additional 18 times; totaling 103 times when a Black queer character was in a relationship with a non-Black partner.
Comparatively, there have only been 46 times when a Black queer character was paired with a Black partner on television. Only six have had multiple Black partners.
So yeah, I want to see the Black girls kiss.
Having Black queer characters together doesn't always mean that their stories are well drawn. Recently, a Prime Video Christmas rom-com, Something From Tiffany's, cast Javicia Leslie and Jonica Gibbs as wives — both Javicia and Jonica have been recent Black queer leads in their respective television series Batwoman and Twenties, which meant I had been counting down the days for the film's release pretty much from the news of their casting (and correctly guessed they would be in a relationship in the film, I might add). After months of anticipation, their roles ended up being so small that we had to have an editorial huddle on how to even cover it. We landed on the title "10 Cute Couple Things I Imagined Javicia Leslie and Jojo Gibbs Doing in 'Something From Tiffany's'.wp_postsImagined. Because there was nothing else there.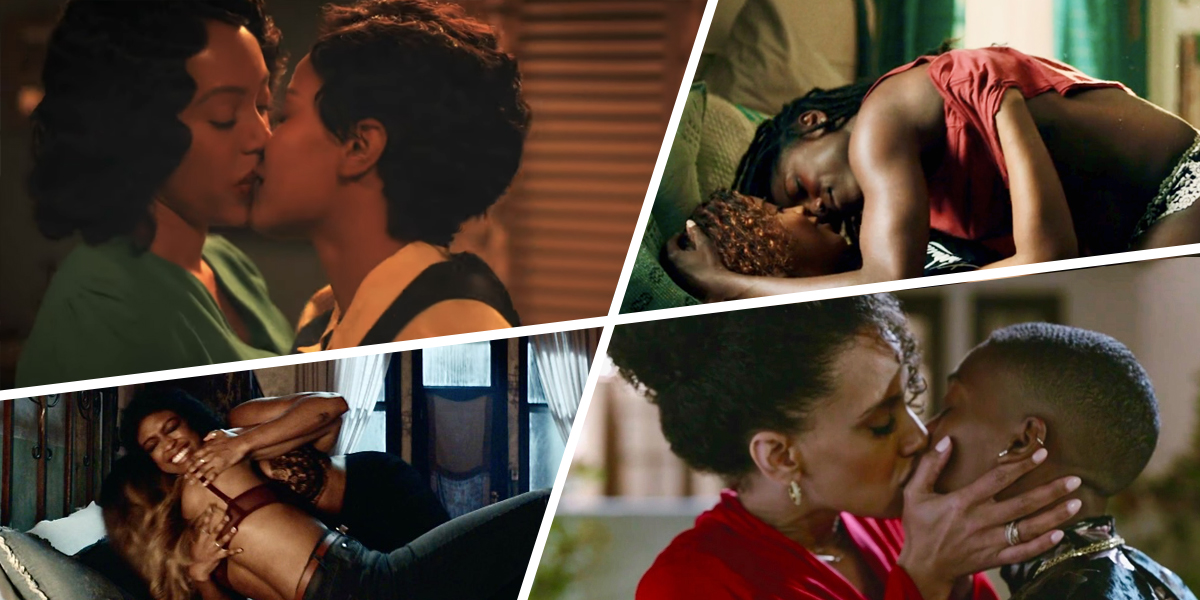 In seven seasons of Queen Sugar, Rutina Wesley's Nova Bordelon — one of the six Black queer characters to ever have multiple Black partners, on a show that was created, written, and produced by majority Black talent — saw her relationships with women poorly underdeveloped at every turn.
It began with Nova holding her girlfriend, Chantal, in bed, half naked and in a warm morning glow of their own making, telling her that she felt like freedom. That was the first message of the show, that Black women loving each other and ourselves was freedom. Instead, it eventually reached a point where the writers decided that Nova, who began Queen Sugar as a journalist and Black Lives Matter activist, should declare a white cop as the love of her life.
Batwoman in so many ways is a gold standard of Black lesbian romance on television. Season Two's recast of Javicia Leslie as Ryan Wilder (replacing Ruby Rose's original Kate Kane) made the series the first to have a Black lesbian lead superhero and the Season Three courtship with Meagan Tandy's Sophie Moore marked the first time ever that the lead romantic relationship on a television drama centered on two Black lesbians. In room full of people, Sophie looked at Ryan with a smile tucked in that was only for her, Ryan's flirtations damn near bordered on debonair, she was so smooth.
But it also takes nothing away from these feats to say that the cancellation of Batwoman last year meant that while the build up and flirtations between Ryan and Sophie were electric, not just in performance but in rarity, a verified lightning in the bottle, their actual relationship was ultimately rushed to meet the finish line, impairing character development, and now unable to be picked back up. In 51 total episodes of Batwoman, Ryan and Sophie co-star in 31 of them. They are officially in a relationship for just three. Five, if you want to count from their first kiss.
Black queer television shows with lesbian leads that come from a Black production team, even those that air on a Black network, like BET's Twenties, often struggle to gain traction with straight Black audiences and queer white audiences alike. Twenties has yet to be picked up for a third season. A League of Their Own was a strong performer with audiences overall and a bonafide breakout hit in queer communities, with multiple, stunning, depictions of Black queer characters — Prime Video has decided to softly cancel it with a second, final and abbreviated season.
The first Black lesbian couple on television were on a CBS drama called Courthouse, which aired for just nine weeks in the fall of 1995. In it Jennifer Lewis and Cree Summer played reoccurring characters Judge Rosetta Reine (Lewis) and Danny Gates (Summer), a housekeeper. The show was ultimately pulled before the final two episodes could even air.
It doesn't sound like much has changed.