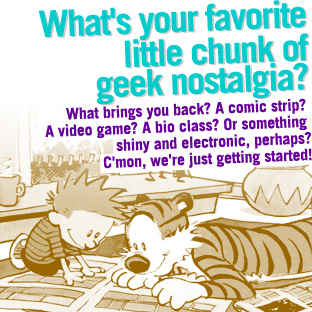 HOW IT ALL BEGAN:
Today I came across these reinventions of Bill Watterson's now timeless comic classic, and I got to thinkin.'
Looking back at my formative years, hardly anything made more of an impact on young geek me than the comic strip, Calvin & Hobbes.
FREUD IS SUCH A CREEP:
In retrospect, Hobbes was clearly the ego to Calvin's id (those are technical terms for grown-ups). Turns out my fave comic was a treatise on maturity, aesthetics and existential angst. Not just how to make the exactly-fucking-perfect-snowball. Weird.
I realize now that Hobbes (the sometimes tiny tiger stuffed animal, sometimes actual tiger) wasn't even actually there, he was just some lofty manifestation of a little cartoon dude's psyche. And young geek me feels a bit betrayed…but I guess this is growing up or something.
Looking back at Calvin & Hobbes today, I find myself drunk with intense, ethereal nostalgia. It's good I realized all of this philosophical junk, because I can be totally pretentious about it in a smart, ironic self-aware way now that makes it okay to shamelessly read a comic strip about an pre-adolescent boy and his toy tiger.

SO LET'S HEAR IT. YOUR TURN!
Calvin & Hobbes is certainly among my most beloved early brushes with geekdom, but I want to know: What's your favorite little chunk of geek nostalgia? Or big chunk! Or like 25 chunks! Or a million little pieces!
This is a no-holds-barred time to tell us: What brings you back? A comic strip? A video game? A bio class? Or something shiny and electronic, perhaps? C'mon, fess up- we're just getting started!