On Tuesday, December 8th, Team Autostraddle ventured forth into the cold night, leaving our laptops behind for the exciting interactive human beings at the Anyone But Me Season Two launch party. After some confusion at the coat rack involving Natalie looking for chapstick and a mysterious unclaimed inhaler, we bounded gallantly through the stylish Blip TV offices and behind a giant hot pink curtain to discover a bunch of super talented and ridiculously attractive people!
We were greeted by Autostraddle Bestie and ABM creator/writer/executive producer Susan Miller, writer/producer Tina Cesa Ward and of course the whole wonderfully beautiful cast including the two lovely leading ladies Rachael Hip-Flores and Nicole Pacent. You may remember that fantastic interview & photoshoot we had with them back in August where they were completely adorable, funny, and awesomely geeky? The type of girls you dream of dating? Refresher: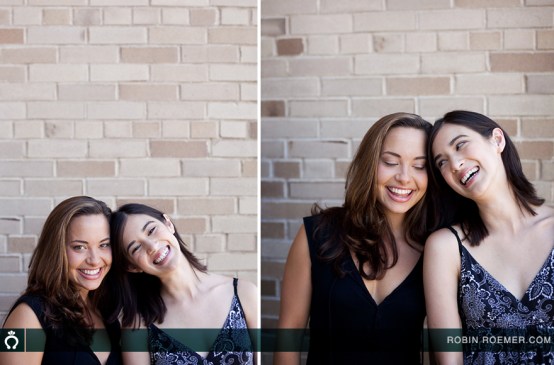 You should also love Susan Miller who we also interviewed because she wrote the best L Word episode ever: the one where they deploy a mission to ascertain the disposition and intent of one Ms. Lara Perkins. Also she's won Obies and stuff.
Despite Intern Lily, Natalie, Alex, Jess & Riese ALL being in attendance, none of us had the incredible foresight to bring a camera, so instead we only have other people's pictures to prove we attended! The party photos were taken by James George.
Howevs our friend party-lurker Grace Chu of  Grace the Spot was much smarter than us. She'd picked up a camera just that day and told us we were partially responsible for her party attendance as Brooke (Autostraddle's Chief Operating Officer of Drinking With Other Important Media Lesbians) told her about the Anyone But Me party when they'd had a post-Gay-Magazine-Panel drink (or ten) last weekend. (The remaining partial responsibility goes to her actual editor at AfterEllen, later). Unfortunately Grace is more comfortable behind the camera and insists she's not totally abandoned her "I prefer to be an avatar" rule, so we have no photos of her either. You wouldn't know about these jovial laughs Grace shared with the highly linkable website autostraddle.com by reading the AfterEllen write-up of the event but perhaps you should check it out just the same, and either way, we just snatched this photo of hers from it: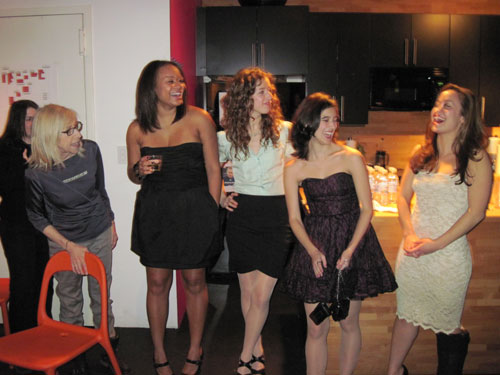 We also got to meet ANOTHER INTERN! Intern Meredith is the intern for Anyone About Me and so we hung out with her too 'cause we're intern magnets.  Susan introduced us to a lot of people who all seemed really special! Rachael Hip-Flores wore a cute dress and Nicole Pacent had a big leg boot on her leg from fighting with an alligator!
Who else was there? Wine!
And then suddenly it was 8 PM we all settled in for a series of celebrity videos and a sneak peak of Season Two's first episode — and we think you're really gonna dig it, guys! The new season looks incredibly promising and will BLOW YOUR MINDS. No seriously though, it was funny, edgy, smart, witty, and definitely takes the show to a whole new level.
Riese Recaps: If you missed Season One you can catch up now 'cause the premiere is gonna be December 15th, just in time for you to be home with your families wanting to watch something sweet. Though Miller once wrote for the unstoppable Showtime lesbosexy vehicle The L Word, expect more South of Nowhere than TLW.

At Season One's start, Vivian and her father are leaving Manhattan for Westchester, which is apparently 30 human minutes but 300 teenage lesbian lovebird minutes away, which means Vivian is leaving her smokin' hot girlfriend Aster behind unsupervised to go swap spit at Cubbyhole. Will Vivian & Aster's gaaaaay relationship survive the distance? Will they send each other cute sexts?
As the season journeys on, the relationship hits its ups and downs as Vivian settles in to a new school and runs into Sophie, a blast from the past currently caught up in the Angela Chase-Jordan Catalano Problem — her boyf wants to bang, and Sophie does.not.want. Why not? I dunno, but when Season One ends and Vivian finally consents to make out publicly with her girlfriend in the middle of the street outside of her school, Sophie seems SUPER INTERESTED IN THE SCENE. You know what I mean. That straight-girl-best-friend in school fantasy might come true. But then what about Aster, she's so hot! See, these are the kinds of dilemnas you will be pondering in three short days! [xoxo Riese]
Look, we were there —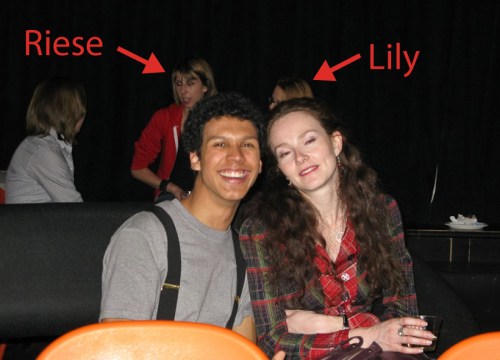 But our true lingering thoughts went something along the lines of "Ah, I can't tell who is hotter: Nicole Pacent or her girlfriend date?" [An intern is getting 40 lashes for not calling the fact-checker] [we don't have a fact checker]
Susan and Tina toasted to the cast and crew and their web master and also to us! Which was very nice!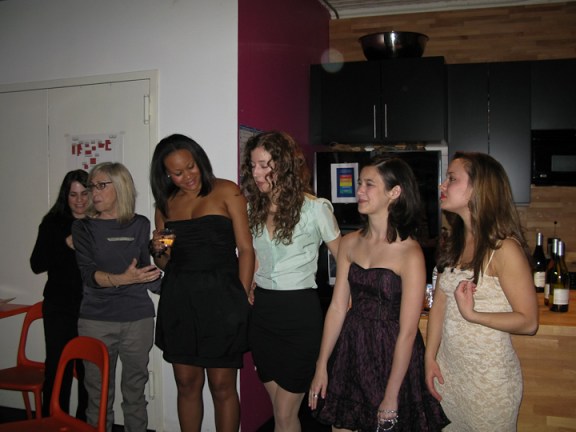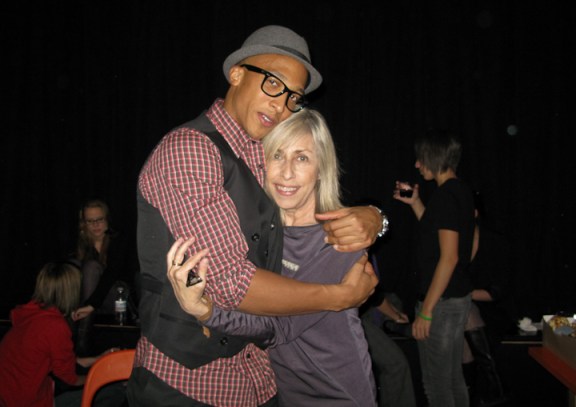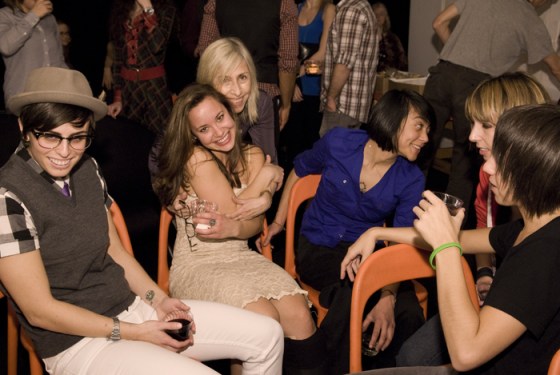 As we left Blip TV's fantastic studio Tuesday night we couldn't help but be struck by the love that the Anyone But Me cast, creators, and crew seem to have for one another. Meeting the people involved and seeing how cute they are to each other makes the show even more fun to watch.
You know how in movies or on TV, a whole bunch of people who are totally different will seem to effortlessly get along with a sort of youthful, earnest, gap-bridging-is-like-swimming attitude? For Anyone But Me, it's rubbed off on the cast. Don't tell them though, 'cause it's pretty cute just the way it is.
Season 2 of Anyone But Me premieres December 15th
Catch up on Season 1 at AnyoneButMeSeries.com
Follow Anyone But Me on Twitter!