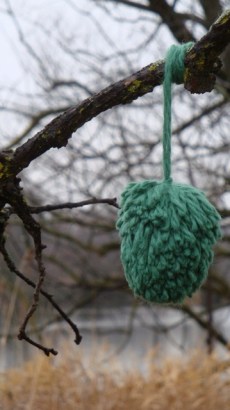 Hello my little sherpa-lined hoodies! It's me – Laneia! Queen of the Two Month Sabbatical! The holidays are sneaking up on us like a pack of rabid otters, and I'll be honest — I'm totally unprepared. But that doesn't mean you have to be! Look, I found some project links and recipes for you! Also: a homemade snow globe tutorial! Because queers love glitter.
Projects
* Holiday Cards to Make With Kids (@readymade)
* Alabama Chanin Project #6: Cotton Jersey Shawl (@alabamachanin)
* Yarn Pine Cones are cuter than they sound (@resurrectionfern)
* Dimensional Felt Ornament (@craftzine)
* Fancy Paper Snowflakes (@cutout+keep)
Recipes
* Southern Pecan Pralines (@beautyeveryday)
* About 900 Holiday Cookies & Drinks by Susan Branch – (via @decor8)
* Vegan Cookies (@postpunkkitchen)
Homemade Snow Globes
When I was in high school, my grandmother and I made these homemade snow globes she'd found in Martha Stewart's magazine. My grandmother was always doing stuff like that — finding things to make and having me make them. This is one of my favorite projects because the end result is just so damn cute and nostalgic.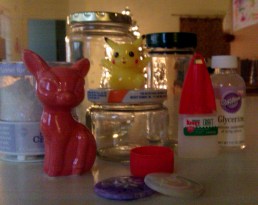 You Will Need:
* clean glass jars with lids
* plastic or ceramic figurines / toys
* glitter
* glycerin
* epoxy
* sandpaper
* plastic bottle lids, buttons [optional]
Hopefully you'll be reusing some glass jars you've saved for just this occasion. Be creative with your figurines! Go through your holiday decorations for damaged or outcast items that fit into your jar. Small children's toys are also perfect — just go ahead and steal a few from the youngsters in your life, they won't even notice. Fun idea: LEGOS.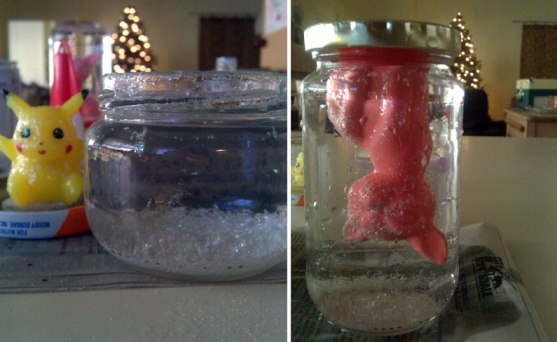 You may want to use a plastic bottle lid or button as a riser for shorter figurines.
From MarthaStewart.com:
"If the jar lids are not in seasonal colors already, paint them with oil-based enamel paint. Sand the inside of the lid until the surface is rough. With clear-drying epoxy, adhere the figurine to the inside of the lid, and let the epoxy dry.

Fill the jar almost to the top with distilled water; add a pinch of glitter and a dash of glycerin (available at drugstores) to keep the glitter from falling too quickly. Don't add too much, or the glitter will stick to the bottom of the jar when it's flipped. Screw on the lid tightly, being careful not to dislodge the figurine. Turn the jar over and back again — and let it snow."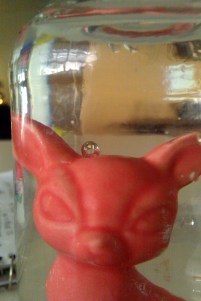 Like I said, it's been a few years since I've made these and apparently I've become quite inept during this time. I forgot to sand the lid. I forgot to position my figure on the lid so that the seam in the jar wasn't directly in front of its face. I forgot to not add a ton of glitter (this can also be blamed on my four-year-old Eli, who is very "helpful"). And for some reason, my glitter stays at the top of my jar. Hm.
Basically, a few things went wrong this time, so learn from my mistakes. Or don't. Even with the mishaps, these snow globes are fun and cute! Who cares if Martha wouldn't approve?
Making a Political Statement with Snow Globes:
If you've got a particularly pro-war, oil-happy Republican in your family, consider giving them a special snow globe made with mangled plastic army men and red glitter (for blood, of course). Seems like a nice way to get your lefty liberal message across, doesn't it?
What do you like to bake or make for the holidays? What did you make when you were kids that you wish you could still make or maybe still DO make? Share your favorite holiday cookies and projects in the comments!