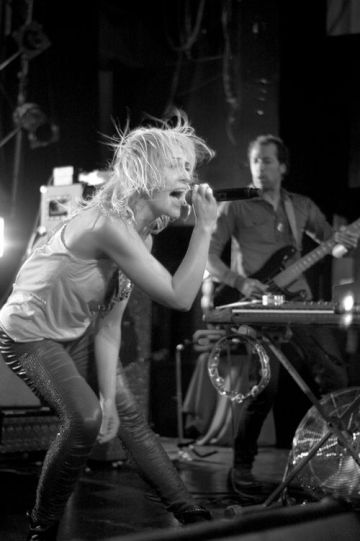 Metric
Melbourne – October '09
Metric front-woman Emily Haines is clearly hot. Like, literally, she's glistening with sweat, blonde hair flying wildly as she headbangs and pounds the keys of her trusty Pro-One. The audience follows suit, moshing along obediently as Haines' rally cry of "shake your head it's empty!" rings out. She's oscillating around the stage showcasing a repertoire of adorable idiosyncratic dance moves, including one of particularly badass-ness that can only be described as karate kick-esque, which I will no doubt attempt to drunkenly replicate sometime and unfortunately end up looking nowhere near as cool.
Metric were here in Melbourne, Australia for their first ever, sold out tour and people were, to put it mildly, excited. I was waiting for my friends to return from a beer run to the bar, but quickly realised that any hope of finding them was pointless as the crowd began to move en masse to the music and I found myself being slam danced to the front, mere centimetres from a personal idol and heartthrob of indie kids everywhere. It didn't matter that I'd lost my friends either, because for the duration of the concert at least, everyone became automatic best friends with a hundred sweaty strangers (with no regard for each other's personal space whatsoever)!
After tearing through a bunch of songs from Fantasies and the always killer 'Monster Hospital', Ms. Haines engaged the crowd in some amusing half-spoken, half-sung banter, putting out the call for someone to "light up a big spliff", although regrettably no one could oblige this request and the most she got offered was a half-empty packet of lollies (obviously we were a pretty hardcore audience) which she bemusedly, yet graciously, accepted and declared "I'm gonna wear it" before attempting somewhat unsuccessfully to adorn her outfit with it.
It was clear from the beginning that we were not witnessing merely a rock concert, but a mission statement. The extended jam version of 'Empty' was interspersed with Emily caterwauling "you've gotta fight for your right to party!" and then followed up by a pointed cover of Neil Young's 'My my, hey hey, rock and roll is here to stay". It's really heartening to see Metric's spirited attitude regarding the current state of music, basically the opposite of all the doom and gloom music industry bigwigs are forecasting, that actually this can be an empowering and exciting time for both artists and fans. It was quite poignant when Emily looked out over the packed audience, thanked us for coming out and said "It's uncontrollable, this is what it's always been. It belongs to everyone" before closing with a song that appropriately summed up the mood in 'Stadium Love'.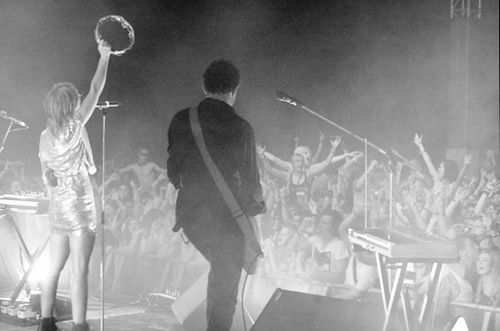 Emily and Jimmy Shaw returned on stage saying "everyone needs a lullaby" then launching into an acoustic, crowd sing-along version of 'Live It Out' before the rest of the band joined in and accompanied them for a fleshed out second half. For someone who's a big fan of Emily Haines' stripped down solo work, it was nice to get a taste of the softer side of Metric in what was a Fantasies heavy dance rock set. It was a powerful performance all-round, and as the band left the stage for the final time Emily Haines walked off with a towel draped over her head, like a boxer after her title fight.
Want more? Photos and footage from the Australian tour can be viewed here.