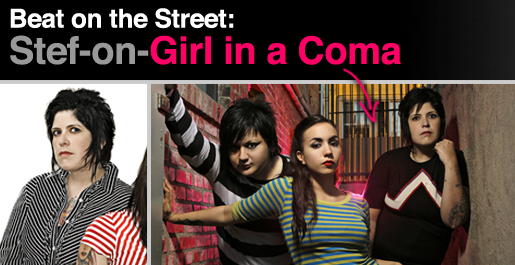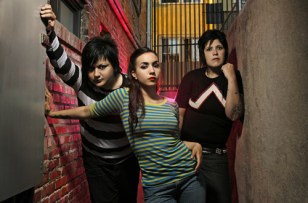 Girl in a Coma, a badass Texan-bred power trio, write songs that effortlessly toe the line between sweet melancholy and fuzzed-out rock abandon. Guitarist and vocalist Nina Diaz's voice is like nothing you've heard before — it's strong and mournful and inspires comparisons to Patsy Cline. And so it's no surprise that  Joan Jett and Jane's Addiction's Dave Navarro count themselves among Girl in a Coma's biggest fans.
In fact it's Joan Jett's Blackheart Records that is putting out their second record Trio B.C.
this summer. On Trio B.C., the group seems to be branching out a bit — there are sweet country-influenced rock songs, tough rockabilly-esque numbers, balls-out guitar rockers and even one song completely in Spanish. ("Ven Cerca" = Come to Me).  The girls — Nina and drummer Phanie are sisters, Jenn Alva is the bassist — have recently toured with Cyndi Lauper's True Colors Tour and opened for Morrissey and Tegan & Sara.
I recently had the chance to talk to Jenn about what these rising stars have been up to and GUYS I'm gonna be honest – this was my first phone interview, and I was totally nervous 'cause I LOVE THIS BAND. I totally blanked and forgot to ask Jenn all the really important questions, like how many times she and the other girls got wasted and made out with Cyndi Lauper.  For all intents and purposes, let's say it was every night!

Anyway, Jenn was totally patient with me, and we talked about the new record, the evils of technology, and how Dave Navarro ended up with a tattoo of Nina Diaz's face.  For real.  So let's get to it!
Stef:  Where are you guys right now?
Jenn: We're in San Antonio.
Stef:  So you're home, or are you guys playing a show there?
Jenn: We're just home, preparing for tour.
Stef: Cool… So!  You guys have a new record!
Jenn: Yeah!
Stef: Can you talk a little bit about it?  I mean, I've heard it, but y'know.  Can you tell me a little bit about..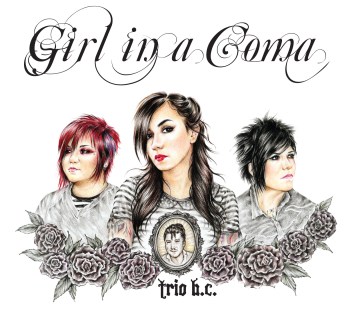 Jenn: [awkward pause]
Stef:  You know what?  I think my first (really geeky) question is ACTUALLY:  What's it like to work with Joan Jett?
Jenn: Okay!  Um, well, it's great!  I mean, never in a million years did we ever think that we WOULD be, but she's just.. She's always so cool and chill and laid back!  And she gives us advice, like, to just to enjoy it and have a good time, 'cause it's gonna go really fast.  That's what she wants us to focus on the most.  It's mindblowing!  We learn a lot from her, we've watched her do interviews and she does them so well cos she's done so many.  She's definitely someone to look up to.
Stef: The song with her ("Joanie in the City") is one of my favourites on the record.
Jenn: Cooool!
Stef:  There's that one little classic Joan Jett "YOWWWW!!"  and it made me really happy!  I feel like the record is so different from the first one – there's so many things going on – country, rockabilly..  There's that one song that sounded really… almost like Sonic Youth –
Jenn: – I bet it was Baby Boy.
Stef: That's the one. You guys nailed that.
Jenn: We were just listening to a lot of Sonic Youth, like, even moreso than usual, and I know that Nina was really influenced.  Baby Boy is the one song that's just like, Sonic Youth style. It's the funnest song to play!
Stef: Was that intentional? Or did you guys just all of a sudden discover you guys were writing shit that sounded just like Sonic Youth?
Jenn: Well, we were listening to a lot of 90s. We're huge 90's fans, so we put all new stuff on hold, and even older stuff, 80s, 70s, 60s, 50s, all of that!  And we  just listened to like, Smashing Pumpkins, and Pearl Jam, all that fun music! They had such cool videos..
Stef:  Absolutely.
Jenn: And you know, Sonic Youth…
Stef:  Watching a lot of My So-Called Life...
Jenn: (laughs)
She does all the tweeting for us, and then I'll get a phone call from a friend like "Oh, did you guys enjoy your nap?wp_postsand I'm like, "How do you KNOW that?!
Stef: I saw that you guys finally have a Twitter, which is amazing.  I wanted to ask you guys how you're using it, what you're doing with it, what you plan to do with it.  It seems to be like, the thing that bands need to have now, which is so strange.
Jenn: Totally. It's great for the band.  I know Phanie takes advantage of it.  She does all the tweeting for us, and then I'll get a phone call from a friend like "Oh, did you guys enjoy your nap?" and I'm like, "How do you KNOW that?!" I guess that kind of annoys me. Friends will be like, "Is Phanie OK? She said she has swine flu!" and it's like, "Aw, MAAAAN!"  She's just tweeting all these random things, but of course it's great for the band and it's great for last minute shows and whatever…  I think it's fun, but for me.. I stay away from all that fun stuff.
Stef: It's a double edged sword … but you guys do a lot of stuff.  You do your MySpace blog, you do a lot of video stuff, a lot to connect – so i think it's just the next natural step.
Jenn: I enjoy the video part, it's just you know.. Sometimes I feel like it's … like, we have to, you know?  We have to figure out a way to do something different, it's not just like, "Hey, I put out a great record!" and that's IT.
Stef: It's all very political.
Jenn: Yeah, but you know, it's fun, and there's always pros and cons, so you know, with the whole downloading thing.  You just have to move with the times and see what we can do.  Me, I like the vinyl idea.  I like that everybody's putting out vinyl because I love vinyls and I buy them, so I think that's a great idea for right now, and we'll see what else we can do!
Stef: What else are you listening to?  I mean besides your 90's collections.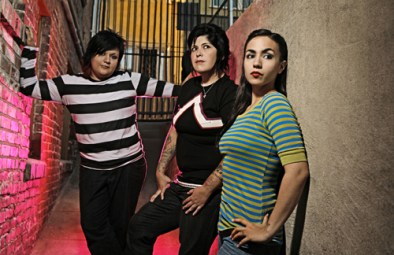 Jenn: I've been taking advantage of Pandora – it's given me great bands to discover. There's a band called West Indian Girl – I like them a lot.
Stef: Isn't that Trent Reznor's fiancee's band?
Jenn: Is it?
Stef: Yeah, Trent Reznor just got engaged and he's really HAPPY. He's been twittering, asking people to suggest romantic comedies for him.
Jenn: Oh my GOD! Yeah, I guess I'll research it! I really like that group! But yeah, I just put in Girl in a Coma radio, and it'll give me like, Magneta Lane, this great punk band, or I'll put in Ours, who are an amazing band, and I'll find lot of artists who are similar to that stuff. I'm really into Pandora right now.
Stef: I use Last.fm which i think it gives you really specific things, but I love that if you use Pandora it's like, 'Yeah, if you're the kind of person who enjoys this, you might also enjoy this!'
My other kind of out-of-nowhere question is: Why does Dave Navarro have a tattoo of your singer on his leg?
Jenn: (laughs) I think it's his arm!
Stef: How does that HAPPEN?!
Jenn: Well, I guess he's been a big fan of ours for a couple years or so, and it just..  Jane's Addiction played here in Austin, so we went to go see them.  It was a great show, and we all hung out, and… I'm not sure how it happened – I think it was a dare. He was like, "I'm gonna get a tattoo with your face on it," just 'cause he's a big fan!  And Nina was like, "You won't do it," and he was like, "Watch me!" Nina said "I dare you." And when we got back he DID!
Stef: Yeah, it takes an awfully big fan.  So are you guys gonna get Dave Navarro tattoos to match?
Jenn: I dunno! (laughs) ... No.
Stef: Back to topic… You guys have toured with a lot of really amazing artists – Morrissey, you did the True Colours tour, you did Tegan and Sara.  Do you guys ever feel like you get marginalized for doing really specific gay tours like that?
Jenn: If anybody pigeonholes us, then I mean, that's what they're doing, and we're having fun doing what we want.  Nina's not gay, you know, and she doesn't care… I mean, who's gonna say no to touring with amazing artists like Cyndi Lauper and great comedians and… I mean, Tegan and Sara.. that was amazing!  We just have a good time!  I like that we're like that, I like that we could go from doing Social Distortion to something like that.  It's kinda like Joan Jett too! I feel like back in the day when they would pick on bands like Heart and Vixen (sic) and you know, whoever – not necessarily picking on them but like, "Oh, you're girls," and whatever, but I think Joan Jett came into the picture and I mean, how are you gonna say anything about her?  She's scary, she's intimidating, she's cool.  I kinda feel like that, you know – do whatever you want.
Stef:  Absolutely.  The music speaks for itself too.  So one last thing… I know you're probably not gonna be able to comment on it, but there was something in your MySpace blog about you guys getting into a bar fight?
Jenn: We put out a statement, and that's kind of all we can say right now, but as soon as the case is over with, we can't wait to talk about it, and then you can call me back up again and I'll tell you alllll about it.
Stef:  Awesome, we'll talk about it.
Moral of the story?  Don't fuck with Girl in a Coma; they will THROW DOWN.
Girl in a Coma's [wonderful] new record "Trio BC" drops June 2nd. They'll be on tour ALL SUMMER LONG – dates available on their MySpace page.