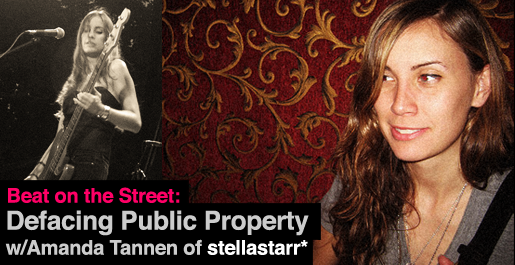 My love of female bass players is well-documented, as is my passion for euphoric pop music.
Lucky for me, then, that NYC indie darlings stellastarr* are currently gearing up to play a string of shows in support of their brand new record, "Civilized."  Bassist Amanda Tannen and I sat down at a coffeeshop in Williamsburg to talk about the new album, guerilla art, and her show this coming Thursday night at the Highline Ballroom.
It's been pretty quiet on the stellastarr* front for the past couple of years, and Amanda was quick to explain why – after voluntarily leaving their record label, the band set about self-funding the record they wanted to make, the way THEY wanted to make it.  This was accomplished with a few short mini-tours, as well as a lot of licensing – listen for stellastarr*'s song "Stay Entertained" in commercials for Universal Studios (although Amanda noted that the band did NOT receive any kind of free admission to the theme park, which is total bullshit)!
"Civilized" was written over the course of about a year, while the band worked regular jobs and squeezed in recording sessions where they could.  Sonically, "Civilized" is a return to form for the NYC-based band – deceptively upbeat pop songs with dreamy guitars, sharp, hook-y basslines and rapturous, mostly yelped vocals – with a lot of "whoa whoas" thrown in for good measure.
Because the band wanted creative control over the album's entire conception, it made sense that Amanda herself should do the artwork.
Because the band wanted creative control over the album's entire conception, it made sense that Amanda herself should do the artwork.  "It was just a series of drawings I was doing while we were recording," she explains. "It was a duality that went with the album – it's a little bit angry but also incredibly cheeky and poppy.  I was doing these drawings, and then I worked with Michael (Jurin, guitarist) on the idea of wheatpasting these drawings, 'cause I was always really interested in street art – I'd always wanted to do it and never had the balls!  Michael really pushed me, so I took the one drawing everyone liked the most and I blew it up life-sized.  They didn't say stellastarr* anywhere 'cause I figured if there were any legal repercussions, I could say I had no idea who did it!  I pasted them all around Williamsburg…"
I ask if she'd dressed up as a cat burglar and hit the streets at 4AM.  "No!  I did it in the middle of the day!  I figured it'd look like I was supposed to be there – I thought people would be like, you know, a girl.. What did happen was, you know where the Glasslands is?  I'm wheatpasting there and the landlord comes out while I'm putting it up!  He stands there and he's staring at me and I'm… still going?  I mean, what else was I supposed to do?  Obviously I'm caught red-handed, you know, and he just asked, 'So.. Who did this?'  I said, 'I DID! Do you like it?!' And he just walks away and I'm like – QUICK QUICK QUICK! [laughs] It was up there for a while – it's not there now, 'cause they tore down a bunch of stuff… but that's the funniest.  I just smiled, like 'Oh HEYYY!'  I didn't know what else to do!  But yeah, that was the only time anyone ever said anybody said anything or came up to me.  I'm hoping to do more 'cause it was a lot of fun!  I loved it!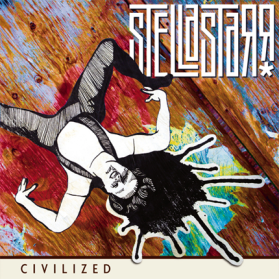 "Anyway I put them up and then came back about two months later 'cause I wanted them a little grungy.  You know, it's all about the process (laughs).  I took pictures of all of them.  The one that's on the cover is on a construction wall across from a school on S 2nd and Berry.  I took the picture and then fucked with it in Photoshop to make it pop more, to make it more pop art!  I loved the contrast of it being really bright colours along with this really gory image."
The idea of guerilla advertising was so much fun that we almost forgot to talk about the show!
But then we did, a little: "Playing home is always crazy 'cause everyone wants to come – it's like you're hosting a party! We played Highline maybe two years ago…?  It was great and we decided to play there again cos it's a good sized venue and um.. they have nice catering."  A woman after my own heart.


Listen to stellastarr*'s new song "Graffiti Eyes" below:



stellastarr* play the Highline Ballroom in New York City on Thursday, July 16, and will be on tour through August.  Their new record "Civilized" is out now on Bloated Wife Records. Amanda Tannen has never been on the E.T. ride at Universal Studios.