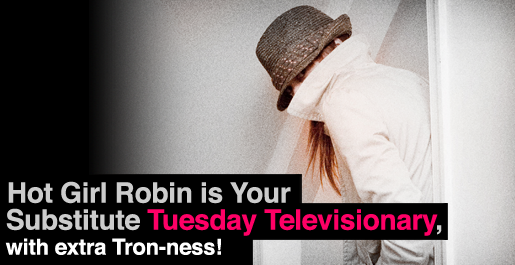 Hello sexy beasts, Happy Tuesday!
Although I'm not one of those people with the "Kill Your Television" bumper stickers (mostly because I think bumper stickers are super tacky), I never really watched too much TV and I still don't pay for cable.  That is, until I worked in television and until I started dating TV's number one fan, Carlytron.  Because Carly has a super awesome television job, sometimes she has to deal with deadlines, among other things. TV is super important like that. So this week I am hijacking her normal post because she sadly won't be able to write it, in order to write something of my own, incorporating Tron-ness into the fabric of the piece, trying to convey as much Carlytron as I can, because duh, TV is HER thing.
So this week I decided to ask Carly about the interesting/hilarious/ridiculousness happenings on the old boob tube (hee hee) and that I would do my best to create a visual representation of each show!! Oh, and if you're looking for real recaps, they've got plenty over at TWoP.


We watched this one together because as I mentioned earlier, I don't have cable. I actually didn't even have cable when I worked for a cable TV channel. I should have been fired, but instead I quit, but that's a whole 'nother story.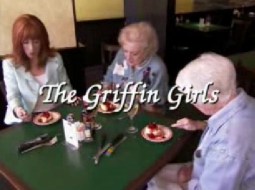 So, Kathy Griffin is amazing and I'm coming to appreciate her hilarity more and more each time I tune in to her show. Her mom Maggie reminds me of my very own grandmother and therefore I absolutely adore her. Kathy had her mother create a bucket list, which included things like "having a nice dinner" and meeting her favorite Golden Girl. This ended up being one of our favorite episodes ever, primarily thanks to the presence of the one and only Betty White and an amazing trip to wine country, or as Maggie called it "the wine section." Carly came up with a haiku to illustrate this episode. (Let's just say there was some drinking involved.)
Carlytron's haiku:
Welcome to Sizzler.
Thank you for being a friend.
I love Betty White.
My visual representation of this episode:

Didn't watch this until very recently after hearing Carlytron go on and on about it. I have always loved Mary Louise Parker so I decided to give it a try. Needless to say, I liked it and have A LOT of catching up to do.

Carly: "It occurred to me tonight, while on my 3rd beer, that if Nancy were the lead on any other show (*cough* Carrie Bradshaw *cough*), I'd totally hate her for being so selfish and insane. Additionally, on a less awesome show (*cough* Grey's Anatomy *cough*) I'd probably be really exhausted of all the stupid plot twists and totally outlandish situations. But I'm not! I think Weeds gets a free pass forever in my book. It can Do No Wrong, much like The Lynch."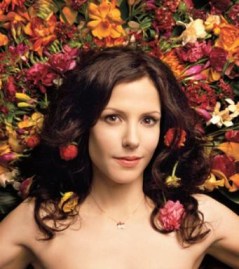 I concur, Carly.
This week on Weeds, there was a lot going on.
The Top 10 Weird Things That Happened On Last Week's Weeds:
10. Shane shoots and kills his teacher's pet bird.
9. Nancy almost kills said teacher with a baseball bat after he pushes Shane around (did I mention she's preggers?).
8. Alanis Morisette plays an OB-GYN and is, seemingly, the most normal person on the show.
7. Doug and Silas have a meeting with this dude and are then attacked by a samurai.
6. Doug and Silas argue like father and son until Silas punches Doug in the face… and then they're cool.
5. Celia finds a dead body in Nancy's garage.
4. Celia watches some goons dispose of the body, blackmails Nancy for Ikea money.
3. Andy dates a woman who is a virgin and was in love with his dead brother, Judah. He has to pretend to be Judah on their date.
2. Andy and said virgin lady have sex under a boardwalk surrounded by defecating, vomiting homeless dudes. This earns him around $200,000, if memory serves me.
1. Nancy DITCHES EVERYONE except Shane and runs away to go live with Esteban in Mexico.
Here's how I see it: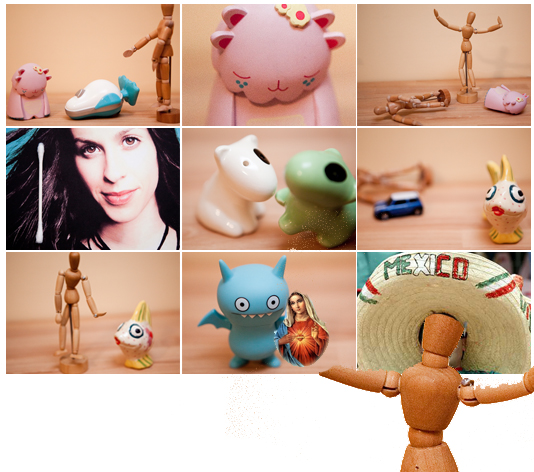 Carlytron: "Just give this show an Emmy already, ok? Please?"
Since Carlytron used to be emo and apparently had a livejournal (really, Carly?), it was decided a stream-of-consciousness-type of onomatopoeia thingy was in order. Carly came up with this:
pop
fizz
crush
crumble
zap
snort
sniff
cry
squeeze
I came up with this picture because I'm not sure about any of those words, but this show makes so many comments and creates so many different storylines around different addictions.
I mean, c'mon. You were always thinking it.  Look at those eyes!  I would like to note that we here at Autostraddle do not 'encourage' using illegal 'drugs' or even legal 'drugs' for recreational purposes.  Did you hear that Utah web-hosting companies?  Good. And no, its not sugar… its Splenda!


Better Off Ted
Was! Not! On! Lame. If there is anyone out there who does not watch this show, please go find a mirror to stand in front of and appoligize for not treating yourself better. Right now, I'll wait. You are really missing out if you don't tune in.
How we felt:

So You Think You Can Dance
I love love love this show.  Carly has this idea to create and produce and star in a show called "So You Thought You Could Dance?". (Emphasis on the question mark.)  The show will be about people who love dancing and think they can dance really well, but probably would just not make the cut.  This will be after she learns to pop-and-lock.  Anyways, I watch this show with her every week.  Sometimes we all get a little teary-eyed at the Mia Michaels routine combined with Mia's alternative lifestyle haircut which just makes us ooze with lesbian love.  This week was pretty awesome.
Our favorite dance of the night:
Kupono and Kayla's Mia Michael's Contemporary routine

And Thursday night's group dance:


Hot Girl of the Week Award
It was suggested around Autostraddle this week that we give this award to Carlytron because she appears on television and because, duh, she's a hottie.
However, as I promised her I would give this award to someone else, I will dedicate this Hot Girl to her. Carly finds it hilarious and amusing that while I am most of the time a very amiable person and find most people endearing and wonderful, I have a strong aversion to a lovable TV host who she (and everyone I know) seem to like. And no, its not Ryan Seacrest, although he will get the Hot Girl of the Week Award eventually I'm sure. And I'm sure I will get some hate letters for this.
So without further ado, the most annoying host on TV the hot girl of the week goes to Cat Deeley of So You Think You Can Dance! You know the one who can't say the word judges and tries really super hard to be cute and FAILS.  (I know, its so out of character for me to hate like this.)  I will admit, she is super duper hot and is always impeccably styled.  So this ones for you Carlytron.