So we interviewed Charlene from Gimme Sugar. If you saw it last night you would know that it was a sad night in Whoville. Who are you. Who Who. Who Who! Tuesday Televisionary will drop later!
We've written a bit about why we went down this weekend. Presently we're working on making sure we're air-tight in how we approach this and then we will assemble the troops for battle. Peaceful battle. The password to read the post is the first name of the character Jane Lynch played on The L Word. You don't need to have seen that godawful show to know the password, just google it. That is, unless you are forbidden by your parents or religion to indulge in such filth. Just saying …

CUTE SITE ALERT!: Check out fbomb, it's new: "The FBomb.org is a blog/community created for teenage girls who care about their rights as women and want to be heard. Young feminists who are just a little bit pissed off and very outspoken are more than welcome here."
DESIGN YOU TRUST: Movie Poster Posts (@designyoutrust)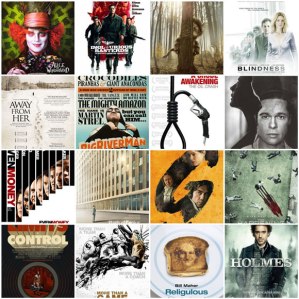 POP! Saturday Night Live alum, Maya Rudolph is featured in a new interview with The Advocate: She talks about Prop 8: The Musical, being ashamed of California, divas and her gay following. (@advocate)
ACTUAL ART: Interview with Catherine Opie: "Right, but I mean, I remember my good friend Steve ended up being a big money guy after college, and I went and visited him one day and my head was shaved and I was completely pierced and wearing a leather jacket. All his colleagues were like, "That's your best friend from high school?!" They were all straighter than I ended up being." (@vice)
TRANS: NBC's "The Listed" takes on Trans Youth: "I think it was of the most positive and realistic depictions of the issues surrounding trans kids I have seen on a fictional TV show…"(@bilerco project)
HOT GIRLS IN SNEAKERS: Is it okay for me to link to Playboy's Hot Chicks, Cool Kicks? If it's wrong I don't wanna be right, it's a "cute girls in sneakers" feature! (@playboy?)
MEN WRITING WOMEN: "Unless a screenwriter is writing about one-minute section of life where other sexes do not enter, or a world filled with one sex that practices asexual reproduction, men are going to write about women, and women are going to write about men. But can they do so successfully?" (@girls on film)
ACTUAL BOOKS: Interview with Malinda Lo about her new book "Ash." (@dorothy surrenders)
ALSO: Subway Blogger is just like us! They are done with Bluehost! (@subway blogger)
THE TRUTH WILL SET YOU FREE IS A BAD IDEA: Stay in the closet, says director Todd Holland. Kirby Dick, on the same panel at Outfest, said: "I know where you're coming from, but it's a regressive argument."  (@la weekly)
#BRUNO: TIME wonders if Twitter hurt Bruno's box office: In the old days — like, until yesterday — movie studios judged the success of their big pictures by how much they grossed on the opening weekend. But in the age of Twitter, electronic word-of-mouth is immediate, as early moviegoers tweet their opinions on a film to millions of "followers." Instant-messaging can make or break a film within 24 hours. (@time)
ANYONE BUT ME: For everyone who pines for more ABM — you can now wear them! They just opened their new store and they  have the coolest stuff. Really. VIVSTER tees and 'ANYONE BUT ME' hoodies to hold you over until Season Two and forevermore!
GENDERF*CK: Toni & Niklas Garrn for TUSH magazine (@design scene)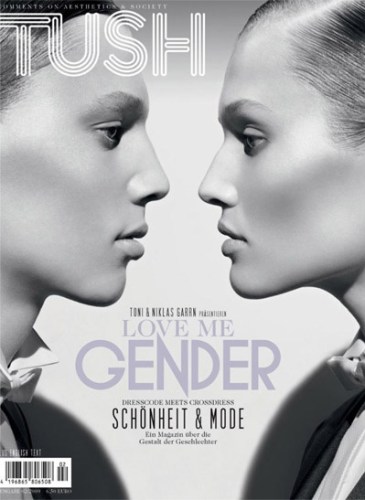 ↑ The Episcopal Church Moves to End Ban on Gay Bishops: The bishops of the Episcopal Church voted at the church's convention on Monday to open "any ordained ministry" to gay men and lesbians, a move that could effectively undermine a moratorium on ordaining gay bishops that the church passed at its last convention three years ago. (@nytmes)
↔ Anderson Cooper grills Obama on Don't Ask Don't Tell. (@pamshouseblend)
↓ Protests of gay kiss ejection held in El Paso, Texas: A demonstration supporting gay rights took place Friday outside an East Side Chico's Tacos where five men say they were kicked out after two of them kissed almost two weeks ago. (@elpasotimes)
↓  The NAACP will not take a stand on gay marriage. (@pamshouseblend)
↓ Gay soldiers can't be out on Facebook. White supremacists? No problem: Now it turns out that, while a gay soldier would ostensibly be kicked out for announcing his sexuality on his Facebook page, Aryan power nutbags appear to suffer no such consequences for posting their racist hatred on social networks. (@queerty)

Sometimes people hate us so much that they do REALLY crazy things — like avoid a homosexual advance by stabbing their neighbor 61 times!
↓ Jury acquits a man who murdered his gay neighbor, stabbing him 61 times. That seems a little bit unnecessary! You could've avoided getting sent to jail not taking any responsibility for your actions and potentially one day feeling slightly guilty about your evil doings —
Have you ever found yourself targeted by unwanted advances from your non-preferred gender? (Personally, there's about 450 male street hecklers I've wanted to stab in the eye over the last four years, including approximately 50 strangers who have groped or touched me on the subway or on the streets of NYC (SERIOUSLY), but this isn't about Riese's heterosexual panic, it's about gay panic!) I could tell you what to do, but why listen to my words when I can get Stef to draw you pictures? That's right …
It's time to deal with your gay panic the adult way! And luckily … AUTOSTRADDLE CAN HELP …
Stef for Autostraddle presents:
How to Avoid Homosexual Advances
(without reaching for the knife!)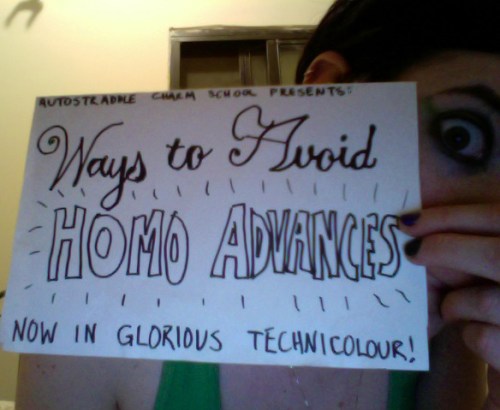 +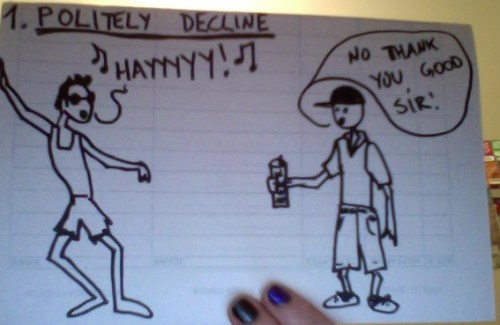 1. Always a reliable technique: "No thank you good sir!"
+
2. Run and Hide, leaving the gay man to wonder: "I can't wait to destroy this nice boy's decent Christian morals!!! Wait … where'd he go?"
+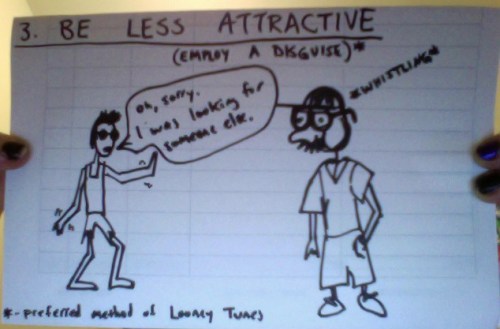 3. Employ the preferred method of the Looney Toons, leaving the homo to conclude, "Oh sorry, I was looking for someone else."
+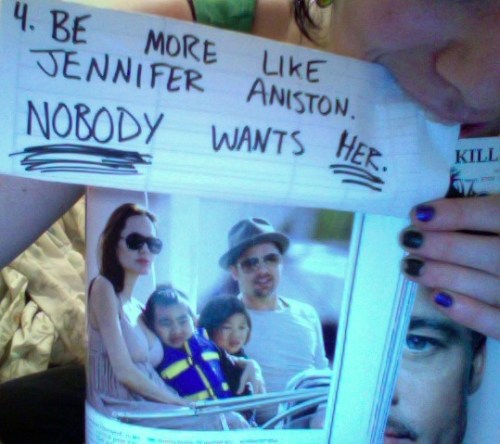 4. Self-explanatory.
+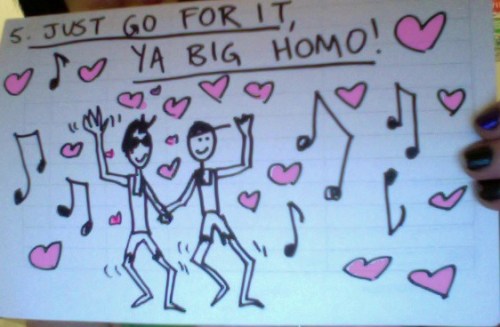 5. One step closer to peace on earth. We're all the same underneath.

Auto-Straddler of the Day:
from Alex:
I once tried to make a cake to resemble a sausage, egg and cheese on a croissant from Dunkin' Donuts. It's fair to say that it didn't look at all as awesome as these 'sneaky food cakes' do.