We really mean it this time: our interview with Charlene from Logo's all-lesbian & bisexual reality show Gimme Sugar and why this show might not be that bad for us after all … and many thanks to green at Uh Huh Her Fan, who copied the post for us when our site went down and sent it over. Without her, this interview would never have seen the light of day.
Right now as we switch hosting services, there will be some weird glitches on the site. We thank you for your patience during this time. Do let us know what problems you spot though it's likely they'll all be rectified within the next 72 hours or so.
ALSO! We have written about what happened this weekend that prompted the site to go down. The post is currently password protected 'cause we'd really like your feedback on it before we open it up to search engine crawls. But feel free to share it with anyone else who can figure out the password.
What's the password? It's the answer to this question: "What is the first name of the lawyer played by Jane Lynch on The L Word?"

KISS-IN: Kissers protested outside the LDS Church property. A.k.a The Mormons. About 60 people showed up to stick it to the man and their lovely lover at the same time. (@thedeserter)
AMERICAN WEDDING: The secret cultlike rituals behind my favorite gay-hunting spot, The New York Times Wedding & Celebrations. (@gawker)
BRILLIANT: Current TV sums up the whole Bruno thing:
BOOKS: The Status Galleys of the Summer. Note to self to add AS to the list we were on at nerve and The Michigan Daily. Probs will happen around the time I start having time to read a bunch of books again.  (@gawker)
DEBBIE NAVOTNI LOVES HER GAY SON: "I AM NOT gay, but I am festive," says actress Sharon Gless, who receives the Gay Icon Award Sunday after a Philadelphia Q Fest screening of "Hannah Free," in which she stars. (@philadelphia daily news)
LISTS OF HUMANS: The 20 Unsexiest Beautiful People. (@nerve.com)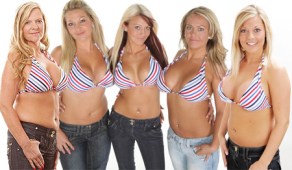 BI THE WAY: Ask Professor Foxy: Will my Bisexual Fantasies Ruin my Heterosexual Love Life?: And here is the hardest advice to take: stop worrying about it. (@feministing)
EVEN PENGUIN LOVE DOESN'T LAST FOREVER: Same-Sex Penguin Couple In SF Zoo Split (@huffpo)
BOOBS: Chantal Marshall and four of her daughters have had NINE boob jobs between them. That is just the craziest thing I have ever heard. Also includes several fantastic similies for the physical appearance of their breasts including, '"Having nine children left my boobs looking like milk bottles" and "I never got any bigger than an A-cup and my boobs looked like two little eggs." (@UK daily mail)
SKOOL: NYU hires an anti-gay professor to teach Human Rights. Guess it'll work out with similar hiring practices for all classes at most schools. (@queerty)
BIG GIANT SURPRISE OF THE DAY: Palin was lying about the 1.9 million spent on dealing with her ethics complaints. She factored in the salaries of government lawyers who would be paid the same amount regardless of what they were doing or if they were doing nothing at all. (@mcclatchy)
WOMYN: Name a Single Female Scientist and Beat the Majority! (@bitch)
I started thinking about craigslist today. I feel like it might be the only place you still see people being totally honest for some weird reason. Not necessarily in the facts, but in the intent.
Tips for Craigslist Mondays? Email to yourmom (at) autostraddle dot com, subject line CRAIGSLIST! Cut & paste the post and give us a link to it.
New York City Missed Connections: You Spilled Your Drink on Me at Nation – are we having a missed connection? I'm sure you spilled on me on purpose.
San Francisco Missed Connections: (Best HRC Employee Ever) You snagged me at Pride – You were adorable and blonde and working at the Human Rights Campaign booth at Pride…I think your name was Claire…or Courtney? It was about 12:30 and you stopped me and asked me if I had a minute and I couldn't hear a word you said even though I know your voice was one of the most adorable sounds I've ever heard. I signed up to give a monthly donation because you "sold" me so well on it. My friends told me to give you my number, but I've never done that and was way too shy.
The "most feelings of the week" award go to "because i miss m," a poem from Los Angeles's w4w boards:  When a girl lays her head on your chest/ she is wishing for you to be hers forever. Make a good cartoon for this poem and win a prize.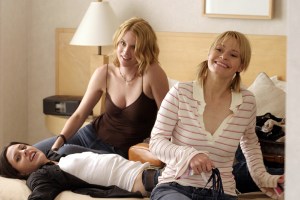 Cute/Insane/Perfect from Chicago Strictly Platonic: "Ok, so I know it's over (L word) but I'm still seeking my circle of friends like Bette, Tina, Shane, Alice and we can leave out Jenny! I am a professional lesbian who is stable, social drinker, no drugs, like all the normal stuff, movies, plays, traveling, concerts, hanging by the lake." (I hope she resists the urge to kill Jenny.)
You're Giving Bisexuals a Bad Name of the Week Award from Boston w4w: I am bisexual & I want a girlfriend, someone who I can just hang out with and do what friends do but also please and f*ck. I already have a man & he is okay with this so I need someone who can understand this. I want the best of both worlds. Nothing sexual between you & him, because you are all mine.
Words Speak a Thousand Pictures: from Minneapolis Missed Connections: Pardon me for looking at you. That is the finest body I have seen since Dara Torres. Those arms and legs. And really, did you have to do those butt clenches while waiting. You made my day.

I know it's not a sexy girl, but man I wish we could late add this Back to the Future shot of Michael J. Fox straddling a fire-bolt into the Autostraddle Hot 100:
Autostraddler of the Day

from Robin:
Do you like bears? Are you a jealous person? Read this blog.
+
+
+
from Alex:
This is a great high-resolution (so you can zoom in) photo of what the Earth looks like at night.